NEXT STORY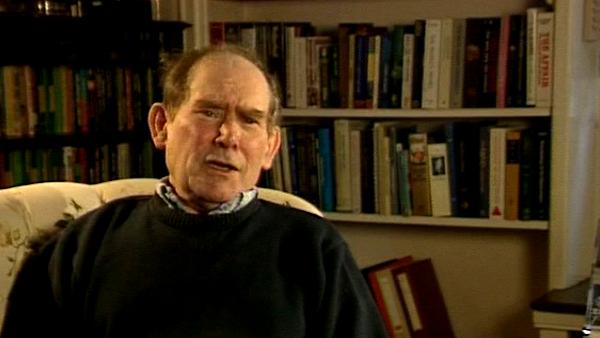 The state of biochemistry in Britain
Experimenting with adding messengers to ribosomes
1
...
10
11
12
13
14
...
24
With these developments, both showing that the triplet code and also with a concept of messenger, it became obvious to both ourselves and to many other people that we could now add messengers to ribosomes and should in fact get them to produce something, but so naïve… And we started experiments here in Cambridge – I had a postdoc who came – and our idea was to add viral RNAs to E. coli ribosomes because we thought you should be able to play any tape, and we know that these virus RNAs have information; because they are the genetic information, we could get them in high amounts. And so we started with turnip yellow mosaic virus, trying to add it to E. coli ribosomes and trying in an in vitro synthetic system to try to get some protein made, and then our aim was: we'll show them that that's the viral protein. Now when I gave my paper at Cold Spring… at Cold Spring Harbor in '61 – summer of '61 – the people from Ochoa's lab heard this and realised that you could add things to ribosomes. And so they also began adding RNAs to this, and so did Marshall Nirenberg begin by doing this... did this as well. And he started to work with tobacco mosaic virus, trying to add it to E. coli ribosomes. Now, of course we know now you won't get anything because these are eukaryotic messengers they require a whole set of factors which are not present in bacteria. The story of adding the… which Ochoa and also Nirenberg did, of adding synthetic polymers, which was the first breakthrough in decoding this. This has various forms. The Ochoa group has claimed they... they realised they could just add this and have a… have a go. They didn't know much about initiation factors and that was good, that's where ignorance triumphed. And Nirenberg, the story goes, was working with TMV and it was suggested that he use a synthetic polymer as a control to get nothing, you see, because a synthetic polymer of Us would be… would be meaningless. And of course this is where he got a lot of incorporation of phenylalanine. And so a lot of people then began by this and then later by binding experiments, and then Khorana who did a lot of work on this by looking at repeating polymers, so all of that work finally led to the definition of the genetic code by direct analysis through RNAs and ribosomes. But I think that those experiments were conceptually implausible until the concept of messenger. No one would have tried it, because you'd have thought: I have to open the ribosome, take out what's there and stick in my thing. And so I think that that was… that was the thing. And indeed, the people in Ochoa's lab said that's what... said that they… they thought that they can do it.
South African Sydney Brenner (1927-2019) was awarded the Nobel Prize in Physiology or Medicine in 2002. His joint discovery of messenger RNA, and, in more recent years, his development of gene cloning, sequencing and manipulation techniques along with his work for the Human Genome Project have led to his standing as a pioneer in the field of genetics and molecular biology.
Title: Experimenting with adding messengers to ribosomes
Listeners: Lewis Wolpert
Lewis Wolpert is Professor of Biology as Applied to Medicine in the Department of Anatomy and Developmental Biology of University College, London. His research interests are in the mechanisms involved in the development of the embryo. He was originally trained as a civil engineer in South Africa but changed to research in cell biology at King's College, London in 1955. He was made a Fellow of the Royal Society in 1980 and awarded the CBE in 1990. He was made a Fellow of the Royal Society of Literature in 1999. He has presented science on both radio and TV and for five years was Chairman of the Committee for the Public Understanding of Science.
Listen to
Lewis Wolpert
at Web of Stories
Tags: Cambridge University, Cold Spring Harbor Laboratory, 1961, Severo Ochoa, Marshall Nirenberg, Har Gobind Khorana
Duration: 3 minutes, 56 seconds
Date story recorded: April-May 1994
Date story went live: 24 January 2008