NEXT STORY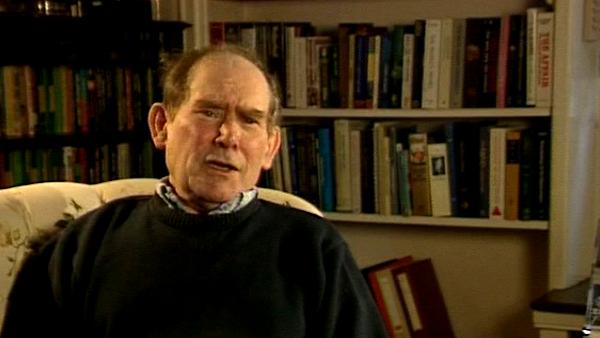 The importance of understanding molecular structure (Part 2)
The importance of understanding molecular structure (Part 1)
1
...
10
11
12
13
14
...
24
The importance I think is the following. If you take the extreme view that what you'd like to do is to compute organisms from their genome, then you have to understand inside an organism what one can call the… the principle of construction. Let me give you an example, which is the following: we can look at the head of a virus and we can see it's a perfect icosahedron, right. So… and we know that's genetically determined, because that's inherited. So what we want to know is how is the equation for an icosahedron written in DNA. Now, many people… we know how the equation for some icosahedron is written, let us say, on the back of cornflakes packages. What you have is you have this and it says cut here, bend here, glue here, and you can fold it all up and make this box. But that's not the way it is done. So what you have to understand is how icosahedra are made. They're not made out of sheets of cardboard inside a cell. What they're made out of is molecules of proteins packing together. And that means that they have certain contacts which have certain angles and those angles are characteristic of the icosahedron. Or the dodecahedron, or whatever it is. Now, if you ask how is that angle established, that angle is established because that protein has folded up and displays on its surface a little patch which is able to act, interact with a symmetrical patch on itself, such that they clamp together as a dimer or a trimer or as a pentamer as the case may be. Thus if we were to unravel all of the structure what we will find is that the equation for an icosahedron is written in little bits and pieces in the genome, in a little sequence of amino acids here, and another little bit there. And we could not disentangle that a priori unless we understood the principle of construction. So the importance of doing molecular structure and of looking at this is to grasp how this is in fact will be encoded in the genome. And to understand that it has enough to have this so you can build virus heads or build organelles or build ribosomes or build membranes or build complexes of any kind like this, because it's all to do with a process of self-assembly.=
South African Sydney Brenner (1927-2019) was awarded the Nobel Prize in Physiology or Medicine in 2002. His joint discovery of messenger RNA, and, in more recent years, his development of gene cloning, sequencing and manipulation techniques along with his work for the Human Genome Project have led to his standing as a pioneer in the field of genetics and molecular biology.
Title: The importance of understanding molecular structure (Part 1)
Listeners: Lewis Wolpert
Lewis Wolpert is Professor of Biology as Applied to Medicine in the Department of Anatomy and Developmental Biology of University College, London. His research interests are in the mechanisms involved in the development of the embryo. He was originally trained as a civil engineer in South Africa but changed to research in cell biology at King's College, London in 1955. He was made a Fellow of the Royal Society in 1980 and awarded the CBE in 1990. He was made a Fellow of the Royal Society of Literature in 1999. He has presented science on both radio and TV and for five years was Chairman of the Committee for the Public Understanding of Science.
Listen to
Lewis Wolpert
at Web of Stories
Tags: Genome, virus, icosahedron, DNA, proteins, robosomes, membranes, molecular structure
Duration: 3 minutes, 2 seconds
Date story recorded: April-May 1994
Date story went live: 24 January 2008