NEXT STORY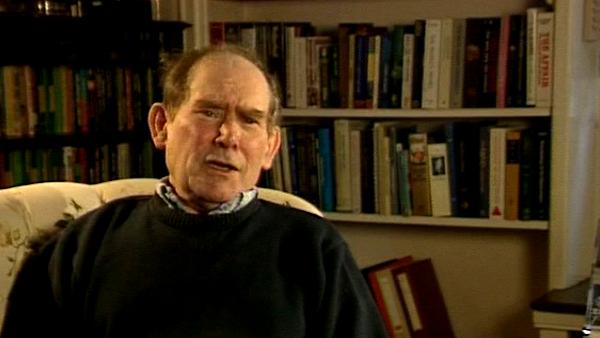 Edward Roux
Science at university: Weinstein, Roux and Karnovsky
1
2
3
4
5
...
24
At the university, that is where I met one of the most- I met a very interesting person who really taught me a lot in science. He was called Weinstein. He was a lecturer in the botany department. He had come as a refugee to Johannesburg - I don't even think he had a lectureship - but he was- but he taught there. The other person I came in contact with was a very great man called Edward Roux and it was Edward Roux who taught me botany, but what impressed- But what were you doing, doing botany in medicine - sorry Sydney? The first year of medicine, you do Botany, Zoology, Chemistry and Physics, right, and so it's a pretty good scientific education. And the thing that I can remember that stands out most, was I used to spend, go after all the classes had finished to the labs in the Botany department and help Mr Weinstein every now and then and he showed me Chromatography. He showed me what I think was the first thing, it was all done on Kieselguhr and it was the separation of Carotenoid Pigments, just by absorption on to this, and that I just recalled as being tremendously impressive. As you may know, I mean we did a lot of laboratory work there; physics, chemistry. My teacher in chemistry, my lecturer in chemistry, was a man called Karnovsky, who later went on to Harvard and whose younger brother actually, Manfred, was with me, was someone I taught- Morris. Morris, Morris- Manfred was the older brother. Manfred had taught me, started to teach me chemistry there, he had come back there. I- he- I once criticised him. He asked me a question and I told him he didn't know what he was talking about and so, we still recall, he threw me out of the chemistry lecture- lecture theatre there because I argued with him. Actually, I was right. However, that really- there I started to really learn biology systematically and chemistry and physics and of course that- and of course going to university and not participating in university life in any sense because I would- I was a commuter and would go out, back each day, each night and so on. Being in South Africa, I was quite a good rugby player, and so I played a little bit of rugby in my first year, but I gave it up and- Sydney, if I could just come back to Roux and Weinstein. I mean, you said Roux was a very great man from your past. I mean these were very important influences, Weinstein and Roux? Yes, well, I think Weinstein I just have, but Roux was- was- taught botany as a, as a living subject. I mean, it made me very interested, I think all the other- I mean zoology was deathly. We dissected a- we dissected a dogfish, you know, and one had to learn, start to learn almost by rote all of these things- there was very little functional thing. But it seemed to me that Roux had communicated, you know, what now would be called plant physiology. That was his interest at the time. Was any genetics there? There was no genetics, in fact we didn't get taught genetics and I'll tell you how I got to genetics later on.
South African Sydney Brenner (1927-2019) was awarded the Nobel Prize in Physiology or Medicine in 2002. His joint discovery of messenger RNA, and, in more recent years, his development of gene cloning, sequencing and manipulation techniques along with his work for the Human Genome Project have led to his standing as a pioneer in the field of genetics and molecular biology.
Title: Science at university: Weinstein, Roux and Karnovsky
Listeners: Lewis Wolpert
Lewis Wolpert is Professor of Biology as Applied to Medicine in the Department of Anatomy and Developmental Biology of University College, London. His research interests are in the mechanisms involved in the development of the embryo. He was originally trained as a civil engineer in South Africa but changed to research in cell biology at King's College, London in 1955. He was made a Fellow of the Royal Society in 1980 and awarded the CBE in 1990. He was made a Fellow of the Royal Society of Literature in 1999. He has presented science on both radio and TV and for five years was Chairman of the Committee for the Public Understanding of Science.
Listen to
Lewis Wolpert
at Web of Stories
Tags: Johannesburg, University of the Witwatersrand, Kieselguhr, Manfred L Karnovsky, Morris J Karnovsky, Edward Roux
Duration: 4 minutes, 42 seconds
Date story recorded: April-May 1994
Date story went live: 24 January 2008