NEXT STORY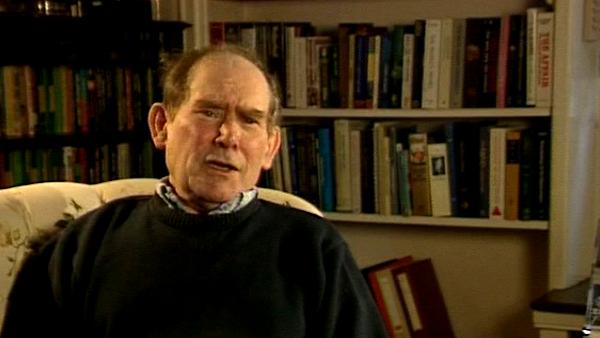 Seymour Papert
1
2
3
4
5
...
24
But I think the most significant person in many ways, and certainly the person about whom all the people that came under his influence never stopped talking about, and that was Joe Gilman. And Joe was then the Senior Lecturer in Histology and someone who exerted a great intellectual influence on a wide number of people and it was partly his interest, his interest in theoretical issues in science, I mean we used to spend hours and hours and hours discussing the difference between evocation and induction, Embryological Induction. But Joe started something that was very interesting. He had a brother called Teddy Gilman who actually came to England to Cambridge some years ago, many years ago and Joe and I started to read "Biochemistry and Morphogenesis". We read it at lunchtime, that is, it was one of the things. I brought sandwiches and sat down there and read from this book- Aloud? Yes, yes. That is, three or four pages used to be read at each lunch-time and discussed, it's very talmudic, but nonetheless that's the way I read "Biochemistry and Morphogenesis". But I'd like to interrupt. But he was the senior lecturer and you were just a student. I was just the student - I was an Honours student when all of this started - but I think Joe really wanted to be a theoretician, and of course, I think in retrospect Joe would want you to agree with the way he thought about it, and of course that was one of his failings, and although he was a great stimulus of people, there was this incredible love hate relationship. People couldn't stand to be with him. When Joe- I remember when Joe went to Accra - he left Johannesburg and went to Accra - we had just come to London, this was in the fifties, he left just after Sharpville. We used to say- any day and N'Kruma is going to arrive in London and say please let me in, and people were saying- why do you want to be here? He said- it's this guy Gilman, I can't stand him any longer, I've just got to get out. But that is the thing, and I still see friends of mine who went through this period, like Ben Kaminer who just, you know go back to those days and another- and so, Joe I think was a great formative influence. I think he was too much of a person who- he certainly was not an experimentalist in the sense that I had become one, you know, he was a great describer, his thesis was on the Golgi Apparatus and he had done- I mean there were all kinds of strange connections. For example, he started nutritional work. One of my jobs was actually to make amino acids, because of course we were doing nutrition on rats there, but we couldn't - it was during the war - we couldn't make amino acids. So, I actually manufactured Cysteine and Tryptophan by the classic methods. Cysteine from a barber, from the barber's shop, from human hair. There is a classical description of how to make Cysteine, and actually, Tryptophan from milk and Gowland Hopkins is, is someone who had given all those descriptions, so I had learnt to make amino acids and so on.
South African Sydney Brenner (1927-2019) was awarded the Nobel Prize in Physiology or Medicine in 2002. His joint discovery of messenger RNA, and, in more recent years, his development of gene cloning, sequencing and manipulation techniques along with his work for the Human Genome Project have led to his standing as a pioneer in the field of genetics and molecular biology.
Title: Joseph Gillman
Listeners: Lewis Wolpert
Lewis Wolpert is Professor of Biology as Applied to Medicine in the Department of Anatomy and Developmental Biology of University College, London. His research interests are in the mechanisms involved in the development of the embryo. He was originally trained as a civil engineer in South Africa but changed to research in cell biology at King's College, London in 1955. He was made a Fellow of the Royal Society in 1980 and awarded the CBE in 1990. He was made a Fellow of the Royal Society of Literature in 1999. He has presented science on both radio and TV and for five years was Chairman of the Committee for the Public Understanding of Science.
Listen to
Lewis Wolpert
at Web of Stories
Tags: UK, Cambridge University, Biochemistry and Morphogenesis, Accra, London, Ghana, Sharpeville, Joseph Gillman, Theodore Gillman, Kwame Nkrumah, Benjamin Kaminer, Frederick Gowland Hopkins
Duration: 4 minutes, 20 seconds
Date story recorded: April-May 1994
Date story went live: 24 January 2008