NEXT STORY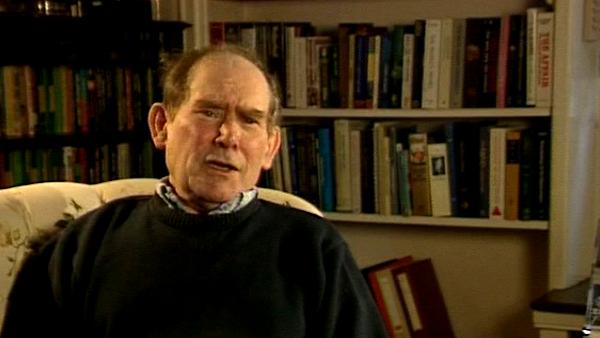 What we learnt at medical school
Realising my lecturers knew nothing
1
2
3
4
5
...
24
What had happened was we had lectures on where bile pigments came from. And I had come to the conclusion that the lecturer must be wrong. And they'd given us an idea about the origin of bile pigments, that they were by biosynthesis and so on and of course this is from the degradation of... of haemoglobin and… but they had given us a theory of how these arose, which was archaic, and I had on first principles, come to the conclusion that the lecturer was wrong.
[Q] What was the first principles?
Just the chemistry of the porphyrin nucleus and what had happened was I discovered in this book an article, by a man called Rudolph Lemberg – in this book – who actually worked on how the bile pigments came about. And what amazed me is that my lecturers had never heard of him, but there he was, very important figure, and this book was in the… the library. Of course, that was that realisation but this book is… was full of the most remarkable set of papers that I had ever read. My textbook of physiology at the time was Starling's Textbook of [Human] Physiology and of course I found physiology fascinating and... the whole lot of things there. But in the terms of biochemistry, it is this book that opened my eyes to the great richness that could come from the molecular explanation of living processes. And I think it is then, in about 1943, that I had realised that you've got to do chemistry and biology, and there's got to be a science that studies the function of cells and which… and which… I didn't know what it was at the time, but which brings together life and chemistry in some strong sense. There are interesting articles there. For example, there's a very interesting article by… on… by Scott Moncrieff on the genetics of colour pigmentation in plants, which sort of closed the cycle on my old extracts of the leaves and the petals and so on, and I suddenly realised they knew all about this. But this was the beginnings of these ideas of biochemical genetics. Of course, they had older… but the beginnings of the ideas in my mind and the… and the first beginning realisation about genes, which of course I… I didn't know about at all, because we had no teaching in the subject.
[Q] Did you discuss any of these ideas with anybody?
Well, I tried to discuss it with my teachers but, in fact, this was just impossible; there was no communication there.
South African Sydney Brenner (1927-2019) was awarded the Nobel Prize in Physiology or Medicine in 2002. His joint discovery of messenger RNA, and, in more recent years, his development of gene cloning, sequencing and manipulation techniques along with his work for the Human Genome Project have led to his standing as a pioneer in the field of genetics and molecular biology.
Title: Realising my lecturers knew nothing
Listeners: Lewis Wolpert
Lewis Wolpert is Professor of Biology as Applied to Medicine in the Department of Anatomy and Developmental Biology of University College, London. His research interests are in the mechanisms involved in the development of the embryo. He was originally trained as a civil engineer in South Africa but changed to research in cell biology at King's College, London in 1955. He was made a Fellow of the Royal Society in 1980 and awarded the CBE in 1990. He was made a Fellow of the Royal Society of Literature in 1999. He has presented science on both radio and TV and for five years was Chairman of the Committee for the Public Understanding of Science.
Listen to
Lewis Wolpert
at Web of Stories
Tags: Starling's Principles of Human Physiology, Max Rudolph Lemberg, Ernest Starling, Rose Scott-Moncrieff
Duration: 3 minutes, 45 seconds
Date story recorded: April-May 1994
Date story went live: 24 January 2008