NEXT STORY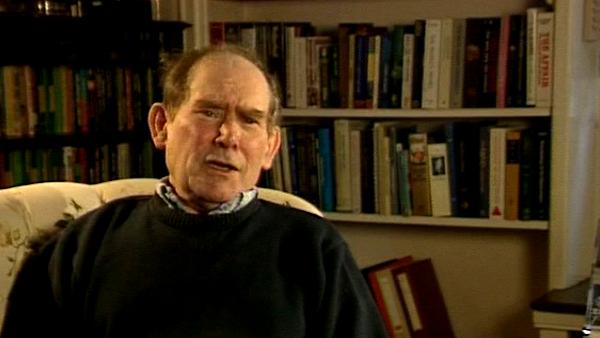 Schrödinger wrong, von Neumann right.
John von Neumann and the history of DNA and self-replication
1
...
3
4
5
6
7
...
24
What influenced me the most was the articles of von Neumann. Now, I had become interested in von Neumann not through the coding issues but through his interest in the nervous system and computers and of course, that's what Seymour was interested in because what we wanted to do is find out how the brain worked; that was what… you know, like a hobby on the side, you know. After... after dinner we'd work on central problems of the brain, you see, but it was trying to find out how this worked. And so I got this symposium, the Hixon Symposium, which I had got to read. I was, at that time, very fascinated by a rather strange complexion of psychology things by a man called Wolfgang Köhler who was a gestalt psychologist and another man called Lewin, who was what was called a topological psychologist and of course they were talking at a very different level, but in this book there is an article by Köhler and of course in that book there's this very famous paper which no one has ever read of von Neumann. Now of course later I discovered that those ideas were much older than the dating of this and that people had taken notes of them and they had circulated. But what is the brilliant part of this paper is in fact his description of what it takes to make a self-reproducing machine. And in fact if you look at what he says and what Schrödinger says, you can see what I have come to call Schrödinger's fundamental error, and in fact we can… I can find you the passage in that. But it's an amazing passage, because what von Neumann shows is that you have to have a mechanism not only of copying the machine but of copying the information that specifies the machine, right, so that he then divided the machine – the... the automaton as he called it – into three components: the functional part of the automaton; a... a decoding section of this which is part of that, which actually takes the tape, reads the instructions and builds the automaton; and a device that takes a copy of this tape and inserts it into the new automaton, right, which is the essential… essential, fundamental… and when von Neumann said that is the logical basis of self-reproduction, then you can see where Schrödinger made his mistake and this can be summarised in one sentence. Schrödinger says the chromosomes contain the information to specify the future organism and the means to execute it and that's not true. The chromosomes contain the information to specify the future organisation and a description of the means to implement, but not the means themselves, and that logical difference is made so crystal clear by von Neumann and that to me, was in fact... The first time now of course, I wasn't smart enough to really see that this is what DNA is all about, and of course it is one of the ironies of this entire field that were you to write a history of ideas in the whole of DNA, simply from the documented information as it exists in the literature, that is a kind of Hegelian history of ideas, you would certainly say that Watson and Crick depended on von Neumann, because von Neumann essentially tells you how it's done and then you just... DNA is just one of the implementations of this. But of course, none knew anything about the other, and so it's a... it's a great paradox to me that in fact this connection was not seen. Linus Pauling is present at that meeting because he gives this False Theory of Antibodies there. That means he heard von Neumann, must have known von Neumann, but he couldn't put that together with DNA and of course… well, neither could Linus Pauling put his own paper together with his future work because he and Delbrück wrote a paper on self… on self-complementation – two pieces of information – in about 1949 and had forgotten it by the time he did DNA, so that of course leads to a really distrust about what all the historians of science say, especially those of the history of ideas. But I think that that in a way is part of our kind of revolution in thinking, namely the whole of the theory of computation, which I think biologists have yet to assimilate and yet is there and it's a... it's an amazingly paradoxical field. You know, most fields start by struggling through from, from experimental confusion through early theoretical, you know, self-delusion, finally to the great generality and this field starts the other way round. It starts with a total abstract generality, namely it starts with, with Gödel's hypothesis or the Turing machine, and then it takes, you know, 50 years to descend into… into banality, you see. So it's the field that goes the other way and that is again remarkable, you know, and they cross each other at about 1953, you know: von Neumann on the way down, Watson and Crick on the way up. It was never put together.
[Q] But... but you didn't put it together either?
I didn't put it together, but I did put together a little bit later that, because the moment I saw the DNA molecule, then I knew it. And you connected the two at once? I knew this.
South African Sydney Brenner (1927-2019) was awarded the Nobel Prize in Physiology or Medicine in 2002. His joint discovery of messenger RNA, and, in more recent years, his development of gene cloning, sequencing and manipulation techniques along with his work for the Human Genome Project have led to his standing as a pioneer in the field of genetics and molecular biology.
Title: John von Neumann and the history of DNA and self-replication
Listeners: Lewis Wolpert
Lewis Wolpert is Professor of Biology as Applied to Medicine in the Department of Anatomy and Developmental Biology of University College, London. His research interests are in the mechanisms involved in the development of the embryo. He was originally trained as a civil engineer in South Africa but changed to research in cell biology at King's College, London in 1955. He was made a Fellow of the Royal Society in 1980 and awarded the CBE in 1990. He was made a Fellow of the Royal Society of Literature in 1999. He has presented science on both radio and TV and for five years was Chairman of the Committee for the Public Understanding of Science.
Listen to
Lewis Wolpert
at Web of Stories
Tags: Hixon Symposium, John von Neumann, Seymour Papert, Wolfgang Köhler, Kurt Lewin, Erwin Schrödinger, James Watson, Francis Crick, Linus Pauling, Max Delbruck, Kurt Gödel
Duration: 7 minutes, 12 seconds
Date story recorded: April-May 1994
Date story went live: 24 January 2008