NEXT STORY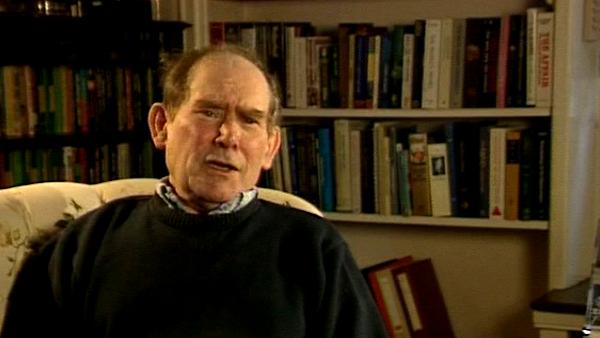 Crick, Watson and the first model of the double helix
The DNA model: the beginning of molecular biology
1
...
4
5
6
7
8
...
24
Of course the most important thing that happened there is that Jack Dunitz then told me… we heard about all the developments with DNA because Jack was following it, and he told me that Francis Crick and Jim Watson had solved the structure of DNA and that… and we decided to go across to see it, and this was in April of 1953. Jack and I and Leslie and another crystallographer went to Cambridge, and that's where I met Jim Watson and Francis Crick, and that's where I saw the DNA model for the first time, in the Cavendish, and that's when I saw that this was it. In a flash you could just see that everything… you know, this is… this was the fundamental… the curtain had been lifted and everything was now clear what to do. And I got tremendously excited by this, and saw that one was justified. Of course I was working on phage, and Jim had worked on phage, and of course both of us had done extremely trivial work on bacteriophage. He did radiation sensitivity and I of course was doing absorption and mutation, but I think that it was coming through that and through Jack getting the contact with Cal Tech and via that with Francis and with Jim. I spent that… I talked a lot to Francis on that day but I spent most of the day talking to Jim and walking around with him and I just knew that this is the... this was really the beginning of molecular biology. This was it, and sort of all the… the rather simple ideas that I was fumbling through, you know, just now reached immediate clarification. So I then decided that of course this is exactly what one must work on, and I went back to Oxford. I kept up… I kept correspondence with Jim, and Jim came to visit me later that year – that's in 1953. He came there, and he came on July 6th, and I know that because my… my youngest… my stepson, who was then seven, had a party, and of course what happens that Jim ate all the cake then. Jim was a great lover of desserts, and of course they were all terribly impressed by his appetite for… for cake. And Jim of course had come… Jim had other friends like Av Mitchison that he'd come to see in Oxford, and so I kept that up and when that had gone… of course, Francis had gone to America later in '53.
South African Sydney Brenner (1927-2019) was awarded the Nobel Prize in Physiology or Medicine in 2002. His joint discovery of messenger RNA, and, in more recent years, his development of gene cloning, sequencing and manipulation techniques along with his work for the Human Genome Project have led to his standing as a pioneer in the field of genetics and molecular biology.
Title: The DNA model: the beginning of molecular biology
Listeners: Lewis Wolpert
Lewis Wolpert is Professor of Biology as Applied to Medicine in the Department of Anatomy and Developmental Biology of University College, London. His research interests are in the mechanisms involved in the development of the embryo. He was originally trained as a civil engineer in South Africa but changed to research in cell biology at King's College, London in 1955. He was made a Fellow of the Royal Society in 1980 and awarded the CBE in 1990. He was made a Fellow of the Royal Society of Literature in 1999. He has presented science on both radio and TV and for five years was Chairman of the Committee for the Public Understanding of Science.
Listen to
Lewis Wolpert
at Web of Stories
Tags: 1953, Cambridge University, Cavendish Laboratory, Cal Tech, California Institute of Technology, Oxford University, USA, Jack D Dunitz, Francis Crick, James Watson, Leslie Orgel, Avrion Mitchison
Duration: 3 minutes, 39 seconds
Date story recorded: April-May 1994
Date story went live: 24 January 2008