NEXT STORY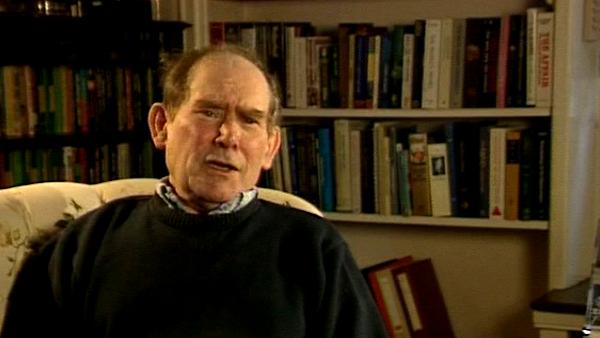 Overlapping triplet code: eliminating all overlapping triplet code
Overlapping triplet code: George Gamow's diamond code
1
...
5
6
7
8
9
...
24
I did… I actually did experiments in Cold Spring Harbor, and actually wrote a… and I actually wrote a little paper from that work on… on tryptophan biosynthesis, which is very interesting. I had already started to think quite hard about the genetic code and it was then in that summer – this is 1954 – that when I arrived at Cold Spring Harbor I had already started to do my own research, theoretical research on this thing on what was called the overlapping triplet code. Very soon after Francis and Jim published their paper, George Gamow, who was a cosmologist and physicist, and who's renowned for his books on physics called Mr Tompkins Meets the Universe [sic] I think was one of them… George Gamow published a paper on a code for DNA. This was the so-called Diamond Code and… and it became clear that the standard problems of the code then were that there were 64 triplets, 20 amino acids, and so one had to do something to arrange these triplets in this form and Gamow provided one explanation. He thought basically that overlapping triplets... that is triplets overlapping by two would determine the code and he put it in… in a form which looked physical in the sense that he thought there were diamond shaped cavities on DNA which covered three bases and thought that the amino acids would fit into this and he showed there was a way of arranging these… these three bases, such there were 20 groups of them, and since this 20 came out to be the same as the number of amino acids, the natural amino acids, one thought the magic number had been reached, and that was the thing.
South African Sydney Brenner (1927-2019) was awarded the Nobel Prize in Physiology or Medicine in 2002. His joint discovery of messenger RNA, and, in more recent years, his development of gene cloning, sequencing and manipulation techniques along with his work for the Human Genome Project have led to his standing as a pioneer in the field of genetics and molecular biology.
Title: Overlapping triplet code: George Gamow's diamond code
Listeners: Lewis Wolpert
Lewis Wolpert is Professor of Biology as Applied to Medicine in the Department of Anatomy and Developmental Biology of University College, London. His research interests are in the mechanisms involved in the development of the embryo. He was originally trained as a civil engineer in South Africa but changed to research in cell biology at King's College, London in 1955. He was made a Fellow of the Royal Society in 1980 and awarded the CBE in 1990. He was made a Fellow of the Royal Society of Literature in 1999. He has presented science on both radio and TV and for five years was Chairman of the Committee for the Public Understanding of Science.
Listen to
Lewis Wolpert
at Web of Stories
Tags: Cold Spring Harbor Laboratory, 1954, The New World of Mr Tompkins, George Gamow, Francis Crick, James Watson
Duration: 2 minutes, 38 seconds
Date story recorded: April-May 1994
Date story went live: 24 January 2008