NEXT STORY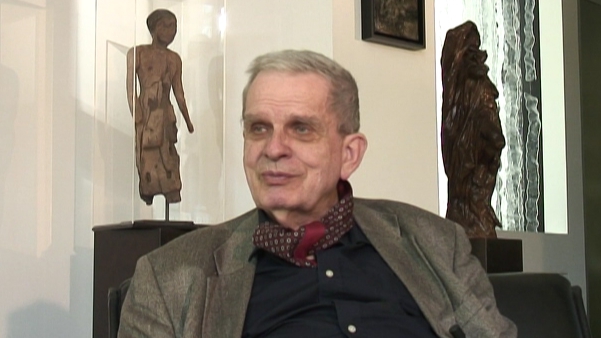 Gennadiy Aygi
1
2
3
4
5
...
9
Ir dabartinė, žinoma, mano žmona tai jau visai kita žmona. Nors jos pažįstamos. Marina Kedrova ir mano dabartinė žmona yra neblogai pažįstamos. Ir... Marina buvo Maskvos inteligentijos rateliuose toks labai savas žmogus. Per ją aš susipažinau su garsiu kompozitorium Andrejum Volkonskiu iš kunigaikščių Volkonskių giminės, kuris buvo gimęs Ženevoje, paskui tėvai jį atvežė į Rusiją. Ten jam gyventi buvo labai sunku ir veržėsi atgal į Vakarus, pagaliau jam pavyko išvykti į Vakarus. Jis ne taip seniai, irgi Ženevoje, mirė. Dabar apie jį leidžiama yra atsiminimų knyga, aš kaip tik parašiau apie jį atsiminimus.
And my present wife, of course, is completely different, even though they know one another. Marina Kedrova and my present wife know each other quite well. And Marina, in the circles of the Moscow intelligentsia, was very much her own person. It was through her that I made the acquaintance of the famous composer, Andrei Volkonsky, from the aristocratic Volkonsky family, who was born in Geneva and who was brought to Russia by his parents. He found it very difficult to live there and tried to return, and finally succeeded in leaving for the West. He died not so long ago also in Geneva. A book about him is about to be published, and, as it happens, I wrote some memoirs about him.
Born in 1937, Tomas Venclova is a Lithuanian scholar, poet, author and translator of literature. He was educated at Vilnius University and later at Tartu University. As an active participant in the dissident movement he was deprived of Soviet citizenship in 1977 and had to emigrate. Between 1977 and 1980 he lectured at University of California, Berkeley, where he became friends with the Polish poet Czesław Miłosz, who was a professor of Slavic Languages and Literature at the school, as well as the Russian poet Joseph Brodsky. He is currently a full professor at Yale University.
Title: Andrei Volkonsky
Listeners: Andrzej Wolski
Film director and documentary maker, Andrzej Wolski has made around 40 films since 1982 for French television, the BBC, TVP and other TV networks. He specializes in portraits and in historical films. Films that he has directed or written the screenplay for include Kultura, which he co-directed with Agnieszka Holland, and KOR which presents the history of the Worker's Defence Committee as told by its members. Andrzej Wolski has received many awards for his work, including the UNESCO Grand Prix at the Festival du Film d'Art.
Tags: Moscow, Marina Kedrova, Andrei Volkonsky
Duration: 45 seconds
Date story recorded: May/June 2011
Date story went live: 20 March 2012