NEXT STORY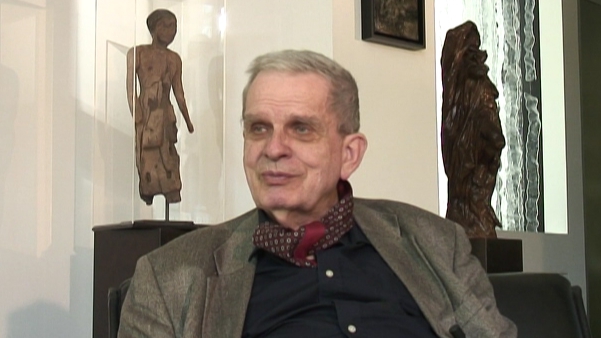 A native of Vilnius
Poetry Readings: Variacija nubudimo tema
1
...
5
6
7
8
9
Nu, ir gal dar paskutinį paskaitysiu iš pačių naujausių. Tai meilės eilėraštis, variacija nubudimo tema. Kaip žmogus nubunda ir nelabai žino, ką jis išgirsta, kokie tie patys pirmieji rytmečio garsai. Parašyta Druskininkuose, užpernai vasarą, Lietuvoje.
Kas aidi tamsoje? Birželio vėjas
daržuos prie ežero? Jei taip, tai mudu
vasarnamy ant aukšto, dar jauni,
užmigę paryčiu. Duslus variklis?
Vadinas, mes lindynėje prie uosto,
valstybėje, kurioj neverta gaišti,
nuvarginti ne meilės, o kelionės
audrota įlanka. O gal tai čirpia
sukriošęs senamadis žadintuvas,
neišmoningai sklaidąs kaitrų orą?
Jei taip, žinau, kad nubudau Toskanoj,
bet neatsimenu miestelio vardo.
Laikai surizgo, neatskirsi metų,
vietovių, garso atšešėlių. Lieka
ranka, prigludusi prie mano delno,
lengva dejonė, ženklinanti sapną,
suprantamesnė nei savasis balsas.
Kas susilydė, nebeišsilydys.
Vaikai užaugo, likome vieni.
Tiek mirusių draugų. Bemaž kasdien
iš fotografijų miglos išplaukia
veidai, kurių kitur nematysi.
Ir salėj tarp vidurmiesčio klevų
koncerto gūsiai atveria mums naktį.
Užuolaida siūbuoja. Už langinių
į šnaresį pavirsta lapija,
ir skaidrūs siluetai sklendžia sienom.
Jau nesvarbu, ar tai vadinas meilė,
ar nepataisoma ištikimybė,
bedugnis išgąstis, kada vėluoja
lėktuvas, kuriame turi atskristi,
ar kraujo pėdsakai suteršia marlę,
kurią bandai nuslėpti nuo manęs.
Miegokim. Apsimeskim, kad nežinom,
jog vienas mudviejų išnyks pirmasis.
Geriau išnykti, negu tai žinoti.
Vėl aidas. Pamažu aiškėja: varpas.
Bažnyčia? Bokšto laikrodis? Vis viena.
Iš troškulio, nesutarimų, skausmo
užgimsta dviem priklausantis pasaulis,
kuriuo kaip dovana pasidalijam
su nežinia, plasnojančia virš mūsų.
Mums buvo lemta vynmedžius genėti
ir ręsti stogą iš Libano kedrų,
ir degti nenumaldomoj liepsnoj.
Beveik diena. Kaip įsakyta Knygoj,
nežadinu tavęs, kol nenubusi.
Klausausi gaudesio, užgniaužęs kvapą.
Na va, gal tiek ir užteks. Ačiū.
Well, perhaps the last poem that I'll read will be one of the very newest. It's a love poem, a variation on the theme of awakening, about how a person wakes up and doesn't really know what he's hearing, what those very first sounds of the morning are. It was written in Druskininkai, the summer before last, in Lithuania.
Translation of this poem not available.
Well, perhaps that'll be enough. Thank you.
Born in 1937, Tomas Venclova is a Lithuanian scholar, poet, author and translator of literature. He was educated at Vilnius University and later at Tartu University. As an active participant in the dissident movement he was deprived of Soviet citizenship in 1977 and had to emigrate. Between 1977 and 1980 he lectured at University of California, Berkeley, where he became friends with the Polish poet Czesław Miłosz, who was a professor of Slavic Languages and Literature at the school, as well as the Russian poet Joseph Brodsky. He is currently a full professor at Yale University.
Title: Poetry Readings: "Variacija nubudimo tema"
Listeners: Andrzej Wolski
Film director and documentary maker, Andrzej Wolski has made around 40 films since 1982 for French television, the BBC, TVP and other TV networks. He specializes in portraits and in historical films. Films that he has directed or written the screenplay for include Kultura, which he co-directed with Agnieszka Holland, and KOR which presents the history of the Worker's Defence Committee as told by its members. Andrzej Wolski has received many awards for his work, including the UNESCO Grand Prix at the Festival du Film d'Art.
Tags: Variacija nubudimo tema
Duration: 3 minutes, 22 seconds
Date story recorded: May/June 2011
Date story went live: 20 March 2012