NEXT STORY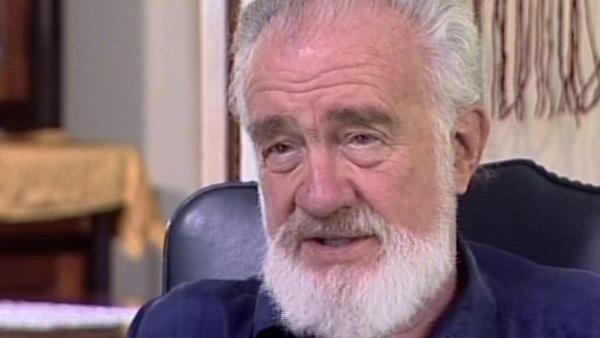 Music was of great importance in my education
My appreciation for public school
1
2
3
4
5
...
10
I went to school in the regular schools in Beaver Falls, public… public school system, and you know, there are a lot of things probably wrong with that but… but I'm sort of glad we did. You know I… you know a lot of my friends that went to private schools and something… and… and they probably got better teaching but, you know, being around so many kids that came from immigrant families and so forth, there was a… you know, there were a lot... I mean, the tough guys were Italians but there… then there were the Hungarians and the Romanians and Yugoslavs of one kind and another and all of that and, you know, there was… you were learning something there. I mean, I… I didn't appreciate any of this until much, much later when I got to go to those countries and see that, you know, to… to us these people were uncultured, not fit to do anything but work in the steel mills and suddenly get… getting to their country and finding out that they had cultures that were 10 times older than ours and richer and… although maybe they hadn't partaken of much of that but it was there, and it was in… you know, it was in the back of their heads too in part.
And there were gangs and as I said, you know, you had to… to fight to get into each of the gang which... which was kind of ridiculous and… and I was never any good at. I was… I was a good student. I was usually the A student in the… in the class. There was, if I was challenged, it would usually be by a girl, and… but mostly I… you know, I… I was also the teacher's pet usually, and… and I got very good grades and I… I learned. I also had… it's also true that the teachers of that time were very dedicated, some of them, and… and I had a few very good teachers. There was a wonderful drama teacher that we... that we had there, there were several fine English teachers, there was a very tough Latin teacher, we were all scared to death of her, but we learned some Latin. I had a… a real bully of a shop teacher, who… a guy who… and this was… this was very humiliating to me. He… he would…before… before class each day he would have us get… sit up on the woodworking benches and talk to us and he… he would… he would describe me to the class as a pantywaist and… and make all kinds of remarks about me and how I wasn't male enough and… and so forth, well he never used that term but this is what. And I remember one year… one year when I had to go back to school, I remember… simply getting into an absolute panic and bawling all night and thought… I thought I can't… I just can't go back and face that anymore. I'm not sure but what my father went in and talked to him. I rather suspect he may have.
American poet WD Snodgrass, entered the world of poetry with a bang winning several awards, including the Pulitzer Prize, for his first collection of poetry, Heart's Needle. A backlash followed his controversial fifth anthology "The Fuehrer Bunker", but in recent years these poems have been reassessed and their importance recognised.
Title: My appreciation for public school
Listeners: William B. Patrick
William B. Patrick is a writer and poet who lives in Troy, New York. Among his work are the poetry volumes "We Didn't Come Here for This" and "These Upraised Hands", the novel "Roxa: Voices of the Culver Family" and the plays "Rescue" and "Rachel's Dinner". His most recent work is the non-fiction book "Saving Troy", based on the year he spent following the Troy Fire Department.

Mr. Patrick has been Writer-in-Residence at the New York State Writers Institute and has taught at Old Dominion University, Onondaga Community College, and Salem State College, and workshops in Screenwriting and Playwriting at the Blue Ridge Writers Conference in Roanoke, Virginia. He has received grants from the Academy of American Poets, the National Endowment for the Arts, the Massachusetts Artists Foundation, and the Virginia Commission for the Arts.
Tags: Beaver Falls
Duration: 3 minutes, 23 seconds
Date story recorded: August 2004
Date story went live: 24 January 2008