NEXT STORY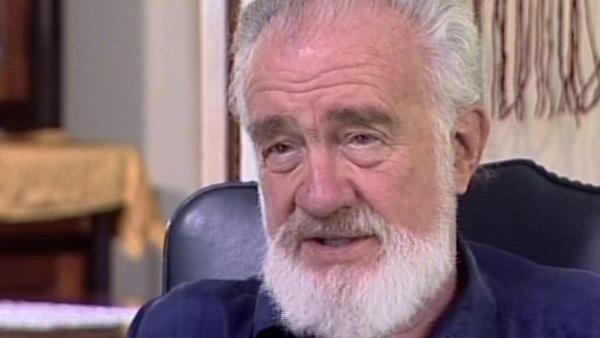 Paul Engle's conversion to New Criticism
Poets who influenced my early poetry
1
2
3
4
5
...
10
And I wandered around and finally wandered into the poetry workshops and just fell in love with the… with the situation, with the teachers; I mean these were people who really knew about poetry, they loved it, they really studied it, they really… and… and really worked hard on trying to help people and I took to sitting in with the poetry workshop. I wasn't signed up for it, I… I wasn't good enough yet to be in… in the class; and after about two years I began to think: I believe I can do some of this. Now later on I had to rebel against them. They… they were… they came from the school known as the New Critics and… and they… they were too doctrinaire about it, but at the same time the New… what the New Critics did was they taught Americans how to read, how to read and really understand something. I hadn't known it was possible. I'd gone through Gen… the Geneva College, I got an A in every single course; I hadn't understood a damn word. I mean… when we read poems I didn't know it was possible to understand anything about it, all of a sudden these people were teaching me something and… and I… I developed several very close friends there, then to my great — to my great and utter — well, my… the first things that began to get any good that I was writing… I was imitating a British poet named William Empson who was a very great critic and also wrote some really terrific poems, he was a very strange man, but these were quite good poems. I don't… I don't think anyone thinks of him as a major poet now but he… but he's… he's a major… he's certainly is a major critic and then probably thought of as a minor poet now. Then… and that… that… his… his work was almost totally intellectual, he… he had a tremendous brain and the stuff was just, you know, enormously intellectualized. I... I could sort of, kind of manage that, I… I was kind of intellectual.
The next thing that hit me was that they announced… now Lowell —the teacher was away often and other poet… he'd bring other poets in to teach — the next one he brought in was Robert Lowell and I simply couldn't believe that Lowell was going to come there to teach; I mean, he was my… absolutely my idol and his writing was absolutely the total opposite of… of Empson's. Empson, you know, dry, intellectual, thought out; whereas Lowell's stuff was just explode… exploding rhetoric, exploding images and all of this coming in the wake of TS Eliot and Ezra Pound and those people who had… who had started this whole modernist movement. And, so pretty soon I was writing just like Lowell. And, as a matter of fact, one summer a very fortunate thing happened, a lady who came to give a reading gave her fee back and I got a part of that and took it to go to Colorado to a writers conference where Randall Jarrell was. And Randall Jarrell was… was Lowell's best friend but a very, very different writer from him, and he was… he… I… I, okay. Jarrell is our best poet of World War II. His… his war poems are absolutely marvelous, there's… there's at least two of them I can't read out loud because I break up — break up completely — just go to pieces. I showed him these poems and… and other critics had come… come to Iowa and look… and each of them had liked at least one poem but it was always a different poem which had… had me suspecting there must be something slightly wrong here if, you know, if… if this poem hooks up with this guy's intellect and this one hooks up with this guy's and the… I'm going to have to write a hell of a lot of different poems to get any kind of width of audience.
American poet WD Snodgrass, entered the world of poetry with a bang winning several awards, including the Pulitzer Prize, for his first collection of poetry, Heart's Needle. A backlash followed his controversial fifth anthology "The Fuehrer Bunker", but in recent years these poems have been reassessed and their importance recognised.
Title: Poets who influenced my early poetry
Listeners: William B. Patrick
William B. Patrick is a writer and poet who lives in Troy, New York. Among his work are the poetry volumes "We Didn't Come Here for This" and "These Upraised Hands", the novel "Roxa: Voices of the Culver Family" and the plays "Rescue" and "Rachel's Dinner". His most recent work is the non-fiction book "Saving Troy", based on the year he spent following the Troy Fire Department.

Mr. Patrick has been Writer-in-Residence at the New York State Writers Institute and has taught at Old Dominion University, Onondaga Community College, and Salem State College, and workshops in Screenwriting and Playwriting at the Blue Ridge Writers Conference in Roanoke, Virginia. He has received grants from the Academy of American Poets, the National Endowment for the Arts, the Massachusetts Artists Foundation, and the Virginia Commission for the Arts.
Tags: New Critics, New Criticism, Geneva College, Colorado, World War II, William Empson, Robert Lowell, TS Eliot, Ezra Pound, Randall Jarrell
Duration: 5 minutes, 2 seconds
Date story recorded: August 2004
Date story went live: 24 January 2008