NEXT STORY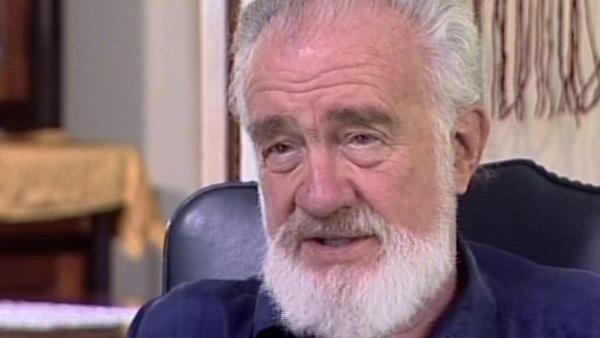 Randall Jarrell's life as a working poet
Being tutored by Randall Jarrell
1
2
3
4
5
...
10
Well, when I went to Randall Jarrell who was… he was our… our great war poet and I wanted… gee, the chance to study with Randall Jarrell, what will he be like, what kind of tough guy will he be like? He was like a little girl, he would say, 'Gee, don't you just love Colorado, don't you think Colorado's dovey? I think it's dovey, how about you?' And he would go on and on like this all the time and I think: This is the guy who wrote those poems that killed me about World War II? The only guy I've known whose mind is tough enough to really look at that thing and see how awful it was? And put it on paper? Well, he was. And he was also a… he… he was a very cruel critic — at least to me he was — and I've seen this in other… in other art forms sometimes, if… if a… a higher artist thinks you have some talent, he will beat the bejesus out of you, maybe out of jealousy but maybe also out of trying to toughen you up or something. He… he would… he picked up my poems and said, 'Snodgrass, do you know you're writing the very best second-rate Lowell in the whole country?' And he said this: 'The only trouble is that there's one other person who's writing first-rate Lowell'.
He would… we… we would go to sit and look at my poems and he would… there were student, it… it was in a student union and it was out on a sort of open porch and there were tables all around and students at all the other things. And he would pick up my poem and he would read a line and say, 'Blah, blah, blah, blah, blah, Snodgrass! You wrote this?! You wrote… listen to that I'm going to read it again! Blah, blah, blah, blah, blah' you know… and everybody at the tables around us hearing this… you… if he hadn't been so… he… he… he's so brilliant and he's so funny, that if he hadn't kept me weak with laughing I'm sure I would have hit him. I mean, Jesus. But, the horrible thing is he was right, he… he jarred all that stuff out of me and I didn't come to… now I didn't come to be writing like him — I don't think I ever did — but the earlier ones I… I wrote like… either like Empson or like Lowell. Jarrell said, 'Young poets are like little dogs, they… they'd have a mistress who sings and when she practices they just can't help sitting under the piano and howling'. God he was funny, but, you know, we became, in a way, friends, but… but you know, I… I could never be entirely friendly to him. But he was… Jesus he was so extreme and it… it was a way of keeping everybody at a distance.
American poet WD Snodgrass, entered the world of poetry with a bang winning several awards, including the Pulitzer Prize, for his first collection of poetry, Heart's Needle. A backlash followed his controversial fifth anthology "The Fuehrer Bunker", but in recent years these poems have been reassessed and their importance recognised.
Title: Being tutored by Randall Jarrell
Listeners: William B. Patrick
William B. Patrick is a writer and poet who lives in Troy, New York. Among his work are the poetry volumes "We Didn't Come Here for This" and "These Upraised Hands", the novel "Roxa: Voices of the Culver Family" and the plays "Rescue" and "Rachel's Dinner". His most recent work is the non-fiction book "Saving Troy", based on the year he spent following the Troy Fire Department.

Mr. Patrick has been Writer-in-Residence at the New York State Writers Institute and has taught at Old Dominion University, Onondaga Community College, and Salem State College, and workshops in Screenwriting and Playwriting at the Blue Ridge Writers Conference in Roanoke, Virginia. He has received grants from the Academy of American Poets, the National Endowment for the Arts, the Massachusetts Artists Foundation, and the Virginia Commission for the Arts.
Tags: Colorado, World War II, Randall Jarrell, Robert Lowell, William Empson
Duration: 3 minutes, 20 seconds
Date story recorded: August 2004
Date story went live: 24 January 2008