NEXT STORY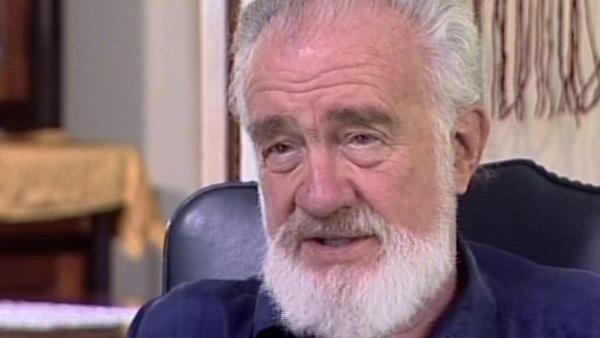 War guilt caused writer's block
Working as a brig guard in the Navy
1
2
3
4
5
...
10
Our… our officers, rather than carry out a trial or carry out a real examination to find out, what they did was to put the guys who were accused in a special… what they called a hot box. It was a… a… one… what do you call it, a room of… of the ship, fairly down low in the ship. It had only little barred windows and the… the hatches on… on a room like that have big metal levers that you clamp down to… to clamp the thing shut, and on the inside, those had been taken off so these guys can't get out. They are in there for the night. There's no… there's no beds, they're not… they sleep on the bare floor, and then we had to take them out and work them all day, very hard. This was their punishment, and every night I had to go down and get them up on their feet.
There was one dog taken off the… the door altogether, and before I would go in, I would, you know, go up to that… well first I would… I would — I had a .45 and I would take the flap off of it and cock it — and I would look through the hole to see who was inside. There was always an eye on the other side of that door. And then you had to open the other dogs, swing the door open and say, 'Get back', and they'd get back, then you'd step into the room with these — oh, there might be 10 guys in there — and you'd say, 'On your feet', and they would get up and… and stand at attention and then you'd… then you'd dismiss them and go away. You had to do this every hour, and I didn't really like doing this. I didn't know whether they were guilty of what they had been charged; if so, I thought they ought to be charged and brought to trial on this. The… the officers didn't want to do that because it would bring… it would look bad for them.
American poet WD Snodgrass, entered the world of poetry with a bang winning several awards, including the Pulitzer Prize, for his first collection of poetry, Heart's Needle. A backlash followed his controversial fifth anthology "The Fuehrer Bunker", but in recent years these poems have been reassessed and their importance recognised.
Title: Working as a brig guard in the Navy
Listeners: William B. Patrick
William B. Patrick is a writer and poet who lives in Troy, New York. Among his work are the poetry volumes "We Didn't Come Here for This" and "These Upraised Hands", the novel "Roxa: Voices of the Culver Family" and the plays "Rescue" and "Rachel's Dinner". His most recent work is the non-fiction book "Saving Troy", based on the year he spent following the Troy Fire Department.

Mr. Patrick has been Writer-in-Residence at the New York State Writers Institute and has taught at Old Dominion University, Onondaga Community College, and Salem State College, and workshops in Screenwriting and Playwriting at the Blue Ridge Writers Conference in Roanoke, Virginia. He has received grants from the Academy of American Poets, the National Endowment for the Arts, the Massachusetts Artists Foundation, and the Virginia Commission for the Arts.
Tags: United States Navy
Duration: 2 minutes, 37 seconds
Date story recorded: August 2004
Date story went live: 24 January 2008