NEXT STORY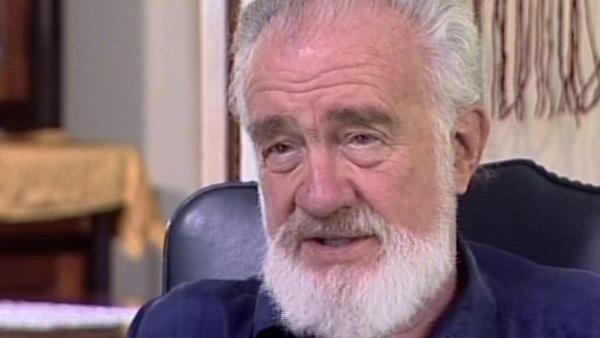 Creating Magda Goebbels' lines
Max Frisch's Biedermann and the Firebugs
1
...
3
4
5
6
7
...
10
Now, I had already been working on a translation of a… of a play, which happened to be about the Nazis. It's the… usually called the Firebugs, or Biedermann and the Firebugs, and there are… you have the proper German sitting in his living room, Biedermann, and then there are these… these… first there's this big thug who comes in, Sepp, which is a nickname for Joseph… actually it's Goering, and… and wants… and wants a room for the night or wants some place to stay for the night, and then he brings his… his crazy friend, Willi in, who is really Goebbels. I was never to get… able to get this, we… we were never able to get the rights. Some friends were doing this play and… and wanted me to do the choruses. I did the choruses and then they found they couldn't get the rights and I thought: Oh hell, I'll go ahead and do the rest of the play and maybe I can get the rights. Well, I couldn't, they'd all been given to a man named Mordecai Gorelik, a scene designer, and… and he ruined the play. He made his own translation of it and it was… and… and had so taken all the comedy out of it in such a way that you have to have… it has to be tricked up with choruses of singing firemen who come through singing, 'I don't want to set the world on fire' or else 'Smoke gets in your eyes', when they climb in and out of a balcony with ladders and junk like that. Whereas instead you've got this really wonderful play, the Max Frisch play, and… but I… I could never get the… Gorelik had the rights and was able to hang on… and he... he didn't even respect Max Frisch. He spoke of him in the most disrespectful terms always. But he had got the rights and I… I get tempted every now and then to try to come back because I'd like… at least 25 years have passed now and I thought okay, and… and Frisch has been dead for quite… quite a long time, and up until a year or two ago I… there was a chance I might have got the rights again. Then that Walt Disney thing came through because they were afraid that they were going to lose the rights to things like Mickey Mouse and stuff like that, so they had that extended to 100 years — the… the copyright thing — you remember when all that happened. And… and that's just all… I… I have a friend who's a playwright who told me about this. I… I hadn't known, I was about to… get the script out again and see if maybe I could sell it to somebody. I saw it done twice, before they discovered we were doing it, and it played like crazy.
Oh, oh, was it fun, and a wonderful Willi… well… well you know, they go upstairs and… and next thing Biedermann knows they're carry… they're carry… there… there's all this bumping noise and he goes out and he finds oh, they're carrying oil drums up into the attic where they sleep, and… and it finally ends up with Biedermann up there helping them lay the wire. He says but… but if I don't help them, if… if I don't be… make them my friends, they could blow up my house, and so he ends up helping them do this, and of course at the end, bluey! Everything blows up. Alright, right. And then there's a wonderful last scene that sometimes isn't played, but this… this is Biedermann and… and his… his wife in hell where they discover that these guys are Satan and oh, one of the other devils, I've forgotten which, and they're… they're going back up to the world to… to see what else they can… I think it's a terrific play. Anyway, I had had that kind of approach to… to these… these guys, and, well I guess maybe I'd been reading a lot of Browning, whose… whose monologues are so wonderful, and especially the monologues of… of the villains. The same thing in Shakespeare; I mean, you know, who… who do you most love to read in Shakespeare? Richard III. Richard III or Edmund, the awful bastard son. I mean he is so… 'You evil are my goddess", and I… I think Goebbels is very like that. I mean, he sees himself as demonic and it's one of the few things that we'd all agree with him about. He sure was.
American poet WD Snodgrass, entered the world of poetry with a bang winning several awards, including the Pulitzer Prize, for his first collection of poetry, Heart's Needle. A backlash followed his controversial fifth anthology "The Fuehrer Bunker", but in recent years these poems have been reassessed and their importance recognised.
Title: Max Frisch's "Biedermann and the Firebugs"
Listeners: William B. Patrick
William B. Patrick is a writer and poet who lives in Troy, New York. Among his work are the poetry volumes "We Didn't Come Here for This" and "These Upraised Hands", the novel "Roxa: Voices of the Culver Family" and the plays "Rescue" and "Rachel's Dinner". His most recent work is the non-fiction book "Saving Troy", based on the year he spent following the Troy Fire Department.

Mr. Patrick has been Writer-in-Residence at the New York State Writers Institute and has taught at Old Dominion University, Onondaga Community College, and Salem State College, and workshops in Screenwriting and Playwriting at the Blue Ridge Writers Conference in Roanoke, Virginia. He has received grants from the Academy of American Poets, the National Endowment for the Arts, the Massachusetts Artists Foundation, and the Virginia Commission for the Arts.
Tags: Nazis, Biedermann and the Firebugs, Richard III, Max Frisch, Hermann Göring, Mordecai Gorelik, Walt Disney, Robert Browning, William Shakespeare, Joseph Goebbels
Duration: 5 minutes, 2 seconds
Date story recorded: August 2004
Date story went live: 24 January 2008