NEXT STORY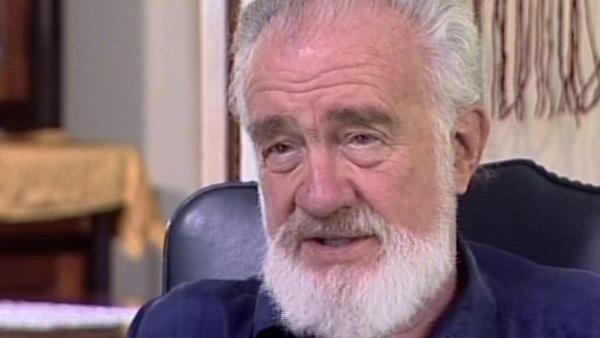 Joseph and Magda Goebbels were both unfaithful
1
...
3
4
5
6
7
...
10
She's… she's giving her six poison… her… her six children poison. She had a… she had an earlier child by her first husband and in… in a way she is the most horrifying person there to me. I mean I'm kind of used to the idea that… that the rulers probably want to… are perfectly willing to kill off all… everybody they rule, they… they don't worry about things like that. But yeah, and… and I saw what she was doing in several ways parallel. She was… she…she was a woman who had been elaborately unfaithful. She had been raised by a Jewish stepfather who was very kind to her and… and treated her beautifully. She met a rich industrialist whom she wanted to marry. In order to do that she had to foreswear that man who had taken care of her, and her Jewish faith. She now became a Catholic, if I'm… if I'm not mistaken, and I may be.
Well, within a few… within a matter of weeks he found her in bed with a young student. This did not please him. He was going… he was going to divorce her. He made only one mistake; he didn't hide his tax books. Uh, uh, which means she was a very rich divorcee. I mean she came… she came out of the settlement with just fabulous amounts of money, went to Berlin, had nothing to do, looked around for a cause, joined the Nazi party. She sort… she fell for Hitler. She talked with some of the people in the… in the Party, and they said well no, no, no, we can't arrange that, you… no, nah, uh, uh, uh. What… what we can do though is for instance, if you would marry somebody like Goebbels, then things can always be finessed.
American poet WD Snodgrass, entered the world of poetry with a bang winning several awards, including the Pulitzer Prize, for his first collection of poetry, Heart's Needle. A backlash followed his controversial fifth anthology "The Fuehrer Bunker", but in recent years these poems have been reassessed and their importance recognised.
Title: Who was Magda Goebbels?
Listeners: William B. Patrick
William B. Patrick is a writer and poet who lives in Troy, New York. Among his work are the poetry volumes "We Didn't Come Here for This" and "These Upraised Hands", the novel "Roxa: Voices of the Culver Family" and the plays "Rescue" and "Rachel's Dinner". His most recent work is the non-fiction book "Saving Troy", based on the year he spent following the Troy Fire Department.

Mr. Patrick has been Writer-in-Residence at the New York State Writers Institute and has taught at Old Dominion University, Onondaga Community College, and Salem State College, and workshops in Screenwriting and Playwriting at the Blue Ridge Writers Conference in Roanoke, Virginia. He has received grants from the Academy of American Poets, the National Endowment for the Arts, the Massachusetts Artists Foundation, and the Virginia Commission for the Arts.
Tags: Berlin, Nazis, Magda Goebbels, Adolf Hitler, Joseph Goebbels
Duration: 2 minutes, 38 seconds
Date story recorded: August 2004
Date story went live: 24 January 2008