NEXT STORY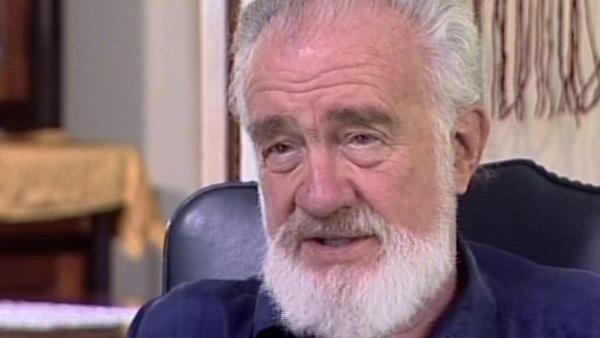 The music of poetry is its meaning
The use of new verse forms in The Fuehrer Bunker
1
...
3
4
5
6
7
...
10
At the time I was writing the first verse, I al… the first things — the formal verse — I also wrote lots of free verse then, but I… I… it didn't specially please me, and… and I thought: I'm doing better work in formal meters than I am in… I... I am letting myself go free and not turning up anything that I couldn't have done just as well in… in meter. That began to change, and… and when I came to the second book – After Experience – I felt that more and more of… of the free verse was… was printable and so forth, and so I… I don't know what the percentage in there, but… but there's a lot more than in the first book, there's a lot more free verse there. When I came to this, it seemed to me that I… what I… what I wanted to do was to try to make up new forms. I… I… there are some free verse people who… who always do things in free verse, but also there are quite a few nonce forms, like there's this fancy graph form for Himmler, the… the fancy French forms for Magda, and… and not nearly so much free verse, which sort of bothers me. I had been thinking about my… my very dear friend, Anthony Hecht, who's a very, very formal poet in… in his early pieces, and then he did one or two poems that were just staggeringly powerful, in free verse, and then went back to formal verse, and I… I thought Tony don't do that, you know, go ahead with some… and since he didn't, I felt I should, but… but this… this… having got into this matter of form equal character, I had to go with more forms, and so I tended to make up new forms, nonce forms I think they are called, just made up for one occasion.
American poet WD Snodgrass, entered the world of poetry with a bang winning several awards, including the Pulitzer Prize, for his first collection of poetry, Heart's Needle. A backlash followed his controversial fifth anthology "The Fuehrer Bunker", but in recent years these poems have been reassessed and their importance recognised.
Title: The use of new verse forms in "The Fuehrer Bunker"
Listeners: William B. Patrick
William B. Patrick is a writer and poet who lives in Troy, New York. Among his work are the poetry volumes "We Didn't Come Here for This" and "These Upraised Hands", the novel "Roxa: Voices of the Culver Family" and the plays "Rescue" and "Rachel's Dinner". His most recent work is the non-fiction book "Saving Troy", based on the year he spent following the Troy Fire Department.

Mr. Patrick has been Writer-in-Residence at the New York State Writers Institute and has taught at Old Dominion University, Onondaga Community College, and Salem State College, and workshops in Screenwriting and Playwriting at the Blue Ridge Writers Conference in Roanoke, Virginia. He has received grants from the Academy of American Poets, the National Endowment for the Arts, the Massachusetts Artists Foundation, and the Virginia Commission for the Arts.
Tags: After Experience: Poems and Translations, Magda Goebbels, Anthony Hecht
Duration: 2 minutes, 23 seconds
Date story recorded: August 2004
Date story went live: 24 January 2008