NEXT STORY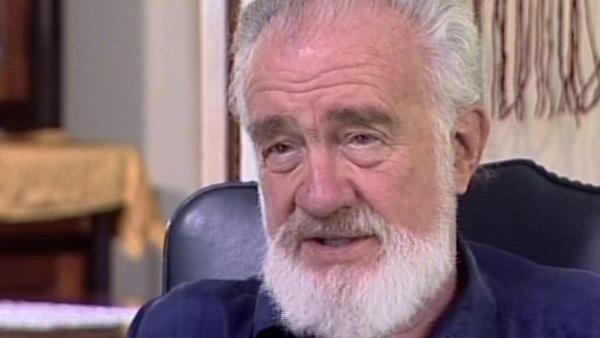 My mother was in charge
1
2
3
4
5
...
10
Well, I was, I think, a very sissified child and very much attached to my mother — strongly attached. I mean you know, she was... she was God; my... my father wasn't even one of the saints. And actually as I... as I got older and as I think about it now, he was a very nice man, and I should have admired him but... he certainly didn't admire me, I mean, because I was this sissified little boy, and he wanted me to be the kind of macho guy he was. He... he almost became a professional baseball pitcher, or catcher, pardon me, he was quite a good catcher. The thing was he wasn't... he had been very ill as a baby and came, oh, that close to dying as a little kid. He... he had such terrible coughing fits he would hold on to the fence to keep from knocking himself flat, and I think this... this late... showed up later on in things like: A... a really good catcher gets down in a squat, you know, and catches the ball and then he has to throw it to second base without getting up, and it has to be so low — so straight — that it would take the pitcher's head off if the pitcher hasn't moved to one side or another. Well, he couldn't do that very well, he said every time you do that you take... you take a week or two off your career and so he hadn't... he hadn't become a professional pitcher but he... but he did get into fights and... and stuff like that and — fist fights, I mean — and... and he was very... he was very strong; he was very powerful — well-built but slight — and handsome. She on the other hand became sort of uglier and uglier and more sealed up in the house and... and more seal... trying to seal up all the wickedness that she saw around her in the world outside. And, I think I came to be very much under the... under the domination of that. I remember that as a child I walked around praying all the time. I mean... before I would throw a snowball, I would make a prayer that it would hit the guy — honest — you know, before I... before I did anything, you know. I was... I was a terrible believer.
American poet WD Snodgrass, entered the world of poetry with a bang winning several awards, including the Pulitzer Prize, for his first collection of poetry, Heart's Needle. A backlash followed his controversial fifth anthology "The Fuehrer Bunker", but in recent years these poems have been reassessed and their importance recognised.
Title: I was a sissy
Listeners: William B. Patrick
William B. Patrick is a writer and poet who lives in Troy, New York. Among his work are the poetry volumes "We Didn't Come Here for This" and "These Upraised Hands", the novel "Roxa: Voices of the Culver Family" and the plays "Rescue" and "Rachel's Dinner". His most recent work is the non-fiction book "Saving Troy", based on the year he spent following the Troy Fire Department.

Mr. Patrick has been Writer-in-Residence at the New York State Writers Institute and has taught at Old Dominion University, Onondaga Community College, and Salem State College, and workshops in Screenwriting and Playwriting at the Blue Ridge Writers Conference in Roanoke, Virginia. He has received grants from the Academy of American Poets, the National Endowment for the Arts, the Massachusetts Artists Foundation, and the Virginia Commission for the Arts.
Tags: sissy, mother, father, illness, baseball, catcher, fight, prayer
Duration: 2 minutes, 31 seconds
Date story recorded: August 2004
Date story went live: 24 January 2008