NEXT STORY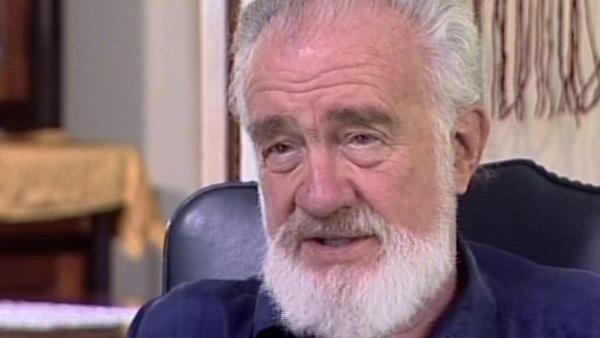 The benefits of translating works by other poets
A working partnership with DeLoss McGraw
1
...
5
6
7
8
9
10
Now, he's… he's a very interesting man. He had… he had been a teacher of painting and also of the history of painting and iconography and things like that. At a certain point, when a marriage of his broke up and he had two or three children that he had to help support, he suddenly decided he was going to be a full time painter and give up teaching. I mean, jeez, what nerve. And what he did was to set out to teach himself… to unteach himself all the things he had learned and decided that from then on, he would paint the way a child paints. Well, there is something in him that admires children and thinks of them as innocent and, you know… children don't seem that way to me at all. But he… he feels that way. And he wanted to paint innocently, like a child. The result is that when he did a painting like this one of WD carrying the dead or injured bird on his back… well, we would argue about what his paintings were about sometimes. He misunderstands my poem; I misunderstand his paintings. This often happens… it does no harm. I… I remember, I… pointing out that the iconography of this painting is very much based on a number of Renaissance paintings of Christ carrying the cross. You can see how that might well be the case, yeah. He said, ''No, no, it's nothing like that at all.' He says, 'I had a buddy who was in the… who was in the Vietnam War who… who carried a friend of his four miles to get him help, and when he got there, the guy was dead.' So all those things that he had learned had now become unconscious, and it's still affecting the painting very deeply.
You know, some people would look at a painting of his and think: oh any… any child could make a painting like that. Oh, yeah… any child who had studied iconography for 30 years. It's made a very interesting thing there. And he's tremendously inventive. He's coming up with new ideas all the time and all the time. And we've ended up doing — let's see —- two books together and a couple other projects. Sometimes, like… like he decided at one point that we should do a… an alphabet together. He had found a… somewhere, a sponsor who… who was interested in something like that. So as always, he never calls me up. He calls Kathy and says, 'Now don't tell De about this, but…' and of course, as soon as she puts the phone down, she gives me… 'Guess what he's up to now!' So… so I made an alphabet.
And, you know, I work very, very slowly. Nothing comes easily to me. It never amazes me if a poem takes me eight years. He will turn out five paintings in a week. And I mean that literally. You know, sometimes it's more than eight years. Sometimes for me, it's… I decided to try to get as fertile as… as he is. And so at… we were in Mexico again another year, and I thought: ok, I'll do an alphabet. I'll do one letter of… of the alphabet each night. Pretty soon, I found myself doing two and three a night. And on the very last day, I did five all in one night. Well, he never painted them. But I got an alphabet out of it. And you know, that… that was fine. And I like... I like some of the parts of it. I think the… I think the reason he didn't want to do it — we never talked about this… I don't… because I don't want to seem, you know, seem as if I'm blaming him for something about that — but it would've, I think, reduced him to being an illustrator. And… and like most painters, he… he doesn't want to be thought of as being an ill… illustrator. And it's a specially touchy point for him because much of his painting is based on literary sources. As a matter of fact, he did… he did a set of illustrations for Alice in Wonderland, which won the biggest prize for art illustration in the country that year. But anyway, it didn't leave him enough room for… for his imagination. I don't… I don't mind in the least if somebody reads a poem of mine and thinks it's an illustration of that… that painting. Fine. You know, so long as you read… it's like, you know, call me anything you like, but spell my name right. Read the poem as a… as a map. Read it as a… a set of instructions, if you want. Just read it. Just buy it and read it.
American poet WD Snodgrass, entered the world of poetry with a bang winning several awards, including the Pulitzer Prize, for his first collection of poetry, Heart's Needle. A backlash followed his controversial fifth anthology "The Fuehrer Bunker", but in recent years these poems have been reassessed and their importance recognised.
Title: A working partnership with DeLoss McGraw
Listeners: William B. Patrick
William B. Patrick is a writer and poet who lives in Troy, New York. Among his work are the poetry volumes "We Didn't Come Here for This" and "These Upraised Hands", the novel "Roxa: Voices of the Culver Family" and the plays "Rescue" and "Rachel's Dinner". His most recent work is the non-fiction book "Saving Troy", based on the year he spent following the Troy Fire Department.

Mr. Patrick has been Writer-in-Residence at the New York State Writers Institute and has taught at Old Dominion University, Onondaga Community College, and Salem State College, and workshops in Screenwriting and Playwriting at the Blue Ridge Writers Conference in Roanoke, Virginia. He has received grants from the Academy of American Poets, the National Endowment for the Arts, the Massachusetts Artists Foundation, and the Virginia Commission for the Arts.
Tags: WD Attempts to Save Cock Robin, Vietnam War, Mexico, Alice in Wonderland, Make-Believes: Verses and Visions, WD's Midnight Carnival, DeLoss McGraw
Duration: 5 minutes, 31 seconds
Date story recorded: August 2004
Date story went live: 24 January 2008