NEXT STORY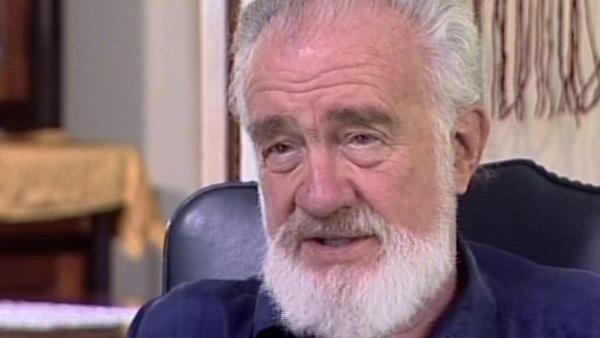 'Have you been to the gay graveyard?'
Meeting Mihai Pop in Romania
1
...
5
6
7
8
9
10
I think I mentioned earlier a trip that… when I didn't go to Russia — couldn't go to Russia — because they had cancelled the cultural policy one year… they weren't very mad at us, it's clear, because all they cancelled was Hello, Dolly and me. In… then they called me in a coup… up in a couple weeks, and they said, 'How would you like to go to some of the small, eastern European countries? We… we could start out by sending you to Belgium, and then Hungary… or, and then Romania, then Hungary. And maybe we can get you into Czechoslovakia; we don't know. No… nobody's been able to get in there for some years. And… then… but then you'll come to the good part, and… and you'll go to Paris and Berlin and Portugal. May… maybe we can…' And well, how could… you know, who says no to a thing like this? I didn't even know the names of the capitals of these countries, many of them, or what… what the currency was or… or what language they spoke, any of this.
But anyhow, I… I went on this trip, and the first… the first country was Bulgaria. And I think I'd… I was the first American who had been… been in… had got into there for man… many years except for people who were in the consulate there. And then from there, I went up north to Romania. And of course, I'd known a lot of Romanians when I was kid… immigrants to the United States and so forth. But I didn't know anything about Romania or about its language. And when I got there, I… they said… they said, 'Oh we're terribly sorry'. Now, they couldn't mention Christmas then. But… but obviously, they were celebrating Christmas. And they had tree… decorated trees, and people wear… you know, they had… they didn't have Santa Claus; they had Father Christmas. And… and they said 'But it's… it's the vacation season, and all the poets are gone. And so we can't introduce you to the people at the Writer's Union'. I said, 'Well, that's fine'. You know, I've met a lot of poets. Some of them I liked; some of them I disliked. But we can't really discuss poetry because we don't speak the same language, and… and no interpreter's going to be able to get to the subtleties of this kind of thing. Tha… that's fine. They said, 'Well, what would you like to do while you're here?' I said, 'What I'd really like to do is meet some folk musicians'. I said I had started translating songs of one sort and another. As a matter of fact, I think I had already sort of taken a vow that… there were… there were so many American poets that were translating all kinds of fine poetry already, I thought may… maybe I should try to translate only songs because I have that background in music, and I… I want to sing, and so forth. And they said, 'Ok, yeah, we… but… but there's a problem. There's a… there's a very fine folk…' well, ok, I should say this.
The Hungarians adore the classical arts and classical music. And many of the greatest supposedly German comp… composers and conductors are really Hungarians… Fritz Reiner, just, you know, one after another. They… they probably grew up in… in Hungary, but in a German family and… and following, you know, the German arts. The folk arts mean that much to the Romanians. And they said, 'the… there's a wonderful folk institute here, and the head of it is a Dr Pop — Mihai Pop — but… and…and I'm sure he would love to talk to you. But if we apply, it'll take six months for an ok to come through, and… and you'll be gone from here, you know, a thousand miles, several thousand miles away. Instead, one morning, you just walk over there as if you didn't know any better and knock on the door' which… which I did. And the… the lady who answered the door was really nonplussed. She… I… I said, 'I… I'd like to speak to Dr Pop. I'm an American poet'. I don't know whether she understood this… much of this. But she took me indoors and sent me down in a hall, and she went into his office. And pretty soon, she came out with him speaking perfect English, delighted to talk to me, you know, wonderfully learned and warm and lively. I came out carrying two enormous piles of books, like, books and records and music and all… all this kind of stuff. I mean, it… it was just a grand experience. And it's wonderful to have met him. He's dea… dead now for many years.
American poet WD Snodgrass, entered the world of poetry with a bang winning several awards, including the Pulitzer Prize, for his first collection of poetry, Heart's Needle. A backlash followed his controversial fifth anthology "The Fuehrer Bunker", but in recent years these poems have been reassessed and their importance recognised.
Title: Meeting Mihai Pop in Romania
Listeners: William B. Patrick
William B. Patrick is a writer and poet who lives in Troy, New York. Among his work are the poetry volumes "We Didn't Come Here for This" and "These Upraised Hands", the novel "Roxa: Voices of the Culver Family" and the plays "Rescue" and "Rachel's Dinner". His most recent work is the non-fiction book "Saving Troy", based on the year he spent following the Troy Fire Department.

Mr. Patrick has been Writer-in-Residence at the New York State Writers Institute and has taught at Old Dominion University, Onondaga Community College, and Salem State College, and workshops in Screenwriting and Playwriting at the Blue Ridge Writers Conference in Roanoke, Virginia. He has received grants from the Academy of American Poets, the National Endowment for the Arts, the Massachusetts Artists Foundation, and the Virginia Commission for the Arts.
Tags: Russia, Hello, Dolly, Eastern Europe, Belgium, Hungary, Romania, Czechoslovakia, Paris, Berlin, Portugal, Bulgaria, USA, Writer's Union, folk music, Fritz Reiner, Mihai Pop
Duration: 5 minutes, 35 seconds
Date story recorded: August 2004
Date story went live: 24 January 2008