NEXT STORY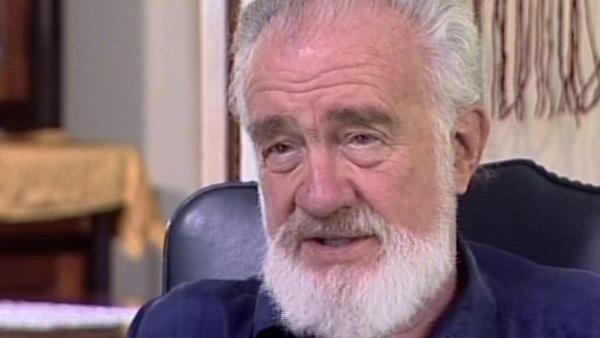 Rearing our own owl
Observing the Great Horned Owl
1
...
6
7
8
9
10
You know, we do live out… out in the middle of the countryside here. And there's woods all around us, and so forth. And… and we get a good many kinds of wildlife. The first night that we were moving in, out here, it was the middle of January because I was starting a semester teaching at Syracuse — the semester, the winter semester —and we were carrying boxes and stuff into the house. And all of a sudden, a great horned owl spoke from the edge of the… from the hedgerow right over there. And I… I guess it sort of became our… our — what would you call it — totem, or something of that sort. We could… we could watch that nest until… until the leaves got up. And… and we would watch the mother over there in the early morning sort of doing her nest work and tearing up fish and stuff. They… they lived especially on fish from the lake down below there. And… and we would watch them. And we watched them go out to… to hunt every… every night. Or we would hear them, by then it was dark. They… they would go out around 11 or so and then always… you know, I… I said that we were moving in right… right in January and just in the dead of winter. That's when the male's voice takes on tremendous resonance. He's much smaller. He's not nearly as fierce as the females. I'm told that happens in certain species. But the… but he… but he… he speaks first, and bigger. And… and it's five notes called, hoo hoohoo hoo hoo. And then there's a pause. And then she answers about a fourth higher — from across the field, probably — hoo hoohoo hoo hoo, which probably only proves that winter nights here are so bad that not even an owl would go out by himself. They always travel together, and they come back about four o'clock. And, now that nest, we got to… we had the babies for about two weeks when the nest came down in a storm.
The next year, I had a baby. The… the local post master is the wild bird man here. And he called up and says, 'I've got a baby owl, and you can have it if you'll… you'll… but you'll have to… to go out and get a lot of dead things for it to eat, drive around the back woods and pick up all the dead stuff off the highway.' And he says, 'Then you'll have to teach it to fly and to hunt'. And… and I remember certain of my friends really got very nervous when… when we would go together into… into the cabin where I was keeping it.
American poet WD Snodgrass, entered the world of poetry with a bang winning several awards, including the Pulitzer Prize, for his first collection of poetry, Heart's Needle. A backlash followed his controversial fifth anthology "The Fuehrer Bunker", but in recent years these poems have been reassessed and their importance recognised.
Title: Observing the Great Horned Owl
Listeners: William B. Patrick
William B. Patrick is a writer and poet who lives in Troy, New York. Among his work are the poetry volumes "We Didn't Come Here for This" and "These Upraised Hands", the novel "Roxa: Voices of the Culver Family" and the plays "Rescue" and "Rachel's Dinner". His most recent work is the non-fiction book "Saving Troy", based on the year he spent following the Troy Fire Department.

Mr. Patrick has been Writer-in-Residence at the New York State Writers Institute and has taught at Old Dominion University, Onondaga Community College, and Salem State College, and workshops in Screenwriting and Playwriting at the Blue Ridge Writers Conference in Roanoke, Virginia. He has received grants from the Academy of American Poets, the National Endowment for the Arts, the Massachusetts Artists Foundation, and the Virginia Commission for the Arts.
Tags: Syracuse University
Duration: 3 minutes, 2 seconds
Date story recorded: August 2004
Date story went live: 24 January 2008