NEXT STORY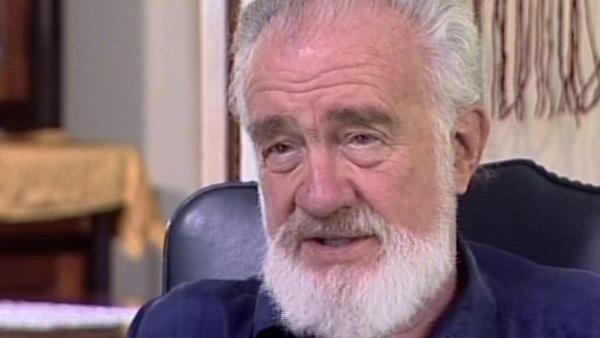 Learning how to breathe properly
Reading Fast Foods: a Rap Rondeau
1
...
6
7
8
9
10
Ok, this is a kind of poem that I… I don't… kind of thing that I don't usually write… write about. You know, it's the sort of topics of… of the moment in ladies' magazines and health magazines and newspapers and all stuff like that there. This is called Fast Foods: a Rap Rondeau. Not a rondo, that's a musical form. It's a rondeau; it's one of those French fancy forms. You've got 16 lines and only two rhymes. And I call it a rap rondeau because, well, like… like rap lyrics, there's a lot of extra rhymes and sound echoes in it of different sorts. And it is about fast foods.
With fast foods, you've got to feast since you can't fast-
In next to no time, you feel famished, though
You're looking paunchy, fat-haunched, and flab-assed
And by now the force-fed figure you've amassed
Hamstrings your frame. Getting enough comes slow
With fast foods.
Like fast fucking. Simone Weil warned: we know
Appetites from addictions by an acrid contrast
In their satisfactions: that is, by how long they last.
You can get too much bread: there is no
Such thing as enough cocaine. Hungers turn vast
As lunar landscapes, where you range, aghast
At your own emptiness. With time, those faux
Fixes that should fill lust's vacuums cast
-rate you. Both flesh and flesh's cravings grow
With fast foods.
American poet WD Snodgrass, entered the world of poetry with a bang winning several awards, including the Pulitzer Prize, for his first collection of poetry, Heart's Needle. A backlash followed his controversial fifth anthology "The Fuehrer Bunker", but in recent years these poems have been reassessed and their importance recognised.
Title: Reading "Fast Foods: a Rap Rondeau"
Listeners: William B. Patrick
William B. Patrick is a writer and poet who lives in Troy, New York. Among his work are the poetry volumes "We Didn't Come Here for This" and "These Upraised Hands", the novel "Roxa: Voices of the Culver Family" and the plays "Rescue" and "Rachel's Dinner". His most recent work is the non-fiction book "Saving Troy", based on the year he spent following the Troy Fire Department.

Mr. Patrick has been Writer-in-Residence at the New York State Writers Institute and has taught at Old Dominion University, Onondaga Community College, and Salem State College, and workshops in Screenwriting and Playwriting at the Blue Ridge Writers Conference in Roanoke, Virginia. He has received grants from the Academy of American Poets, the National Endowment for the Arts, the Massachusetts Artists Foundation, and the Virginia Commission for the Arts.
Tags: Fast Foods: a Rap Rondeau, Simone Weil
Duration: 2 minutes, 19 seconds
Date story recorded: August 2004
Date story went live: 24 January 2008