NEXT STORY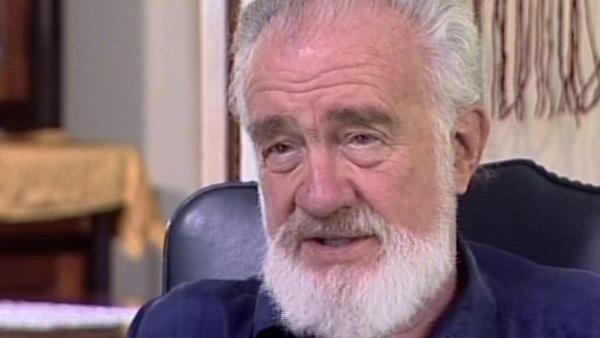 After Experience Taught Me: background and reading
Who Steals My Good Name: background and reading
1
...
6
7
8
9
10
You know, if you're… if you are blessed with a name like Snodgrass, a name that did… that made perfectly good sense, you know, in Scotland; Snod is a word that means neat or t… or cut, trim, even castrated sometimes. But it… especially, it means neat and… and clipped and proper, which I sup… I suppose meant that they… they were… well, I… I think it meant that they were herdsmen and that they had to keep their… the grass cut to a certain level so that the animals were… were better able to eat it. But after of course, the English came more to be in power, it probably meant that they just had to cut somebody else's lawn. But, you know, but if you come through school with a name like that — and especially if your first name is Dewitt — If you have a name like Dewitt Snodgrass, I mean, you know you have to do something about this, and… and if you're opposed to throwing yourself under taxicabs, you probably end up writing poems about it. And… and I always do. Now, this… you remember that Iago ha… has a wonderful speech, says: 'Who steals my purse steals trash. Who filches my good name takes that which not enriches him and makes me poor indeed.' Well, the great irony of that, of course, he's… he's right about the business then of filching the good name of Casio and… and of Othello; men very… in every way his superior. But he's… he's stealing their good name. Well, our… my good name got stolen when we were in — my good name. I say that in quotes — We were in Mexico, and we were using a debit card. And they have a… a device there by which, if you go to a hotel or a restaurant and use your card, they manage to get the number off of it, and… and they can make a new card with their name and, you know, and their picture. So when we got up back up here, we were aiming to rebuild our kitchen out here. You know… you know, you see it's now rebuilt. But when we got up here, we talked to the bank. We didn't have any money. The… somebody had done this, and in five days spent $11,000. We finally got that money back. But it was a… it was a very long time. And in the meantime, the work was held up on our kitchen and so forth. So anyway, this is Who Steals My Good Name, and it's addressed to the person who obtained my debit card number and spent $11,000 in five days.
My pale stepdaughter, just off the school bus, scowled.
Well, that's the last time I say my name, Snodgrass.
Just so.
May that anonymous Mexican male
Who prodigally claims my clan lines,
Identity, and the 16 digits that unlock
My bank account think twice.
My not quite proper name's been
Taken by three ex-wives,
Each for an amount past all you've squandered,
Each more than pleased to change it back.
That surname you affect may have
More consequence than getting teased
By dumb kids or tracked down
By bank detectives.
Don't underrate its history.
One of ours played piano on his prison's weekly broadcast.
One got rich on a scammed quiz show.
One made a bungle costing the World Series.
My own past could subject you to guilt by association.
If you write anything beyond false checks,
Abandon all hope of large press publication
Or prizes. Critics shun that name like sex
Without a condom.
Whoever steals my purse
Helps chain me to my writing desk again
For fun and profit.
Take thanks, then, with my curse.
May your pen name
Help send you to your pen.
American poet WD Snodgrass, entered the world of poetry with a bang winning several awards, including the Pulitzer Prize, for his first collection of poetry, Heart's Needle. A backlash followed his controversial fifth anthology "The Fuehrer Bunker", but in recent years these poems have been reassessed and their importance recognised.
Title: "Who Steals My Good Name": background and reading
Listeners: William B. Patrick
William B. Patrick is a writer and poet who lives in Troy, New York. Among his work are the poetry volumes "We Didn't Come Here for This" and "These Upraised Hands", the novel "Roxa: Voices of the Culver Family" and the plays "Rescue" and "Rachel's Dinner". His most recent work is the non-fiction book "Saving Troy", based on the year he spent following the Troy Fire Department.

Mr. Patrick has been Writer-in-Residence at the New York State Writers Institute and has taught at Old Dominion University, Onondaga Community College, and Salem State College, and workshops in Screenwriting and Playwriting at the Blue Ridge Writers Conference in Roanoke, Virginia. He has received grants from the Academy of American Poets, the National Endowment for the Arts, the Massachusetts Artists Foundation, and the Virginia Commission for the Arts.
Tags: Scotland, Mexico, Who Steals My Good Name
Duration: 1 minute, 49 seconds
Date story recorded: August 2004
Date story went live: 24 January 2008