NEXT STORY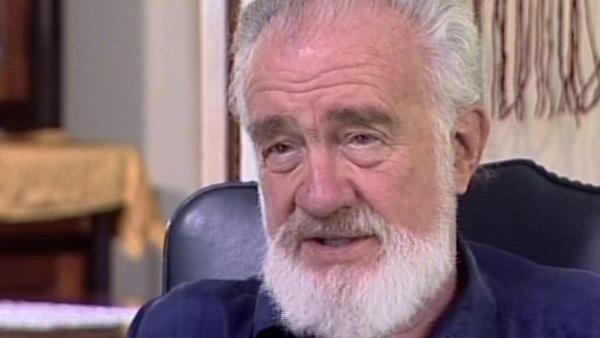 Everything was a lie
1
2
3
4
5
...
10
Barbara died when she was 25 I think, and I... one morning she simply... she... well, she died on the 4th of July — I... I've written poems about this — and I think she just simply declared her independence. She... she went... finally went to work for my father in one of his offices. He, by now, had a number of accounting offices, he had taken his brother in to work with him and they had three or four offices, the big one in Pittsburgh, other ones in small mill towns like Aliquippa and Ambridge and places like that. She worked in one of those and it was simply clear that she would never have any life outside of their definitions and things. And as a matter of fact at... at... you know, as I got more and more different and got more and more interested in the arts — and I was perhaps doing this just to sort of bug my father for all I... I'm sure he didn't... didn't have inclinations that way — but, you know, I came back there from school at one point and suddenly she was raging at me, I'd never seen her... said, 'If you don't believe the kind of things we believe around here why don't you just get out, why don't you just get out of here and don't come back'. I... I couldn't believe this... this was my shy little sister, but finally I think she came to think the same thing about herself and... and since she didn't... probably didn't really entirely believe all... everything that mother believed; it was better to get out. She'd had asthma and, you know, but... and it... it got worse and worse, they had to... she had gone away to college, then when she came... when she graduated from college... no, no, she didn't. She had a bad asthma attack there at school and they brought her back and at this time I was away at school in Iowa and my... my then wife and I said that... said: 'Well that's the end of her'. We didn't know how right that was. It was the end of her and... and she got worse and worse. She... the only thing that ever gave her any relief was something called Green Mountain Asthma Mixture and she smoked it in a pipe and she would smoke this stuff and it would... it would relieve the congestion and... and the tension in her... in her throat and so forth, but one morning — I wasn't there — my brother —now, I had originally had the third floor of this house which was gigantic, it was like a railway terminal. They later, put up a wall and made it into two rooms and she had one room, my youngest brother Dick had the other room — he heard her get out of bed and then fall, and he ran over there to the... to her room and she was already dying.
The family doctor — who was an old friend — refused to make any statement about the real cause of death, he said it was just... seemed to be general complications and... well, you know we... efforts had been made to get her out of the house. The... the doctor himself had said 'Why didn't they send her to... oh Montana or someplace where the air was lighter and dryer'. Well, my mother would say 'Oh... Oh she couldn't do that, I... I have to cook for her and... and who's going to cook... cook for... for De and for... the older De' —my father — and I think we'd have been relieved to... she was such a bad cook, I mean it was incredible. Well and he said, 'Well, at least you could get rid...- the house is full'. I mean, there... there were pets. My... finally my mother had sort of made substitutes for us, in... instead of two boys and two girls she had two dogs and two cats, on top of that there... there was wool everywhere, there was... there was all this stuff that would give you asthmatic problems; why not get rid of some of these rugs and stuff: 'Oh we couldn't afford that, we couldn't possibly afford to do that, that would all cost too much', my mother said; and, finally one morning she just got up and died of it all. My father never really recovered from that, he... he had been very close to her and liked her.
American poet WD Snodgrass, entered the world of poetry with a bang winning several awards, including the Pulitzer Prize, for his first collection of poetry, Heart's Needle. A backlash followed his controversial fifth anthology "The Fuehrer Bunker", but in recent years these poems have been reassessed and their importance recognised.
Title: My sister's death
Listeners: William B. Patrick
William B. Patrick is a writer and poet who lives in Troy, New York. Among his work are the poetry volumes "We Didn't Come Here for This" and "These Upraised Hands", the novel "Roxa: Voices of the Culver Family" and the plays "Rescue" and "Rachel's Dinner". His most recent work is the non-fiction book "Saving Troy", based on the year he spent following the Troy Fire Department.

Mr. Patrick has been Writer-in-Residence at the New York State Writers Institute and has taught at Old Dominion University, Onondaga Community College, and Salem State College, and workshops in Screenwriting and Playwriting at the Blue Ridge Writers Conference in Roanoke, Virginia. He has received grants from the Academy of American Poets, the National Endowment for the Arts, the Massachusetts Artists Foundation, and the Virginia Commission for the Arts.
Tags: 4th July, Independence Day, Pittsburgh, Aliquippa, Ambridge, Montana, Iowa
Duration: 5 minutes, 5 seconds
Date story recorded: August 2004
Date story went live: 24 January 2008