NEXT STORY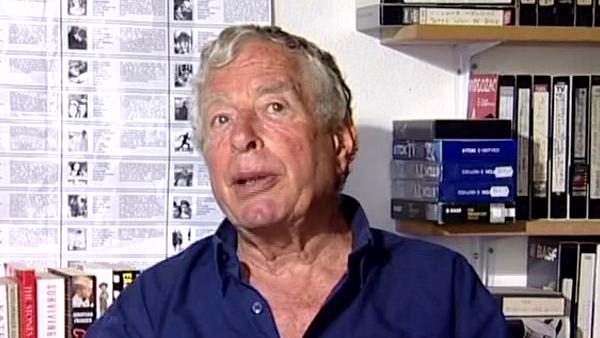 Maddalena: Shooting on Antiparos
Maddalena: Aliki Vouyouklaki
Walter Lassally
Film-maker
1
...
9
10
11
12
13
...
27
So in the period between 1955 and 1967 I made six films with Cacoyannis, of which Zorba was the last but one. I also made six other films with other directors, Greek and foreign. The first one that wasn't with Cacoyannis was a film called Maddalena, with the famous Greek star, super star, Aliki Vouyouklaki. There was a very nice Greek director called Dinos Dimopoulos, with whom I made two films at that point, one after the other. We met... we went to the island of Antiparos, which is opposite Paros, because Anti means opposite or adjacent, and we spent... the whole film was made there. The villagers were very co-operative. They were delighted, they were over the moon to be having Aliki on their island for such a long time, so they all moved out of their houses, if necessary, so the crew could find quarters, because there wasn't any... there's no hotel there. There was a... the taverna owner... there was one small taverna at the pier, which wasn't much of a pier either, which... who had just built an upper floor with three bedrooms and a shower room. The director and I stayed there. I don't know who had the third room, but all the rest of the crew were in people's houses. That was one of the most pleasant shoots I've ever had in my whole life, because it was in a wonderful location, by the sea, and we worked... at my request, we worked 06:00-11:00 and 15:00-18:00, which is an eight-hour day, with a big interval in the middle for siesta, and eating and swimming, and what have you. And that wasn't entirely selfish, that was partly dictated by the fact that we were shooting in June and July. And at that point the sun is pretty much overhead and it's not very good, either for landscape or for close-ups. So I decided it's a good idea to have a break in the middle of the day and pick up again later. That worked extremely well. We never got behind schedule. Or if we did... well there wasn't really... for those Greeks... because they didn't really have a schedule, you know, they finished when they finished, that was about it. The first night when I was introduced to Aliki, we were probably both a bit nervous, I certainly was, she jumped up and she said, 'I want to dance the Charleston with you'. I said, 'I'm very sorry, I don't dance at all, you know, not only not the Charleston, but not at all'. She had her mother with her who, sort of, kept an eye on her. That whole experience was very interesting in a number of ways. Because if you compare Aliki Vouyouklaki with, say, Gina Lollobrigida, who are both in equivalent positions relative to their film industries in their countries, then Aliki was a prisoner of her own fame. There wasn't a thing that she could do which wasn't immediately in all the newspapers or public knowledge. She had a very strange life where... which was very circumscribed by her fame. Once we had a, we went off on a kaiki which is a little boat, to a neighbouring island, completely unannounced and unscheduled, and we arrived after dark. And we got off this boat and we went to a local taverna and, within 10 minutes, there were people pressing their noses against the glass, saying, 'Aliki, Aliki'. So she couldn't do a thing that she wasn't immediately surrounded by a crowd. She half loved it and half hated it. Once we had a shoot in a working class suburb of Athens and she was mobbed and she was... there was a scary moment. People started taking souvenirs from your clothing, you know, that sort of thing. But she really... she half... it was a love-hate relationship. She half loved and half hated it.
Anyway we quickly established a working relationship and she was very professional, very particular about her appearance and how she should be lit, and all the rest of it. A bit later on there was an incident once on one of the other films where we'd just started to light, and then it was the lunch break. So after lunch she came back and she sat in her little chair. She sat in her chair where she was placed for that scene, and she got the mirror out. She had a little mirror where she looked at her lighting all the time. So I was standing there by the camera, like this, and she got the little mirror out, there was no dialogue. She looked at me and I looked at her, and she looked at me, sort of, saying, well, what are you doing, this is not very good. I said, 'Look Aliki, you can put the mirror away, I haven't even started yet, so you know, put the mirror away and it'll all be fine'.
Born in Germany, cinematographer Walter Lassally (1926-2017) was best known for his Oscar-winning work on 'Zorba the Greek'. He was greatly respected in the film industry for his ability to take the best of his work in one area and apply it to another, from mainstream to international art films to documentary. He was associated with the Free Cinema movement in the 1950s, and the British New Wave in the early 1960s. In 1987 he published his autobiography called 'Itinerant Cameraman'.
Title: "Maddalena": Aliki Vouyouklaki
Listeners: Peter Bowen
Peter Bowen is a Canadian who came to Europe to study and never got round to heading back home. He did his undergraduate work at Carleton University (in Biology) in Ottawa, and then did graduate work at the University of Western Ontario (in Zoology). After completing his doctorate at Oxford (in the Department of Zoology), followed with a year of postdoc at the University of London, he moved to the University's newly-established Audio-Visual Centre (under the direction of Michael Clarke) where he spent four years in production (of primarily science programs) and began to teach film. In 1974 Bowden became Director of the new Audio-Visual Centre at the University of Warwick, which was then in the process of introducing film studies into the curriculum and where his interest in the academic study of film was promoted and encouraged by scholars such as Victor Perkins, Robin Wood, and Richard Dyer. In 1983, his partner and he moved to Greece, and the following year he began to teach for the University of Maryland (European Division), for which he has taught (and continues to teach) biology and film courses in Crete, Bosnia, and the Middle East.
Tags: Aliki Vouyouklaki
Duration: 4 minutes, 53 seconds
Date story recorded: June 2004
Date story went live: 24 January 2008