NEXT STORY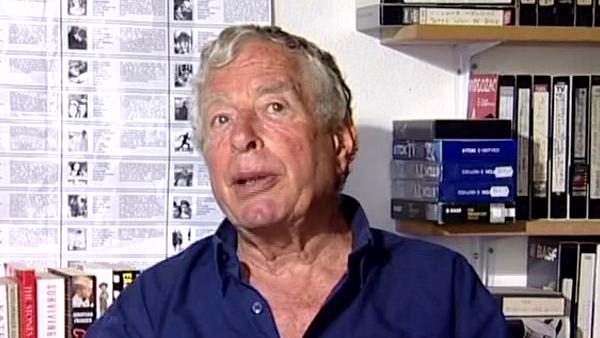 Alice in the Navy and Lisa and the Other One
Maddalena: Shooting on Antiparos
Walter Lassally
Film-maker
1
...
9
10
11
12
13
...
27
In Antiparos I learnt several things. I learnt, for instance... that film had three climaxes. It had three endings, one after the other. The first ending didn't work so they wrote a new ending. There was an ending in a cave complex. That was still part of my cave period, which was a long way away from the centre. You had to go on a donkey ride and it was quite a way away. And, for some reason that, that didn't work at all, so they decided on another ending. And the other ending they decided on was a, a storm at sea. In attempting to film that sequence, I discovered a curious fact, that a storm at sea is not believable in sunshine. You can have a Force 10 gale blowing, but if the sun is shining it looks beautiful, you know, everybody's enjoying themselves. So that was a lesson I learnt. And then the final ending, the one that was actually used in the film, is where her house burns down, which was done in a pretty realistic way. We actually burnt the house down. Once I... I got a bit singed during that shoot. It was very realistic. Also that, that house, incidentally, was a... it wasn't a house, it was a set. Well it was part... no, it was completely a set. It was built, and it was built without a roof, with a... I had a muslin covering put on the top so the house was lit with diffuse sunlight all the time, to which I added a little bit, but not a lot. That was quite a successful experiment. Again, Maddalena is in black and white, so one again had the problem that the contrast had to be within a certain range. And if you light the house entirely through a muslin roof, it doesn't have a lot of contrast so that... but it was within range, so that worked out successfully. And then we had a big fiesta where they leap over the flames, which they tend to do in these islands. The maximum lighting available was 15kW. Because we had this small generator, which Finos owned, which was the largest generator available. It was 15kW. And they had quite a job getting it onto the island because the island didn't have a pier. It had to be... we had to build a sort of improvised pier to get on... to get it ashore even. Because most of the communication was by rowboat. You rowed out to some other boat and then you came onto the island in a rowboat. That was the only way you could get onto the island, at the time. So even getting the generator aboard was quite a problem. And then that fiesta was lit with 15kW because that was it, there wasn't any more light. I had to do it. I can't remember if we used more sensitive film for that sequence. I don't think we did. I think it was on the normal Plus X, or whatever it was. No, it wasn't Plus X, it was Gavaert film. At that time we... for some of those movies we were using Gevaert, Gevapan 30, which was the equivalent of Plus X, and it was... the result was fine. It was all processed in the Finos lab in Athens. The film was a huge success, as most of her films were, in fact. But she was very satisfied with the lighting, and Mr Finos was very satisfied, so everybody was very happy and they all went off to the seaside.
Born in Germany, cinematographer Walter Lassally (1926-2017) was best known for his Oscar-winning work on 'Zorba the Greek'. He was greatly respected in the film industry for his ability to take the best of his work in one area and apply it to another, from mainstream to international art films to documentary. He was associated with the Free Cinema movement in the 1950s, and the British New Wave in the early 1960s. In 1987 he published his autobiography called 'Itinerant Cameraman'.
Title: "Maddalena": Shooting on Antiparos
Listeners: Peter Bowen
Peter Bowen is a Canadian who came to Europe to study and never got round to heading back home. He did his undergraduate work at Carleton University (in Biology) in Ottawa, and then did graduate work at the University of Western Ontario (in Zoology). After completing his doctorate at Oxford (in the Department of Zoology), followed with a year of postdoc at the University of London, he moved to the University's newly-established Audio-Visual Centre (under the direction of Michael Clarke) where he spent four years in production (of primarily science programs) and began to teach film. In 1974 Bowden became Director of the new Audio-Visual Centre at the University of Warwick, which was then in the process of introducing film studies into the curriculum and where his interest in the academic study of film was promoted and encouraged by scholars such as Victor Perkins, Robin Wood, and Richard Dyer. In 1983, his partner and he moved to Greece, and the following year he began to teach for the University of Maryland (European Division), for which he has taught (and continues to teach) biology and film courses in Crete, Bosnia, and the Middle East.
Tags: lighting, ending, storm, generator, fiesta, film
Duration: 3 minutes, 16 seconds
Date story recorded: June 2004
Date story went live: 24 January 2008