NEXT STORY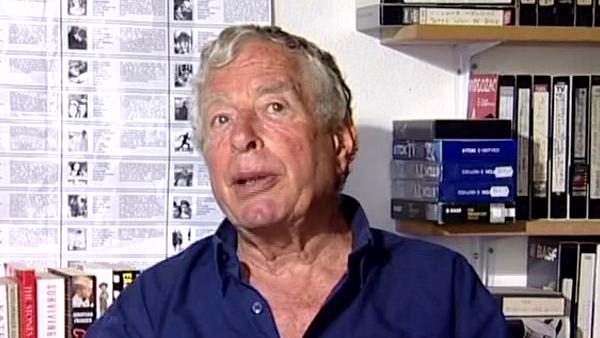 Electra: The language and an ideal sequence
Electra
Walter Lassally
Film-maker
1
...
9
10
11
12
13
...
27
The next film I made with Cacoyannis is Electra with Irene Papas which I still consider to be my best film, and I think it's Cacoyannis' best film also. But he thinks all his films are best films, so that's something else.
Electra, again black and white. Unthinkable in colour. That's quite an interesting comparison because a French woman made, some years later, she made a documentary about Cacoyannis and there are examples of the Electra and right next to it are examples from Iphigenia which was filmed in colour, not by me. But the difference is not the difference of cameramen, the difference is the colour, and you can see, when you see those things next to each other, you can see how much more suitable black and white is for that kind of subject, a Greek tragedy, is much better in black and white because, in colour, it turns into a sort of costume drama. Also, the landscapes. There's a big problem with the landscape turning into a picture postcard. So Electra is one of the very best examples of black and white. Why black and white? Because Electra is unthinkable, to me anyway, in colour. And.. in Electra we adopted, well Cacoyannis actually, demanded a very severe style which went like... boom, boom, boom... and everything, all the movements, all the things had to be in a very steady rhythm, and the moment somebody put a foot wrong, oh yes, no, no, you can't do that, it doesn't fit the, doesn't fit the rhythm.
Electra starts with a crowd scene where we'd got 800 people from the army and they're all rushing along in a valley accompanying Agamemnon who's just come back from the Trojan wars. And... we were up on a hillside outside Athens, looking down into the valley where these 800 army people were prepared to do their bit, and we had a very old army loudspeaker system. Cacoyannis was given a microphone and these loudspeakers were set up to project the sound down into the valley. But it didn't work terribly well. Cacoyannis got very annoyed and he was shouting himself hoarse through the microphone, but not getting the results that he wanted. And then there was a major hold-up, because the reins for Agamemnon's chariot were missing. We had a whole hoohaa where we had every... we had these 800 men waiting and all the rest of the crew waiting, everybody was waiting, and there weren't any reins for the chariot. Anyway that was probably solved eventually. But that's a very nice beginning scene. The whole film is from beginning to end, is wonderfully staged and wonderfully filmed, I would say. It starts with a rocky surface where you have the introductory title, and then the hand of Clytemnestra comes in with the manicured fingernails and all that, and grabs a rock. She's expecting, she's waiting for Agamemnon, having already planned that she's going to murder him. So the scene is set very quickly, that bit is Mycenae, is shot in Mycenae where you got through the famous lion gate. Then there is... in that film there was one studio, one little studio scene, where we built the hut where the peasant lives, where Electra's married off to this peasant, so as to, it says in the film, so as not to have any significant heirs. They live in this little hut which we built as a set in the Finos studio. All the rest is natural stuff. I used a red filter. The whole film... virtually the whole film is shot through a deep red filter which is called a Number 25, in order to get these very contrasty skies, dark, dark, dark skies with white clouds, now and then there are clouds. It's very beautiful to look at. And we found this location between... near where the airport is now, between Keratea and Anavissos, and we spent... the best part of the filming was done there. Only this one interior was done in the Finos studio. Oh, and the bath. Agamemnon's murder was also done there, in the studio. But all the rest is natural. And there's some very nice day-for-night stuff again. Very nice, and dusk. And day-for-night- there's one scene which also makes use of a bit of luck, where there'd been... some clouds came up in the early evening, because there weren't any clouds before. We shot October/November/December.
And... October in Greece is largely cloudless, but in November certain clouds develop. And there was one scene which we knew we had to do, and as we were all gathered in that one place, we could say, right, this is a good moment to do that dusk scene. So we went up onto the little hill there, nearby the location, and we did a scene which is, maybe, two minutes length, where she's sent off... where Electra sends off Orestes to the murder of Agamemnon, and wishes him godspeed, as it were. That scene is half day-for-night and half dusk. So as you need strong sunshine for day-for-night, the day-for-night bit is shot first, while you still have strong sunshine. Then we had to wait a couple of hours until the, until the dusk actually set in. Maybe, maybe an hour and-a-half. And then as the dusk had commenced we set up the dusk sequence, which is lit by daylight and some lamps. And there's a beautiful, there's a beautiful cloud in the background which we used in the scene. There's this character with a beard who comes out in profile in the... against the beautiful sky and then they all kneel to the ground, so I had to, I had to balance the... the balance against the sky is one sort of set up, and the balance against the earth is a different kind of set-up and the two had to be in one shot, so that was quite tricky. We just had a 5k, which is about the maximum capacity of... our generator was 15kW, I think. But that scene is worked out extremely well. But it has to be carefully planned, because you have to do the scenes facing east first, in day-for-night mode, and then you do the scenes facing west. So the scenes went... she comes out of camera and goes into shot reverse and that reverse shot is taken first, two hours earlier, so the continuity has to be very careful, that that matches, going from a dusk shot taken two hours later, to a day-for-night shot taken two hours earlier. But that all worked perfectly and that looks very good. Provided you, you're prepared that can be very efficient.
Born in Germany, cinematographer Walter Lassally (1926-2017) was best known for his Oscar-winning work on 'Zorba the Greek'. He was greatly respected in the film industry for his ability to take the best of his work in one area and apply it to another, from mainstream to international art films to documentary. He was associated with the Free Cinema movement in the 1950s, and the British New Wave in the early 1960s. In 1987 he published his autobiography called 'Itinerant Cameraman'.
Title: "Electra"
Listeners: Peter Bowen
Peter Bowen is a Canadian who came to Europe to study and never got round to heading back home. He did his undergraduate work at Carleton University (in Biology) in Ottawa, and then did graduate work at the University of Western Ontario (in Zoology). After completing his doctorate at Oxford (in the Department of Zoology), followed with a year of postdoc at the University of London, he moved to the University's newly-established Audio-Visual Centre (under the direction of Michael Clarke) where he spent four years in production (of primarily science programs) and began to teach film. In 1974 Bowden became Director of the new Audio-Visual Centre at the University of Warwick, which was then in the process of introducing film studies into the curriculum and where his interest in the academic study of film was promoted and encouraged by scholars such as Victor Perkins, Robin Wood, and Richard Dyer. In 1983, his partner and he moved to Greece, and the following year he began to teach for the University of Maryland (European Division), for which he has taught (and continues to teach) biology and film courses in Crete, Bosnia, and the Middle East.
Tags: Electra, Athens
Duration: 6 minutes, 50 seconds
Date story recorded: June 2004
Date story went live: 24 January 2008