NEXT STORY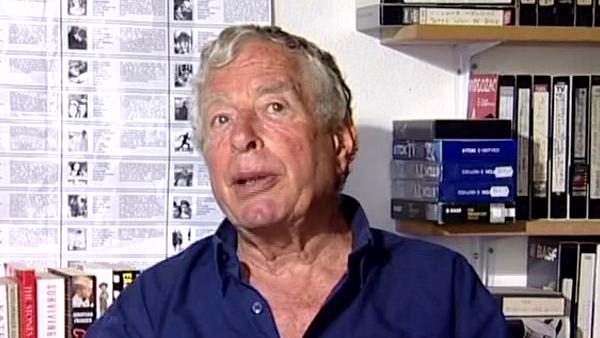 Zorba the Greek: Choosing to shoot in black and white
Zorba the Greek: Working with Anthony Quinn
Walter Lassally
Film-maker
1
...
10
11
12
13
14
...
27
So, when... first day when Anthony Quinn came onto the set, there was a little, sort of, stand-off, one could say and he said, 'You know, I'm only good in my first take, so it's up to you technicians to get everything ready and, you know, and then I come and do my take, and that's it'. Nobody said anything. And I said, me, I said, 'We don't work like that here, Mr Quinn'. And he was very surprised that anybody should talk back to him. And I said, 'We technicians also have the right to get it wrong sometimes, and, you know, I'm sure it'll work out all right, but it isn't necessarily always going to be the first take'. There was a little bit of murmuring and humming and hawing, and then it worked fine. Within a very, very short time we had an excellent relationship. There was never any more trouble, and by and large, he did what he was asked to do. There was a certain amount of discussion with Cacoyannis, which always happens with big American, particularly American, actors. They want to be sure to put in their 10 cents worth. Most of the time it's nonsense. They have to... the directors have to spend a considerable amount of time with diplomacy, talking them out of extremely bad ideas. But I'm not a diplomat and I put my foot in it several times, but in that case it worked. We didn't have any more problems like that. Later on, there were... we had a little setup in the local warehouse we also built a small set – the only set in Zorba is the hut, interior of the hut, which we built in a disused warehouse in Chania Harbour, and there we also saw the rushes, which went back to Athens to be processed, and then came back and we saw them every three or four days, not every day.
And once there was an occasion where we were all sitting there and Kate and I were sitting behind Anthony Quinn, and at one point Kate, Kate leaned forward and tapped him on the shoulder and said, 'That was rather nice, Tony'. And he said, 'Isn't it always?' And she said, 'No, it's not always'. Then we talked about Fellini. We said, 'How was the work with Fellini?' No, 'How was your work on La Strada?' and he said, 'Oh, Fellini'. Like he was some sort of insect. And Kate said, 'Well, it's thanks to your work on that film that you're here, because we loved your work on La Strada and we thought you'd be the right man to play Zorba'. But, as I said, we had an extremely good relationship. Kate also said once, 'You know, Tony, you have the most beautiful eyelashes, just like those donkeys'. Anyway, all went very well. But he was surrounded by four people. He brought four people with him. He had his own stand-in, his own photographer, his own secretary, and his own makeup man, and they kept patting him on the back. They were there as yes-men. They were not there purely for the professional job. They were there to say, 'Tony, that was great', all the time. And once we pointed this out to Tony, that, of course, those people will say it was all marvellous, because you pay them to do that. And Tony said, 'I know, but I need them'. No, you see, it was nice. I mean, he was no trouble at all, and we did admire him. He was a very good actor, but actors have to be kept in their place. There's many an occasion when I wanted to turn round to an actor, particularly an American star, and say, 'Do you know, it's not so long ago that they refused to bury actors in consecrated ground, so don't come here with your mannerisms'.
Born in Germany, cinematographer Walter Lassally (1926-2017) was best known for his Oscar-winning work on 'Zorba the Greek'. He was greatly respected in the film industry for his ability to take the best of his work in one area and apply it to another, from mainstream to international art films to documentary. He was associated with the Free Cinema movement in the 1950s, and the British New Wave in the early 1960s. In 1987 he published his autobiography called 'Itinerant Cameraman'.
Title: "Zorba the Greek": Working with Anthony Quinn
Listeners: Peter Bowen
Peter Bowen is a Canadian who came to Europe to study and never got round to heading back home. He did his undergraduate work at Carleton University (in Biology) in Ottawa, and then did graduate work at the University of Western Ontario (in Zoology). After completing his doctorate at Oxford (in the Department of Zoology), followed with a year of postdoc at the University of London, he moved to the University's newly-established Audio-Visual Centre (under the direction of Michael Clarke) where he spent four years in production (of primarily science programs) and began to teach film. In 1974 Bowden became Director of the new Audio-Visual Centre at the University of Warwick, which was then in the process of introducing film studies into the curriculum and where his interest in the academic study of film was promoted and encouraged by scholars such as Victor Perkins, Robin Wood, and Richard Dyer. In 1983, his partner and he moved to Greece, and the following year he began to teach for the University of Maryland (European Division), for which he has taught (and continues to teach) biology and film courses in Crete, Bosnia, and the Middle East.
Tags: Anthony Quinn
Duration: 3 minutes, 45 seconds
Date story recorded: June 2004
Date story went live: 24 January 2008