NEXT STORY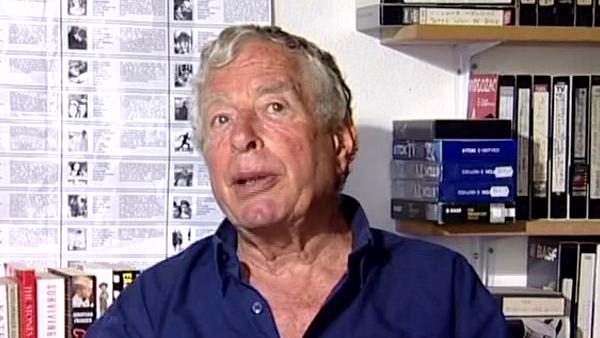 Riverside Studios shut down
Getting work as a clapper boy at Riverside Studios
Walter Lassally
Film-maker
1
2
3
4
5
...
27
It lasted exactly 10 months and then not only that studio, but a lot of other studios closed down. There was one of the perennial crises in the film industry, which... I think there's been more crisis in the film industry than... non-crisis is the exception. Crisis is the normal condition of the British film industry, in my experience.
But anyway, it was very nice being able to get a start and, at that time, I was... oh, I had a... I had an opportunity earlier once, but I was going to evening classes, studying for a BSc basically. Because my father was fairly insistent that I get a good, what he called, a good education, a good basis. And I realised quite early on that a formal education in either arts or sciences doesn't really help you in the film industry. In fact, they're... they're opposed to it in some ways, and so when I told this – I can't remember where that was, but I had an opportunity where they were going to take me on as clapper boy, but when I told them that I went to evening classes, that meant I couldn't do any overtime. Now, they didn't often have overtime, but they said: no, no, no, we can't have anybody that can't work whatever hours we require, not that they worked very long hours in those days. The hours were quite reasonable, and the Unions were very strong and they controlled all that fairly tightly. But they wouldn't take on anybody that, if need be, couldn't continue into overtime. So that failed, but eventually I did get in.
And, simultaneously, various other things happened. I... before that I went round all the studios and tried to get in and it didn't... it didn't happen until 1945. And then, as I say, it lasted only 10 months, but I did get a chance to work with some interesting people, including Otto Heller, who became quite a good friend. He was a Czech cameraman working in England at the time. He would, sort of, pat me on the head and say, 'All right, my boy, what?' And there was a director on my first movie which was called Dancing with Crime, was the first movie where I was a clapper boy, which was actually made at Southhall, but Southhall was part of the same group as Riverside Studios, and that was made there. And the director of that film was a guy called John Paddy Carstairs, and he was very good to me. Because most of the technicians, like in the production department and so on, they were... they didn't want me to be interested in becoming a cameraman, and they said: you just clap those two pieces of wood together and don't you worry about anything else, except be first in the tea queue. That was the most important thing, because the clapper board had a secondary function. Upside down it was also the tea tray. Once I nearly caused a major incident because I was chatting to the electrician, who was in charge of turning on the red and green lights and ringing the bell when the director called for – the assistant director – called for rehearsal, this chap switched on a green light and... which showed outside the stage and rang a bell. That was his only job. So he was sitting there all day, near the door, he had a little pedestal next to him which had three switches on it. One day I was chatting to him and I happened to have my hand resting on the pedestal, when the assistant director called: 'Green light', and I just flicked the switch. And, my God! 'Don't you ever do that again!' Because that was his job, you know. I was in danger of putting somebody out of work by flicking a switch.
Born in Germany, cinematographer Walter Lassally (1926-2017) was best known for his Oscar-winning work on 'Zorba the Greek'. He was greatly respected in the film industry for his ability to take the best of his work in one area and apply it to another, from mainstream to international art films to documentary. He was associated with the Free Cinema movement in the 1950s, and the British New Wave in the early 1960s. In 1987 he published his autobiography called 'Itinerant Cameraman'.
Title: Getting work as a clapper boy at Riverside Studios
Listeners: Peter Bowen
Peter Bowen is a Canadian who came to Europe to study and never got round to heading back home. He did his undergraduate work at Carleton University (in Biology) in Ottawa, and then did graduate work at the University of Western Ontario (in Zoology). After completing his doctorate at Oxford (in the Department of Zoology), followed with a year of postdoc at the University of London, he moved to the University's newly-established Audio-Visual Centre (under the direction of Michael Clarke) where he spent four years in production (of primarily science programs) and began to teach film. In 1974 Bowden became Director of the new Audio-Visual Centre at the University of Warwick, which was then in the process of introducing film studies into the curriculum and where his interest in the academic study of film was promoted and encouraged by scholars such as Victor Perkins, Robin Wood, and Richard Dyer. In 1983, his partner and he moved to Greece, and the following year he began to teach for the University of Maryland (European Division), for which he has taught (and continues to teach) biology and film courses in Crete, Bosnia, and the Middle East.
Tags: film industry, overtime, clapper board, tea tray, director, electrician
Duration: 3 minutes, 54 seconds
Date story recorded: June 2004
Date story went live: 24 January 2008