NEXT STORY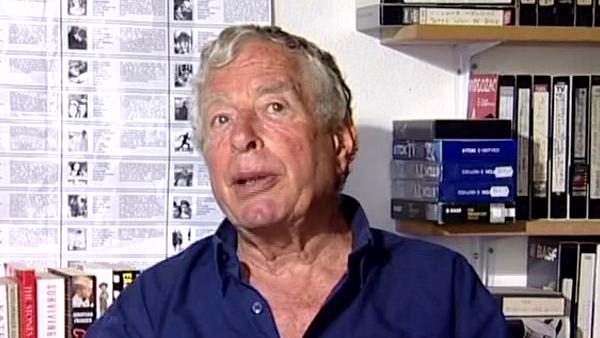 The Blood of Hussain: Kika Markham and the Moharram procession
The Blood of Hussain: Equipment problems
Walter Lassally
Film-maker
1
...
14
15
16
17
18
...
27
First of all, there was the usual equipment problem. That I had... he had asked me to go to Germany and to order a certain amount of equipment and to bring it with me, or to arrange for it to be shipped. That included the camera, the Arriflex, and some lights, where we were going to use the recently-invented Arri Sun. Now, the Arri Sun was a fairly large light which was... It had no lens in the front, it just had a protective glass in the front and sometimes not even that. It was an early form of the HMI bulb. It was a tube light. Not mercury. What's the official... I don't even know what HMI stands for. Halogen Metal Iodide, something like that. Anyway, it was a forerunner of the now common HMI lights. But quite large and fairly complicated. It ran through... each light had to have a choke and a transformer and obviously connecting cables and all that. So these lights were duly shipped out from Germany and they duly arrived in Lahore, where, again, there was a customs house which was quite small, but was full, from floor to ceiling with refrigerators and all kinds of machinery that had arrived and hadn't been cleared. These lights, which are very fragile, arrived in a ridiculously flimsy cardboard box. I can't believe that they survived that journey. But there were only one or two of the little mirrors were broken. I could never believe that those lights survived that journey. We got them out of customs after the usual... well, not immediately, you know, after a week or so of going there every day and arguing with the guy, and the usual amount of bribery went on. And finally the lights were released, but not until we'd already left for the village. They were to follow us to the village. In fact, they did follow up to the village, but as most of the work in the village was daytime work, which didn't need any lighting, I didn't mind that so much. Anyway, it was a fait accompli. We didn't want to sit in Lahore waiting if he would see fit to release the lights the next day, so went off to the village, and I said, 'Well, when the lights come out of customs, you send them on to us'. So they eventually arrived and I connected it all up and they wouldn't work.
Now, we were staying, at that time, in another one of these government resthouses, and the whole place had a big porcelain fuse near the entrance, which was actually broken in half and held together with sellotape. But the maximum load in that entire building was 10 amps, 10 ampere. Nothing. When I first connected the lights and they wouldn't work, I thought, well, I wonder why that is. I thought maybe it has to do with them not being earthed. Because that whole circuit wasn't earthed. So I said to my chief electrician, whose claim to fame was that he had worked on Bhowani Junction. Now, this was a sort of... Anyone who'd worked on Bhowani Junction was automatically a fully qualified film technician, you see. So, this electrician was summoned and I said, 'Look, I don't understand why these lights don't work, maybe it's because they're not earthed, so would you fix up an earth'. He said, 'Yes. Yes, sir'. So he went away and I did something else, and then he came back after a while and said, 'Earth ready, sir!'
He'd connected a wire to a screw, he'd screwed a wire onto the edge of one of the... to the body of one of these lights and the cable, the wire, ran into the next room. I, sort of, followed the cable, and in the next room there was a flowerpot with a dead plant in it, which he'd carefully watered, and the end of the wire was stuck in the flowerpot. So he said, 'Earth ready, sir!' So I said, 'Yes, thank you very much'. Unfortunately, it was a great embarrassment afterwards to him, because he had an assistant who knew that that wasn't the right thing to do, and it became very embarrassing. Anyway, it turned out in the end that this guy, Colin something, who was the make-up man and the special effects man, him and Salmaan between them, they took some of these things to pieces and they found that one of the chokes... the cable wasn't connected correctly, because it had, like, an eight-core or seven-core cable and he just changed it around, and the lights worked. But 'Earth ready, sir', that was lovely. It took a while for him to live that down.
Born in Germany, cinematographer Walter Lassally (1926-2017) was best known for his Oscar-winning work on 'Zorba the Greek'. He was greatly respected in the film industry for his ability to take the best of his work in one area and apply it to another, from mainstream to international art films to documentary. He was associated with the Free Cinema movement in the 1950s, and the British New Wave in the early 1960s. In 1987 he published his autobiography called 'Itinerant Cameraman'.
Title: "The Blood of Hussain": Equipment problems
Listeners: Peter Bowen
Peter Bowen is a Canadian who came to Europe to study and never got round to heading back home. He did his undergraduate work at Carleton University (in Biology) in Ottawa, and then did graduate work at the University of Western Ontario (in Zoology). After completing his doctorate at Oxford (in the Department of Zoology), followed with a year of postdoc at the University of London, he moved to the University's newly-established Audio-Visual Centre (under the direction of Michael Clarke) where he spent four years in production (of primarily science programs) and began to teach film. In 1974 Bowden became Director of the new Audio-Visual Centre at the University of Warwick, which was then in the process of introducing film studies into the curriculum and where his interest in the academic study of film was promoted and encouraged by scholars such as Victor Perkins, Robin Wood, and Richard Dyer. In 1983, his partner and he moved to Greece, and the following year he began to teach for the University of Maryland (European Division), for which he has taught (and continues to teach) biology and film courses in Crete, Bosnia, and the Middle East.
Tags: The Blood of Hussain, Bhowani Junction
Duration: 4 minutes, 50 seconds
Date story recorded: June 2004
Date story went live: 24 January 2008