NEXT STORY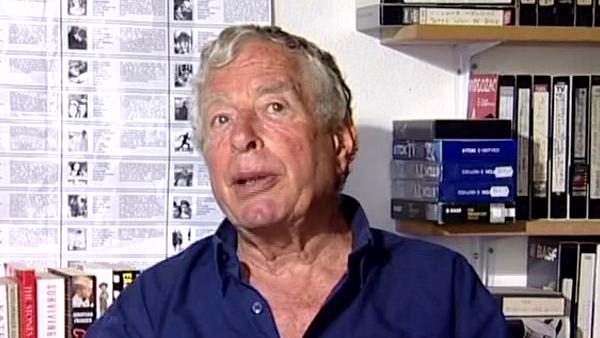 To Kill a Clown: Problems with ending
To Kill a Clown: Working in the Bahamas
Walter Lassally
Film-maker
1
...
15
16
17
18
19
...
27
The next film I made in the American hemisphere, is called To Kill a Clown. That was the released title. It was called something else when we made it. And that was... had a very interesting script, somewhat messed about with, finally, but the original idea wasn't bad and it starred Alan Alda and a Canadian actor who's well-known in Canada but not elsewhere, called Heath Lamberts, and Blythe Danner, with whom I worked twice. The lovely Blythe Danner. And it takes place in upper New York State somewhere on the shore of Long Island, supposedly, on the 4th of July, around the period of the 4th of July. But for some reason, of course, the film had to be made in January, so it was made in the Bahamas. And we discovered, to my great surprise, that you could find a beach in the Bahamas which is actually a coral beach, which will double perfectly well for a beach in New England. The coral doesn't show. There weren't any palm trees on this particular beach. And all the scenes we shot there are absolutely impeccable, believable as being on Long Island, or somewhere. And we had two houses built on this beach, the normal kind of American wooden houses.
That was, I think, my first encounter with an art director called Trevor Williams, who was British, and who moved to America and with whom I worked several times after that. And he became a good friend. And he built these two houses on this beach and we all moved into the... it was near the town, supposedly, which is called West End. It's not a town, and Freeport isn't a town either. Freeport is like a movie set. You half expect the... when you open the door in one of those facades, you half expect to find yourself on the back lot, that there isn't really a house there. It looks exactly like a movie set.
Anyway, we all moved to... I had a totally British crew for that film, because it was a British, or at least a semi-British film. I think it was one of those films made under the Eady Plan, and designed for cinema and television, so we had the usual framing problems, shoot and protect and all that, which I've already talked about. And I had an operator, Ronnie Fox-Rogers with whom I've made several films. I started working with Ronnie and with Jimmy Stilwell as focus puller, I think the first one was Joanna, and that was the second one and then there was a third one and a fourth one. Then again we parted company, but I made several films with Ronnie, who was a very competent operator. So we were all in this vast hotel complex in a place called West End on Grand Bahama Island. On the same island, on Grand Bahama Island, there was, in fact, a film studio. Some enterprising person, or so-called enterprising person, had actually built a film studio in that... on that island. So if you went from West End to Freeport, which was a normal asphalt highway, beyond Freeport the road tended to kind of peter out. But just before it petered out, in the jungle, more or less, you came across this, again, it's like a myth, it's like a... mirage, it's like a mirage, you come across this great archway which says: International Producer Centre, all overgrown with lianas and all weeds in the driveway.
And when you go there you find there's nobody there except one caretaker. Because somebody had this idea to build this International Producer Centre here and everybody will come to the Bahamas to shoot their movies, and it never happened. It was much too inconvenient. We were largely supplied from Florida, because there's nothing on Grand Bahama. And, there used to be amusing things like, the milk for instance, or... no, the coffee whitener. A beautiful invention, American coffee whitener, had a label on it which said: a non-dairy product made by Dairy Products of Jacksonville. And the Canadians used to fly in by the planeload. This is January, remember. They flew in by the planeload, made a beeline for the liquor store and got blind drunk. So that was the kind of atmosphere in which we worked. But the actual work went very well.
The idea of these two houses... The plot of the film is that there's this handicapped Vietnam Veteran who walks with two crutches, played by Alan Alda, he persuades the husband of the husband and wife team... of the couple who rent his cottage for the summer, he persuades them to play a game with him, which is a sort of game of control. And his game, which starts... the film starts as a comedy and gradually, gradually, gradually it turns very serious indeed, because he gets them into his grasp, persuading them to play this game. So he says, 'One evening we all have a drink or two', and he says, 'You really want to do this?' And he says, 'Yes, yes, it should be fun'. So he says, 'Right, we start tomorrow, at dawn'. So next morning at dawn, there he is with his cane tapping on the window saying, 'Mr. Fisher!' And he says, 'What, what, what, what?' 'You're 10 minutes late, Mr. Fisher, already'. Then it starts. This guy has two dogs, two dobermans, and he uses the dobermans to imprison these people. He says, 'Now you shift that pile of...' He behaves like they do in the military, like they were on some sort of detail in the military.
Born in Germany, cinematographer Walter Lassally (1926-2017) was best known for his Oscar-winning work on 'Zorba the Greek'. He was greatly respected in the film industry for his ability to take the best of his work in one area and apply it to another, from mainstream to international art films to documentary. He was associated with the Free Cinema movement in the 1950s, and the British New Wave in the early 1960s. In 1987 he published his autobiography called 'Itinerant Cameraman'.
Title: "To Kill a Clown": Working in the Bahamas
Listeners: Peter Bowen
Peter Bowen is a Canadian who came to Europe to study and never got round to heading back home. He did his undergraduate work at Carleton University (in Biology) in Ottawa, and then did graduate work at the University of Western Ontario (in Zoology). After completing his doctorate at Oxford (in the Department of Zoology), followed with a year of postdoc at the University of London, he moved to the University's newly-established Audio-Visual Centre (under the direction of Michael Clarke) where he spent four years in production (of primarily science programs) and began to teach film. In 1974 Bowden became Director of the new Audio-Visual Centre at the University of Warwick, which was then in the process of introducing film studies into the curriculum and where his interest in the academic study of film was promoted and encouraged by scholars such as Victor Perkins, Robin Wood, and Richard Dyer. In 1983, his partner and he moved to Greece, and the following year he began to teach for the University of Maryland (European Division), for which he has taught (and continues to teach) biology and film courses in Crete, Bosnia, and the Middle East.
Tags: To Kill a Clown, Bahamas, Joanna, Heath Lamberts, Blythe Danner, Trevor Williams, Ronnie Fox-Rogers, Jimmy Stilwell, Alan Alda
Duration: 5 minutes, 59 seconds
Date story recorded: June 2004
Date story went live: 24 January 2008