NEXT STORY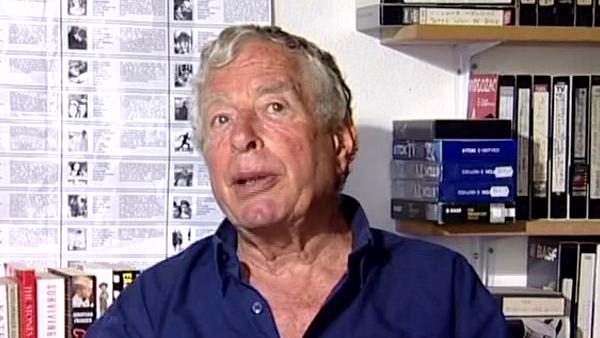 To Kill a Clown: The day for night sequence
To Kill a Clown: Problems with ending
Walter Lassally
Film-maker
1
...
15
16
17
18
19
...
27
He behaves like he's an officer directing them in some detail in the military, and he said, 'Now you shift that pile of rocks from here to the pier, and don't stop until I tell you'. And he just goes away. Then he says to the dog, 'Charlie, watch him'. And the dog sits there, you see. The moment he does anything wrong the dog just attacks him. So very gradually the theme becomes very serious. And at the end, actually, the husband of the couple, is killed. The director was a very talented Canadian called George Bloomfield who, to my best knowledge, that is his only cinema film. Because it was taken away from him before the end. It was re-edited. They didn't think that... they wanted some sort of, not a happy ending, but it's supposed to end with this guy being... dying. She says, 'But he's dead, he's dead'. It's sort of a terrible shock and that's supposed to be the end of the film, but they didn't like that at all. So, they re-cut it and they put all kinds of flashbacks of their happier days ahead, in the past, on the end. It doesn't work. It's an absolute mess and like always in those kinds of circumstances, in London the film played one week in the Rialto, and died. Whereas the original version would've been perfectly okay. But there's always somebody who thinks, no this won't work, this is not good enough. So they take it away from the director and they re-cut it, as happened to James Ivory with The Wild Party. Exactly the same thing happened, only fortunately, in the case of The Wild Party, the original version exists, but not in this case of To Kill a Clown, which I have here on tape. But it's an absolute mess, particularly towards the end because they didn't like this very sad and somewhat abrupt sad ending, tragic ending.
The producer of that film was Ed Scherick who, I believe, started life as a sports commentator on ABC. The company that made that film was, in fact, a subsidiary of ABC, so that's how he got to be the producer. There was an occasion when he came down to the Bahamas, only once in the seven-week shoot or whatever it was – I think it was seven weeks – he came down once and he saw rushes. We had an improvised little theatre there where we saw the rushes. I can't even remember where the film was processed. I think it was processed in England. All these things are governed by rules. In order to qualify for quota you have to process here and you have to have so many Englishmen in the cast and so many Englishmen in the crew, and all that. So I think the film was processed in London. I'm almost sure. Anyway, he came down to see the rushes once. George told me, 'I wasn't there, I wasn't present at the rushes viewing, because I'd already seen all those rushes'. So he had a selection of rushes prepared for him. Then George told me this story, he said: they're sitting there watching the rushes and Ed says, 'What do you think of the photography, George?' George says, 'Fine, yes, it's good, very good'. 'Don't you think it's a bit dark?' 'No, I think it's fine. Ah, shit, I've got my dark glasses on'. You know, a thing like that could end your career.
Born in Germany, cinematographer Walter Lassally (1926-2017) was best known for his Oscar-winning work on 'Zorba the Greek'. He was greatly respected in the film industry for his ability to take the best of his work in one area and apply it to another, from mainstream to international art films to documentary. He was associated with the Free Cinema movement in the 1950s, and the British New Wave in the early 1960s. In 1987 he published his autobiography called 'Itinerant Cameraman'.
Title: "To Kill a Clown": Problems with ending
Listeners: Peter Bowen
Peter Bowen is a Canadian who came to Europe to study and never got round to heading back home. He did his undergraduate work at Carleton University (in Biology) in Ottawa, and then did graduate work at the University of Western Ontario (in Zoology). After completing his doctorate at Oxford (in the Department of Zoology), followed with a year of postdoc at the University of London, he moved to the University's newly-established Audio-Visual Centre (under the direction of Michael Clarke) where he spent four years in production (of primarily science programs) and began to teach film. In 1974 Bowden became Director of the new Audio-Visual Centre at the University of Warwick, which was then in the process of introducing film studies into the curriculum and where his interest in the academic study of film was promoted and encouraged by scholars such as Victor Perkins, Robin Wood, and Richard Dyer. In 1983, his partner and he moved to Greece, and the following year he began to teach for the University of Maryland (European Division), for which he has taught (and continues to teach) biology and film courses in Crete, Bosnia, and the Middle East.
Tags: To Kill a Clown, The Wild Party, George Bloomfield
Duration: 3 minutes, 30 seconds
Date story recorded: June 2004
Date story went live: 24 January 2008