NEXT STORY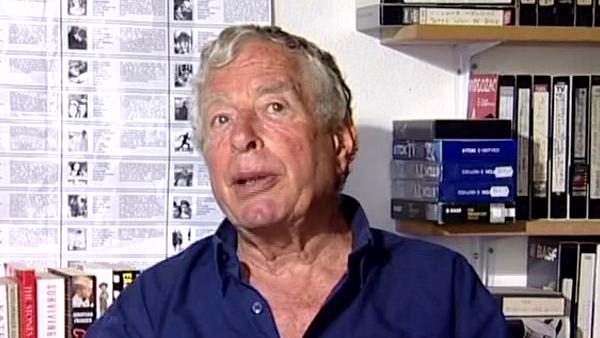 Too Far to Go: Method acting
Too Far to Go: Directing
Walter Lassally
Film-maker
1
...
16
17
18
19
20
...
27
Too Far to Go was based on a series of stories by John Updike dealing with the couple... Oh God, the name again escapes me. Maples, the Maples. There's a family that he often wrote about and they took a number of short stories and combined them into this film called Too Far to Go, which is a line which appears in the film. That was directed by Fielder Cook with whom I'd worked, by that time, twice before. No, once before. I'd worked with Fielder once before, then I worked with him again after Too Far to Go. I'd worked with Fielder on a film called Eagle in a Cage, which had... It had editing problems. It was a film about Napoleon and particularly Napoleon's exile on Elba... yes, wherever. When they were editing the film they discovered that there was a lot of stuff missing. That they could really do with some additional shooting, so I was approached if I could shoot some additional material, in England, and, of course, it was winter and this material had to be shot right away, and where can you shoot material in England in winter that would fit into a film which was shot in Yugoslavia in the summer. They said that we were going to go to Wales, and I said, 'I don't think I would do that if I were you, but you might just stand a chance in Cornwall'. Because in Cornwall, on the very tip of Cornwall, it hasn't snowed in living memory. So there, okay, sunshine, we have to see, but you stand a chance there. So we went to Cornwall and we had a very successful week's shooting with stuff which inter-cut beautifully with the stuff that was shot in Yugoslavia in July. That was a lesson to me too, that when people talk about the different qualities of light in different places, it's only half true. If you pay attention to certain things, like the quality of the air, if there's a lot of mist, if you're getting direct sunshine, or if there's unbroken blue sky, how blue it is, that all affects the contrast. So you have to match those conditions. But, as I've just said, you can match stuff shot in England in February, I think it was February, with stuff shot in Yugoslavia in July if you just pay attention to the nitty-gritty of it.
So I'd met Fielder there. So he was the one who asked me to photograph Too Far to Go, and it was a very pleasant shoot. A very nice experience, very good cast. Michael Moriarty and Blythe Danner play a couple who have four children, and who want to separate. Well, at least he wants to separate. She doesn't really want to separate, but he wants to separate. There's a line somewhere in the film where he says to her, 'Would you agree that sex is the only problem, only real problem in our marriage?' And she says, 'Yes, yes'. Then he says, 'Maybe we should give it up'. And she says, 'Well, that's a novel idea, do you think that would work?' Anyway, they decide to give it up and that leads to all sorts of other consequences.
There's a wonderful scene where she goes to her psychiatrist; they all have a psychiatrist. She goes to her psychiatrist and she's lying there on her couch and he's sort of sitting there chewing his pencil or whatever, rather a stout man, a bit of a hangdog expression, and she tells him that she decided... they decided to give up sex for a period. And he says, 'In what sense did you agree to terminate sexual activity?' And she looks at him and says what can you say to a question like that, and she said, 'In the usual sense'. That's a lovely scene. If you have a script which is based on Updike then it becomes immediately obvious, after you've filmed some rather stupid scripts, it becomes very obvious that there's a brain working somewhere. There's a mind somewhere behind that dialogue. It's really rather good. And that was very obvious in that film. The dialogue, and not only the dialogue, but the dialogue is very apt and very precise.
Born in Germany, cinematographer Walter Lassally (1926-2017) was best known for his Oscar-winning work on 'Zorba the Greek'. He was greatly respected in the film industry for his ability to take the best of his work in one area and apply it to another, from mainstream to international art films to documentary. He was associated with the Free Cinema movement in the 1950s, and the British New Wave in the early 1960s. In 1987 he published his autobiography called 'Itinerant Cameraman'.
Title: "Too Far to Go": Directing
Listeners: Peter Bowen
Peter Bowen is a Canadian who came to Europe to study and never got round to heading back home. He did his undergraduate work at Carleton University (in Biology) in Ottawa, and then did graduate work at the University of Western Ontario (in Zoology). After completing his doctorate at Oxford (in the Department of Zoology), followed with a year of postdoc at the University of London, he moved to the University's newly-established Audio-Visual Centre (under the direction of Michael Clarke) where he spent four years in production (of primarily science programs) and began to teach film. In 1974 Bowden became Director of the new Audio-Visual Centre at the University of Warwick, which was then in the process of introducing film studies into the curriculum and where his interest in the academic study of film was promoted and encouraged by scholars such as Victor Perkins, Robin Wood, and Richard Dyer. In 1983, his partner and he moved to Greece, and the following year he began to teach for the University of Maryland (European Division), for which he has taught (and continues to teach) biology and film courses in Crete, Bosnia, and the Middle East.
Tags: Too Far to Go, Eagle in a Cage, John Updike, Fielder Cook, Michael Moriarty, Blythe Danner, Napoleon
Duration: 4 minutes, 29 seconds
Date story recorded: June 2004
Date story went live: 24 January 2008