NEXT STORY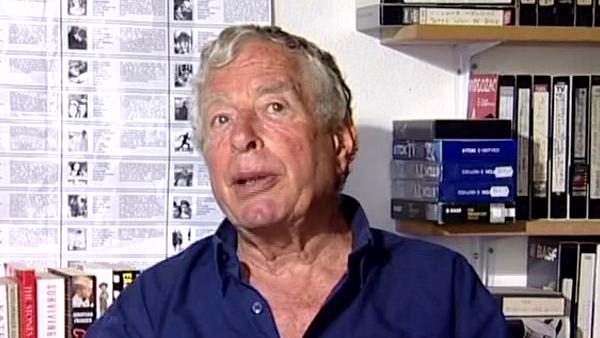 Shooting The Adventures of Huckleberry Finn
The Great Amwell Company's Mark Twain series: Pudd'n'head Wilson
Walter Lassally
Film-maker
1
...
16
17
18
19
20
...
27
The next film that we made was a year later again, was called Pudd'n'head Wilson. Again, a very nice Mark Twain story. I've got a... Lisa Hilboldt played the main actress in that film. And, I'll think of the name of the main actor in a minute. But that was shot in Harper's Ferry. Harper's Ferry is in the triangle where Virginia... West Virginia and Maryland meet. And, again, it's a sort of model village. It has pieces of it that you can use as period houses, very easily. We just had to put some gravel and some straw down for the road, which wouldn't have been asphalt at the time. But it was relatively easy to shoot there. We always get very good co-operation in America, almost everywhere. In New York it's phenomenal. In New York they, sort of, say, 'Is the lamppost in your way? We'll tear it'. 'No, no, the lamppost is fine, just leave it there'. Because a lot of these states have movie departments which are there to help movies being made, because they want to attract the trade into their State.
Again, the shooting in Harper's Ferry went extremely well. Wilson... the name of the main actor is something Wilson, Ken Wilson. He was very good. He is 6 ft 3, which produces a few problems, the worst instance of which happened in the Bostonians, where we had Christopher Reeve, who's sort of 6 ft 1, and Linda Hunt, who's 4 ft nothing. How do you a two-shot with those two people? But in... in Pudd'n'head Wilson it worked quite well. We had some quite tricky night scenes to do there where I combined day for night with real night and... tricky transitions, where there's an encounter in a little pavilion at night, and there's the... outside there's a sort of party going on. And for various reasons that had to be a mixture of day for night and real night, which sometimes happens. And not that easy to combine.
One of the downsides of my system is that you have to have a continuous sequence of some duration. You can't inter-cut it like shot-for-shot with real night, because it jumps, because the day for night is sort of greeny/bluish, in overall quality. If you inter-cut that with real night it doesn't look good, so you have to have a bit of a sustained sequence. So, if I remember rightly, those scenes in Pudd'n'head Wilson are a combination of dusk and real night, night for night. I don't think there's anything else about that particular film. It involved, again, quite a bit of riverside work and riverboat work. We were shooting on the edge of the water sometimes. And there's a sequence where I learnt the meaning of being sold down the river. That comes from that story, where you didn't sell slaves down the river where the... they'd be back in slavery again, if a slave had been freed. But then he gets into trouble and he's sold again. He's arrested and sold, and they send him down the river. My God, and in that film, it's his own mother who... no, he sells his own mother down the river. That's part of the story. But the collaboration with Peter Hunt on all those films was excellent and... yes, very, very enjoyable. They were all very enjoyable shoots.
Born in Germany, cinematographer Walter Lassally (1926-2017) was best known for his Oscar-winning work on 'Zorba the Greek'. He was greatly respected in the film industry for his ability to take the best of his work in one area and apply it to another, from mainstream to international art films to documentary. He was associated with the Free Cinema movement in the 1950s, and the British New Wave in the early 1960s. In 1987 he published his autobiography called 'Itinerant Cameraman'.
Title: The Great Amwell Company's Mark Twain series: "Pudd'n'head Wilson"
Listeners: Peter Bowen
Peter Bowen is a Canadian who came to Europe to study and never got round to heading back home. He did his undergraduate work at Carleton University (in Biology) in Ottawa, and then did graduate work at the University of Western Ontario (in Zoology). After completing his doctorate at Oxford (in the Department of Zoology), followed with a year of postdoc at the University of London, he moved to the University's newly-established Audio-Visual Centre (under the direction of Michael Clarke) where he spent four years in production (of primarily science programs) and began to teach film. In 1974 Bowden became Director of the new Audio-Visual Centre at the University of Warwick, which was then in the process of introducing film studies into the curriculum and where his interest in the academic study of film was promoted and encouraged by scholars such as Victor Perkins, Robin Wood, and Richard Dyer. In 1983, his partner and he moved to Greece, and the following year he began to teach for the University of Maryland (European Division), for which he has taught (and continues to teach) biology and film courses in Crete, Bosnia, and the Middle East.
Tags: Pudd'n'head Wilson, Great Amwell Company, New York, Mark Twain, Lisa Hilboldt, Ken Wilson, Christopher Reeve
Duration: 3 minutes, 50 seconds
Date story recorded: June 2004
Date story went live: 24 January 2008