NEXT STORY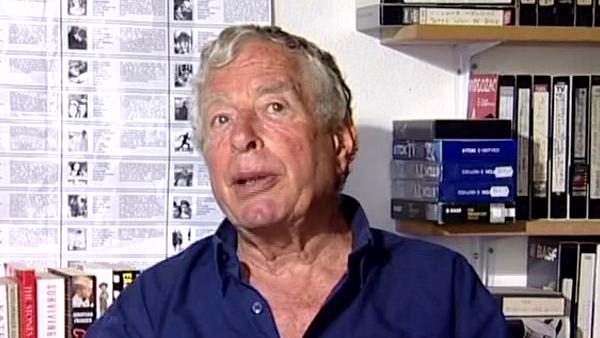 Savages: Shooting
Savages: The story
Walter Lassally
Film-maker
1
...
17
18
19
20
21
...
27
Savages has always remained to be one of my favourite movies because it can only be a film. It can not be a novel, it can not be a play, it can only be a film. And the genesis of that film is also very unusual. It came about because James stumbled on an old colonial mansion in Upstate New York, in a place called... tiny place called Scarborough, which is near Tarrytown. He stumbled across this ancient old American colonial mansion, the centre part of which is... dates back to 17-something. Really quite a long way. And not only was it still standing in reasonably good condition, but it was full of all sorts of props of the '20s, cutlery, and clothes, and costumes, and little dolls, and all sorts of junk. And, when they discovered that, they... he decided to write a script around... which is based on this house and was built around... it was build around the house. And that also makes it fairly unique.
And then he engaged two scriptwriters, who were James Trow and Michael... no, it wasn't Michael Moriarty. Anyway, the names we'll have to look up. But there were two separate scriptwriters who wrote different portions of that movie, which had a very simple basic story. It's the story of civilisation told in one day. These savages, which you see in the jungle, wearing mud masks, like they wear in... I believe it's based on the people... a tribe in New Guinea, and they wear these mud masks, and you discover them in the jungle doing their rituals and dancing around. And then they discover the house, to which they're led by the flight of a croquet ball, which arrives mysteriously in the jungle. It says, where spherical objects... perfectly spherical objects were unknown, something like that. And then they become civilised. They don their... they doff their masks and they put on dinner jackets and they give a dinner party. Every Merchant Ivory film has a dinner party in it, almost every one. And then things begin to go wrong. They become a bit decadent and there's a lot of talk about things going wrong generally in the world. There's a frenetic croquet match at the end, and then they all go back separately and severally into the jungle. That's the story. And it's all filmed in a light-hearted manner. It's not meant to be heavily symbolic.
Some critics, later on, after it was first shown, almost stubbornly refused to understand that film. They said it's all this heavy symbolism. There isn't any heavy symbolism, that's absolute nonsense. It's a story which you can follow very easily. It's not highbrow in any way, at all. But they, sort of, said: this is all symbolic stuff. And, a lot of people didn't understand it. They didn't because you couldn't say, 'What is this film about?' Now, if you say it's about civilisation taking place in the course of one day, then of course it sounds heavily symbolic. So that doesn't describe it properly. So how do you describe it? People... sometimes people fail to get the point because they can't just relax and sit back and watch the damn thing.
I was in a festival jury once in, I think it was in Poland, and there was a fellow cameraman, an English cameraman with me, and they showed a Slovenian... Slovakian or Slovenian... Slovakian, I think, television film which ends in an unexplained act of levitation. But it's a very funny comedy and it went very well... down very well with the audience there, but this friend of mine, I think it was Ronnie Taylor, was on the jury with me. And he came out absolutely furious, and he said, 'What is that all about? Tell me what is this about?' And I said, 'Well, isn't it obvious what it's about?' He said, 'Well, what about this levitation thing?' I said, 'Well, you know, you don't have to explain everything'.
I think Savages, very mysteriously, fell into a certain sort of vacuum hole between explainable subjects. And it was never shown on television. They offered it to... They offered Savages to the BBC, and at that time, I think Channel 4 hadn't started. But it was offered to television and it was turned down, and it was turned down in America, and in England it was turned down again after 20 years. But when you consider all the rubbish that they do show, quite happily, on television, that is a bit extraordinary, because it's a remarkable film. They have all these film clubs explained by Derek Malcolm and God knows who, and it never... it was never expected, because... never accepted for television.
Born in Germany, cinematographer Walter Lassally (1926-2017) was best known for his Oscar-winning work on 'Zorba the Greek'. He was greatly respected in the film industry for his ability to take the best of his work in one area and apply it to another, from mainstream to international art films to documentary. He was associated with the Free Cinema movement in the 1950s, and the British New Wave in the early 1960s. In 1987 he published his autobiography called 'Itinerant Cameraman'.
Title: "Savages": The story
Listeners: Peter Bowen
Peter Bowen is a Canadian who came to Europe to study and never got round to heading back home. He did his undergraduate work at Carleton University (in Biology) in Ottawa, and then did graduate work at the University of Western Ontario (in Zoology). After completing his doctorate at Oxford (in the Department of Zoology), followed with a year of postdoc at the University of London, he moved to the University's newly-established Audio-Visual Centre (under the direction of Michael Clarke) where he spent four years in production (of primarily science programs) and began to teach film. In 1974 Bowden became Director of the new Audio-Visual Centre at the University of Warwick, which was then in the process of introducing film studies into the curriculum and where his interest in the academic study of film was promoted and encouraged by scholars such as Victor Perkins, Robin Wood, and Richard Dyer. In 1983, his partner and he moved to Greece, and the following year he began to teach for the University of Maryland (European Division), for which he has taught (and continues to teach) biology and film courses in Crete, Bosnia, and the Middle East.
Tags: Savages, James Ivory, Ismail Merchant, H E Potter, James Trow
Duration: 5 minutes, 1 second
Date story recorded: June 2004
Date story went live: 24 January 2008