NEXT STORY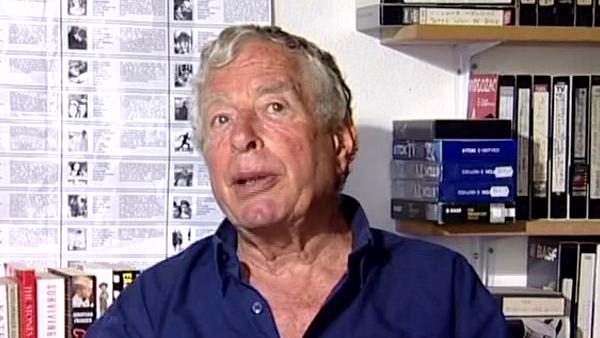 Savages: Wearing many hats
Savages: Lovely dialogue and money problems
Walter Lassally
Film-maker
1
...
17
18
19
20
21
...
27
There's lovely dialogue in that film. The hostess, for instance, to break the silence which this incident causes, says to the English woman... There's an English woman in the... among the dinner party guests, called Lady Cora. Sir Nigel and Lady Cora, two English people. And the hostess, in order to break the spell says, 'Do you know... do you happen to know, Lady Cora, the meaning and derivation of the term bric-a-brac?' And Lady Cora says, As a matter of fact, I do'. And then she turns and says to her neighbour and says, 'Damn, stupid question'. It's full of stuff like that. It's really a laugh.
The script for that was being written by these two people, who were writing quite independently, and they were continuing to write while we were filming. And some of the stuff that was coming out, they said, 'You know, we're going to insert this into the film, was very complicated'. Like there was a scene that was written subsequently where there's supposed to be a movie projector running, unattended, in one of the rooms with a loop of film. And of course, not only do you have to film that, but you also have to film the film that is going to be projected. So I said, 'Look, you know, we've got five weeks, but how are we going to do all this? We've got our hands full up to now', as it is now. And there was a moment when we... we'd walk in... we came back to our hotel, we were staying in a sort of small hotel somewhere along Route 90, or whatever it is up there, and once we came back from work and all the luggage was piled up in the car park. Because the owner, who hadn't been paid, looked up, sort of, found out... he said, 'What is the credit rating of this company?', and the answer came back, the credit rating of this company doesn't exist, it's zero. So they put all our luggage in the car park and we couldn't get into our rooms till he came up with some cash. But he did. Also the salaries were late one week and the... Merchant, who wasn't providing the money, he was just instrumental in providing the money, said to this electrician, Bobby Vee, a lovely man... His name is Robert Vercruse, but he's known to everybody as Bobby Vee. He came to Ismail, and Ismail said, 'Look I've never welched on anybody, don't worry, it'll be perfectly all right, I guarantee you the money will be found immediately'. And Bobby said, 'Look, Izzy' – he called him Izzy, which Ismail disliked intensely – he said, 'Look, Izzy, don't take it personal, but you see, I have this framed cheque on my wall'.
Born in Germany, cinematographer Walter Lassally (1926-2017) was best known for his Oscar-winning work on 'Zorba the Greek'. He was greatly respected in the film industry for his ability to take the best of his work in one area and apply it to another, from mainstream to international art films to documentary. He was associated with the Free Cinema movement in the 1950s, and the British New Wave in the early 1960s. In 1987 he published his autobiography called 'Itinerant Cameraman'.
Title: "Savages": Lovely dialogue and money problems
Listeners: Peter Bowen
Peter Bowen is a Canadian who came to Europe to study and never got round to heading back home. He did his undergraduate work at Carleton University (in Biology) in Ottawa, and then did graduate work at the University of Western Ontario (in Zoology). After completing his doctorate at Oxford (in the Department of Zoology), followed with a year of postdoc at the University of London, he moved to the University's newly-established Audio-Visual Centre (under the direction of Michael Clarke) where he spent four years in production (of primarily science programs) and began to teach film. In 1974 Bowden became Director of the new Audio-Visual Centre at the University of Warwick, which was then in the process of introducing film studies into the curriculum and where his interest in the academic study of film was promoted and encouraged by scholars such as Victor Perkins, Robin Wood, and Richard Dyer. In 1983, his partner and he moved to Greece, and the following year he began to teach for the University of Maryland (European Division), for which he has taught (and continues to teach) biology and film courses in Crete, Bosnia, and the Middle East.
Tags: Savages, Robert Vercruse
Duration: 2 minutes, 48 seconds
Date story recorded: June 2004
Date story went live: 24 January 2008