NEXT STORY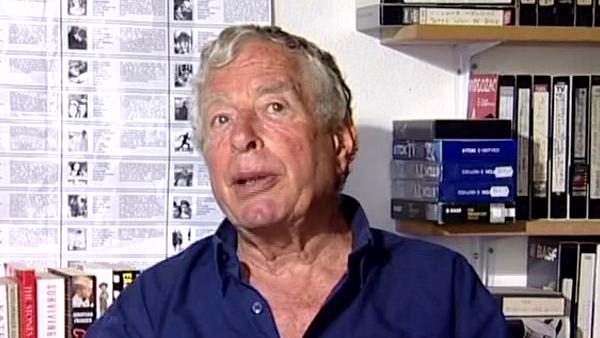 How I became someone's 'pupil'
Making a film about squatters with Derek York
Walter Lassally
Film-maker
1
2
3
4
5
...
27
Derek York is somebody whom I met when I went to the Holborn Film Society. Because at that time, in the '40s, '46, '47, that sort of period, I used to go to film societies to see the latest foreign movies, which you could only see in film societies, even before... there were a couple of specialist cinemas in London, but very few, and often you had to go to a film society if you wanted to see something out of the way, out of the ordinary. And at one of those film society screenings, at the Holborn Film Society, I met Derek York and we soon discovered that we had similar interests. We both wanted to become film-makers. He was a writer and became a director. So we got together, and I got him a job at Kinocrat. I was there first and he joined us. Then, we decided to make a rather more elaborate film. More elaborate, that is, than Watch the Birdie. And at that time the squatter's movement happened in London where... it was communist inspired, but not entirely communist in nature. But there was a... there was a considerable housing shortage, but at the same time there was... there were many empty properties which, for some reason or other, couldn't be occupied, or couldn't be let. So the squatter's movement was... they broke into these empty properties and squatted in there to draw attention to the housing problem. When this movement was at its height and they were being pursued by the police and got out, and there was quite a few battles going on. So during that time, we took the opportunity, we quickly borrowed a camera from Kinocrat, I imagine, it must have been, and we filmed some of those events taking place in the West End of London, in a place called the Ivanhoe Hotel, that was one place that was occupied, and the other places were just office buildings or private flats, or things that just happened to be standing empty. And we managed to get some shots of people moving furniture in through the windows, because the doors were locked, underneath it was padlocked. The proper entrance was padlocked. They smuggled furniture in and... so we got three or four documentary pieces, like newsreel, bits. And they formed the centrepiece of this film, Smith Our Friend, where Derek wrote a framing story about a returning serviceman, somebody coming home from the war, being demobbed, they call it, demobilised, demobbed, carrying a little cardboard box, which had a suit in it which was given to you by the government. You see, when you were demobbed you had this cardboard box with a suit in it. And, so this film starts with this guy coming out with his cardboard box and being welcomed home by his wife and child at a very slummy place in East London somewhere, in Stepney, and then you see the house is badly in need of repair, the roof leaks, the walls are damp, and the whole place is very much in need of care and maintenance. And we actually staged this. We took some more actual shots in real... people's real houses who were living under very, very poor conditions, but the main part of the story was staged in a school hall, because Derek's father was a caretaker.
Born in Germany, cinematographer Walter Lassally (1926-2017) was best known for his Oscar-winning work on 'Zorba the Greek'. He was greatly respected in the film industry for his ability to take the best of his work in one area and apply it to another, from mainstream to international art films to documentary. He was associated with the Free Cinema movement in the 1950s, and the British New Wave in the early 1960s. In 1987 he published his autobiography called 'Itinerant Cameraman'.
Title: Making a film about squatters with Derek York
Listeners: Peter Bowen
Peter Bowen is a Canadian who came to Europe to study and never got round to heading back home. He did his undergraduate work at Carleton University (in Biology) in Ottawa, and then did graduate work at the University of Western Ontario (in Zoology). After completing his doctorate at Oxford (in the Department of Zoology), followed with a year of postdoc at the University of London, he moved to the University's newly-established Audio-Visual Centre (under the direction of Michael Clarke) where he spent four years in production (of primarily science programs) and began to teach film. In 1974 Bowden became Director of the new Audio-Visual Centre at the University of Warwick, which was then in the process of introducing film studies into the curriculum and where his interest in the academic study of film was promoted and encouraged by scholars such as Victor Perkins, Robin Wood, and Richard Dyer. In 1983, his partner and he moved to Greece, and the following year he began to teach for the University of Maryland (European Division), for which he has taught (and continues to teach) biology and film courses in Crete, Bosnia, and the Middle East.
Tags: sqatters, demob, housing, police, film societies, slums
Duration: 3 minutes, 39 seconds
Date story recorded: June 2004
Date story went live: 24 January 2008