NEXT STORY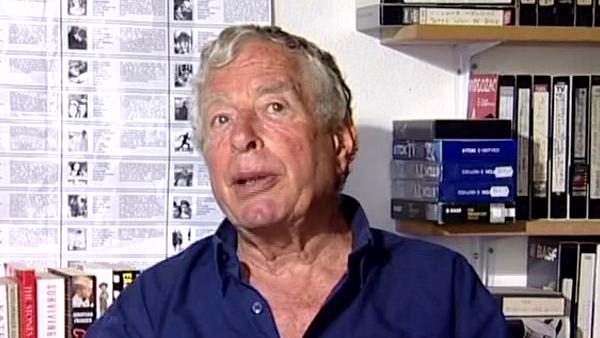 The Wild Party: Sneak previews
The Wild Party: Raquel Welch
Walter Lassally
Film-maker
1
...
17
18
19
20
21
...
27
The next film we made was The Wild Party in 1974 which was the... which starred Raquel Welch, subsequently, but Raquel Welch was not cast until about a fortnight before I was due to go over there to make the movie. When I heard on the telephone that she was cast, I said, 'Oh no, my God', you know, 'no end of trouble'. He said, 'No, no, we're very lucky' because, as she has agreed to do the film, we get a lot of extra money, and I said, 'All right, well, you'll see, it's not quite as you think it's going to be'. And, anyway, so that was a fait accompli.
The leading man was James Coco who plays this silent movie comedian. Again, quite interestingly, the script is based on a long narrative poem by James Moncure March, which in itself is based on some wild party that they had in Hollywood where some girl was killed accidentally and the... Fatty Arbuckle was the character on whom James Coco's part in that movie is based. So we arrived in Hollywood and moved into our various hotels. And then we were invited to a dinner in a local restaurant to meet Raquel Welch. And I was there with Kate and James, of course, and Ismail, they were all there and formal hellos were exchanged, formal greetings were exchanged. And then Kate, rather... slightly teasingly said to Raquel Welch, 'I hear you had a lot of trouble on your last movie, Raquel Welch'. And Raquel said, 'Trouble? I never have trouble. I call my lawyer every day'. And Kate kicked Ismail under the table, to see what he was in for, to give him an indication what was in store.
And the first week went beautifully well. We did, sort of, various bits and pieces, run-by in the Hollywood Hills and along the seashore, and little bits and pieces. A scene outside Max Factor's office, I seem to remember. And then came the eve of the first big scene. And we rehearsed it and everything seemed to be perfectly okay. We all went to bed and at six o'clock in the morning she rang up James Ivory and said, 'Look, James, I've decided I don't want to play this scene the way we rehearsed it last night'. And she said – and I remember this specifically – she said, 'I want to sit there, I want to put my feet on the table and spit grape pips into a spittoon'. And James at, sort of, six o'clock in the morning... you know, that's not exactly the message you want to wake up to. But from that moment on it was all downhill. She wouldn't do what she was asked to do. And she had to be argued out of it, and they were endless arguments, and it got worse and worse and worse and worse, and reached a...
And then the producers came, the other producers, you know, the official producers, which was Angela Lansbury's brother, I believe, Edgar Lansbury, was the... and somebody called Beruh, they were the official producers. They came and said, 'Look, look, treat her like a spoilt child, you know, like a...' and I said, 'I don't think that's a very good idea, but okay, if that's what you want'. They said, 'No, you must treat her very gently, otherwise she'll walk off'. Well, we treated her very gently and she still walked off. And a whole book's been written about that, so I won't go into that... won't go on about that endlessly. But it was very hard for me because I very often found myself in the middle, because, for one thing, James is not good at dealing with strong women. And, I found a sort of modus vivendi. I used to say, 'Raquel, so you're trying to direct the picture...' and I said, 'No, I'm just trying to get James what he wants'. I used to say, 'Raquel, would you mind standing over there, love', which nobody can really object to. So we found a kind of way of going on. But it was very tentative and very difficult.
And every time I see that film, I can't believe that we made that film in the time that we did. It's like a huge epic. Also, I forgot to say in... for Savages, in the middle of Savages, I found myself photographing a musical number which they'd added. And I said, 'Look, we haven't got the equipment to do justice to such a thing, all we've got is this little Elemack with the jib arm'. But we did it. And again, in The Wild Party, we were often in that situation. We did things with two cameras when Raquel... several times, when Raquel sings Singapore Sally and when they have a big dance number in the garden. It's largely improvised. We had two cameras, but we didn't have two camera crews. I just put my... I didn't have an operator anyway because I was operating myself, so I put my focus puller on the movable camera, and the fixed camera, the long-shot camera, was just running by itself, virtually. So very often we were really stretched to the limit. That film was all made in The Mission Inn in Riverside, which is a landmark building, and it contained all the necessary. There's a big chapel in it, which is like a huge church, actually, and the room which turned into the dining room come projection room, and all that was already in there, in some cases, with the necessary props. But it was very, very hard going for me and it was... as I say, I was astonished. Every time I see that film, I was astonished that we actually managed to finish it in a reasonably fast time. I think 36 days, something like that. It's amazing, it's absolutely amazing.
Born in Germany, cinematographer Walter Lassally (1926-2017) was best known for his Oscar-winning work on 'Zorba the Greek'. He was greatly respected in the film industry for his ability to take the best of his work in one area and apply it to another, from mainstream to international art films to documentary. He was associated with the Free Cinema movement in the 1950s, and the British New Wave in the early 1960s. In 1987 he published his autobiography called 'Itinerant Cameraman'.
Title: "The Wild Party": Raquel Welch
Listeners: Peter Bowen
Peter Bowen is a Canadian who came to Europe to study and never got round to heading back home. He did his undergraduate work at Carleton University (in Biology) in Ottawa, and then did graduate work at the University of Western Ontario (in Zoology). After completing his doctorate at Oxford (in the Department of Zoology), followed with a year of postdoc at the University of London, he moved to the University's newly-established Audio-Visual Centre (under the direction of Michael Clarke) where he spent four years in production (of primarily science programs) and began to teach film. In 1974 Bowden became Director of the new Audio-Visual Centre at the University of Warwick, which was then in the process of introducing film studies into the curriculum and where his interest in the academic study of film was promoted and encouraged by scholars such as Victor Perkins, Robin Wood, and Richard Dyer. In 1983, his partner and he moved to Greece, and the following year he began to teach for the University of Maryland (European Division), for which he has taught (and continues to teach) biology and film courses in Crete, Bosnia, and the Middle East.
Tags: The Wild Party, 1974, Singapore Sally, Raquel Welch, James Coco, James Moncure March, Fatty Arbuckle, James Ivory, Angela Lansbury, Edgar Lansbury
Duration: 5 minutes, 37 seconds
Date story recorded: June 2004
Date story went live: 24 January 2008