NEXT STORY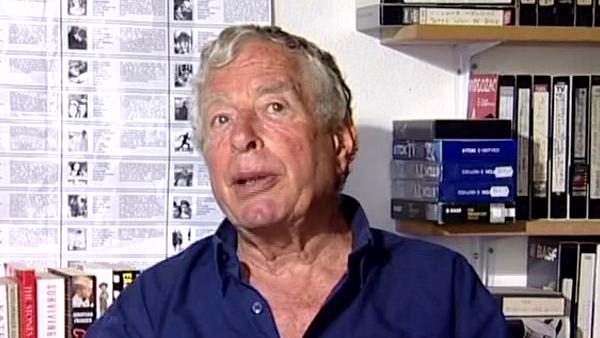 The Deceivers: Problems on set
The Deceivers: Sneak previews
Walter Lassally
Film-maker
1
...
19
20
21
22
23
...
27
This is an appropriate moment for me to comment on sneak previews, which I've always objected to. I've written a whole article about the peculiar phenomenon of sneak previews, which the Americans absolutely swear by. At one point there was David Putnam who wanted to introduce the same system into England. And they quote the... the one film they always quote, which was re-cut as a result of sneak preview reports and then became a great success. But, of course, you don't know if it wouldn't have been a great success, because an audience somewhere in the backwoods in New Jersey, is not representative of the world audience. In fact, the... any statistician would laugh you out of court, at that point. To say, you mean an audience, which has not been representatively selected, and which has come to see a movie on a completely different subject, like they've come to see a comedy and they're presented with a drama, or they've come to see a drama and they're presented with a comedy, is totally unrepresentative. And to take their words like it was the Bible, this is ludicrous. But it's a system that you cannot shake their faith in it. It's quite extraordinary.
And in The Deceivers, it led to that result. And as a result of these sneak previews, which in this particular case... The irony was, that in this particular case, the sneak previews were not imposed on the director, it's the director who wanted to submit himself to that process. Ismail didn't oblige him to do that. And they weren't obliged to listen to the results. But he said, 'I don't want anybody to laugh in the wrong place in my movie'. And then he also said, 'In my opinion the editing process finishes at the point, only at the point, when the producer, or the director, or somebody else...' No, the producer... 'The editing process finishes at the point when the producer physically removes you from the editing table'. There isn't a natural end to the editing. That... that, I think that's ridiculous as well, because one works to a schedule, and budget, on editing as well as on shooting. You should be... also, the sneak preview system... it causes a peculiar rupture in the natural process of presenting a work to an audience, because the natural process should be that the artist finishes his work, whatever it may be, and then he says, 'Look, this is my work, I have finished it to the best of my ability, within the framework available to me'. 'Here is my work, I have finished it to the best of my ability. I like it and I hope you like it'. This is what should be the natural relationship between an author and an audience. But if you have sneak previews in the middle there, what you're saying is: this is my work, I think I've finished it, but if you don't like anything, it can always be changed. This is not a way to produce any work of art. And in this case art is not at loggerheads with box office. They use the previews in order to get a better box office result, but it doesn't have a better box office result, because all the examples they give you. Look what happened to that film, Fatal... the film they always quote is Fatal Attraction. But nobody knows if that film wouldn't have been a success. Just because some preview audience in New Jersey said, 'We don't like the ending'. The whole thing is totally ludicrous, but they're absolutely fixated on it, they won't part with it.
Born in Germany, cinematographer Walter Lassally (1926-2017) was best known for his Oscar-winning work on 'Zorba the Greek'. He was greatly respected in the film industry for his ability to take the best of his work in one area and apply it to another, from mainstream to international art films to documentary. He was associated with the Free Cinema movement in the 1950s, and the British New Wave in the early 1960s. In 1987 he published his autobiography called 'Itinerant Cameraman'.
Title: "The Deceivers": Sneak previews
Listeners: Peter Bowen
Peter Bowen is a Canadian who came to Europe to study and never got round to heading back home. He did his undergraduate work at Carleton University (in Biology) in Ottawa, and then did graduate work at the University of Western Ontario (in Zoology). After completing his doctorate at Oxford (in the Department of Zoology), followed with a year of postdoc at the University of London, he moved to the University's newly-established Audio-Visual Centre (under the direction of Michael Clarke) where he spent four years in production (of primarily science programs) and began to teach film. In 1974 Bowden became Director of the new Audio-Visual Centre at the University of Warwick, which was then in the process of introducing film studies into the curriculum and where his interest in the academic study of film was promoted and encouraged by scholars such as Victor Perkins, Robin Wood, and Richard Dyer. In 1983, his partner and he moved to Greece, and the following year he began to teach for the University of Maryland (European Division), for which he has taught (and continues to teach) biology and film courses in Crete, Bosnia, and the Middle East.
Tags: The Deceivers, Fatal Attraction, David Putnam
Duration: 3 minutes, 36 seconds
Date story recorded: June 2004
Date story went live: 24 January 2008