NEXT STORY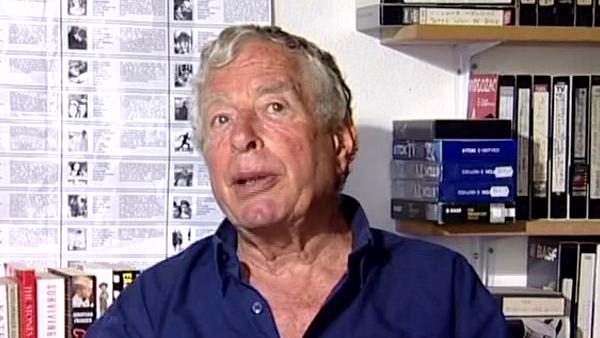 Gun Before Butter: Peter Zadek
Le Mans: Problems with the production
Walter Lassally
Film-maker
1
...
21
22
23
24
25
...
27
We did have a clever, quite a clever hydraulically operated, sort of a little camera crane, which was sitting above the head... behind the head of the driver, and now that we weren't actually in a race, we could arrange all these things, with more elaborate equipment which didn't actually have to be fixed to a proper racing car. There was this piece of equipment they designed, which had... it had a remote controlled head. It could pan and tilt with remote control, but for some reason it was hydraulic. I don't know why it was hydraulic. It was very complicated and it never worked terribly well. But they designed all sorts of gimmicks and gadgets. And the film was made... from that point onwards the film was made with three units. The 21 camera units all went home except for three. It was totally regrouped. From that point onwards we had the British first unit, we had a French second unit, which was mandatory because the French unions have always been strong and were still very strong then, mandated that on the production company. They said, 'We will allow a British first unit to function, on condition that you engage a French second unit'. Which was significant a little bit later on.
And then I had... I engaged, or I led to have engaged... I caused to have engaged... that's not very good English, is it? Anyway there was engaged my friend Alex Barbey who was a lone-man third unit. It was he who operated this hydraulic thing. It involved him being crouched in the bottom of the car. It was remote controlled but only from 2-3 feet away. So there were these three units. And then we started filming all kinds of ancillary things, pit stops and run-bys on the track, which, from that point onwards, of course, was entirely at our disposal. And... Meanwhile these two scriptwriters... there were three I think. There was a man and wife and there was a separate person and they were beavering away writing the script, which was never completed, as far as I'm concerned. It was not completed while I was there, because I was fired. There came a point where... well, first of all there was the... they realised that the motor... the racing cars were very temperamental creatures and if you said, 'We will start at 8 am', then the racing cars usually used to arrive on the set about 10, because there was always some problem that had to be tweaked. The racing car is very temperamental. So 8-10 usually went out the window because the cars weren't ready. And then, although we were shooting in June, there were some dusk shots and that created a problem, because if you start at eight in the morning, dusk happens about eight in the evening, which is a 12-hour day and I won't work 12-hour days. And I had it in my contract that I wouldn't 12... it was all laid down.
Kate had a marvellous formula for the contract. It said: Mr. Lassally's salary will be X pounds per week, including all reasonable overtime. Now, this was a wonderful phrase that you couldn't get away with nowadays, let alone... you couldn't get away with a few years later, let alone nowadays. Anyway, so when they discovered that there was a problem scheduling these dusk shots, they suddenly said... they issued this call sheet and they said, 'Tomorrow we're going to work eight to eight', or seven to seven, or something like that. And I said, 'Oh no, we're not', and I took a pencil and I drew two lines across this call sheet, and I wrote across: unacceptable. And all hell broke loose. It was like I'd defaced the Bible, you see. And this was an American shoot, unlike Hal Prince's film which was technically... well, it was technically American and British co-production. But Le Mans was a completely American shoot, on location in France. And nobody defaces call sheets in America.
The director also, John Sturges, a lovely man, very laconic, very laid back, he wouldn't dream of interfering or saying a word about any of the production arrangements. If the producers say we're going to work eight till eight, fine. Directing is that much less stressful than filming, than being the DP. Anyway, all hell broke loose, and the long and the short of it is that I was fired. And the reason I was fired was that... oh no, before that happened, the front office came down from Hollywood and they had a big to-do with Steve, because they were already $2 million into a $6 million budget without having achieved very much, so, of course, finally the balloon burst and they couldn't continue like that. And the front office came down and Steve said, very reluctantly, 'We have to let you go because we looked at all the ins and outs of it, and we can't fire the second unit, so we're going to fire the first unit'.
And so... so I left, but I had a very watertight contract and I was paid off, and that started the road to the Abbey which is a house where we now... where I lived for 25 years in England. Because at the time of Le Mans we stayed in a lovely little chateau, the Chateau de Coulans, I think it was called, and it sort of whetted my appetite and Kate's appetite for something a bit grander than a flat in Notting Hill Gate. That money that I earned on that movie enabled us to actually actualise that dream. So it wasn't a bad result in the end.
Born in Germany, cinematographer Walter Lassally (1926-2017) was best known for his Oscar-winning work on 'Zorba the Greek'. He was greatly respected in the film industry for his ability to take the best of his work in one area and apply it to another, from mainstream to international art films to documentary. He was associated with the Free Cinema movement in the 1950s, and the British New Wave in the early 1960s. In 1987 he published his autobiography called 'Itinerant Cameraman'.
Title: "Le Mans": Problems with the production
Listeners: Peter Bowen
Peter Bowen is a Canadian who came to Europe to study and never got round to heading back home. He did his undergraduate work at Carleton University (in Biology) in Ottawa, and then did graduate work at the University of Western Ontario (in Zoology). After completing his doctorate at Oxford (in the Department of Zoology), followed with a year of postdoc at the University of London, he moved to the University's newly-established Audio-Visual Centre (under the direction of Michael Clarke) where he spent four years in production (of primarily science programs) and began to teach film. In 1974 Bowden became Director of the new Audio-Visual Centre at the University of Warwick, which was then in the process of introducing film studies into the curriculum and where his interest in the academic study of film was promoted and encouraged by scholars such as Victor Perkins, Robin Wood, and Richard Dyer. In 1983, his partner and he moved to Greece, and the following year he began to teach for the University of Maryland (European Division), for which he has taught (and continues to teach) biology and film courses in Crete, Bosnia, and the Middle East.
Tags: Le Mans, Hal Prince
Duration: 6 minutes, 4 seconds
Date story recorded: June 2004
Date story went live: 24 January 2008