NEXT STORY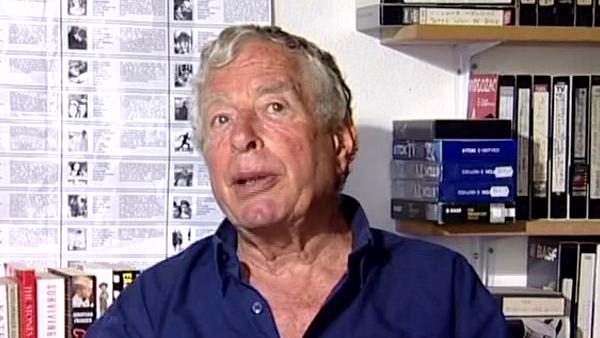 The Magic Mountain: Problems with lighting
The Magic Mountain: The ballroom scene
Walter Lassally
Film-maker
1
...
23
24
25
26
27
In the period when I was waiting for one of the Mark Twain films to be ready, I got a phone call to take over the shooting of The Magic Mountain, which was a big German epic. I believe it was the most expensive German... post-war German film. It had run into problems. It was produced by a well-known German producer, and the director was Hans Geissendörfer whom, up to that point, I had never met. Kate told me about it and I said, 'I don't want to do that, take over somebody else's movie', because it had been Robby Muller, who's a friend of mine, was the cameraman, and he'd just been fired. I said, 'There must be a good reason. I don't want to take over a film like that'. So Kate said to them, blah, blah, blah. Walter's got a problem because you've got a six-month schedule and he's waiting for this American film to be made. But there was a factor there that we didn't know.
The man inquired what film that was and we told him, and he said, 'Ah, but we're co-producing that film as well, and we can arrange for it to be postponed'. And we were caught. So, I had to say yes, and I set off with some misgivings, obviously, for Montreux in Switzerland. In a little mountain resort called Vevey above Montreux there was a very depressed crew, all sitting in the hotel, bar, mainly. I introduced myself and I was introduced to the director, and the first thing I said to the director... I said, 'Are you absolutely sure you really want me? Because I don't normally do that sort of thing, and for God's sake, Robby Muller is a... you know, is a very good cameraman'. So he said, 'Ah, yes, well, I didn't want to do it, it's the producer, the producer fired him'. And then I got... the whole story came out.
What they'd done at that point, they'd done two weeks shooting. They'd done a snow storm in the mountains, which was all scratched, because they'd used a brand new Moviecam which... I would never use a brand new camera for just that reason. Much rather have an old clapped out camera that's just come off some other movie, rather than a brand new camera from a factory, which is always trouble. Anyway they'd used this new Moviecam and in the snow storm conditions that they were in... in the mountains there, somebody hadn't paid attention, or there was something wrong with the camera anyway, so when they got the rushes back they were all scratched. And then... that was bad enough, but the following week they did a huge ballroom scene, a huge sequence in the ballroom of the Grand Hotel Montreux with 300 extras, and the principal, Charles Aznavour and Rod Steiger and Marie-France Pisier... it had a big international cast that film, from three or four different nations. And they'd used a available light technique, which Geissendörfer had worked out together with Robby Muller, but they hadn't told the producer about it. And when he saw the results he just went mad and he fired everybody.
Well, we couldn't fire Geissendörfer because... he would've done if could've, I think. But he couldn't fire Geissendörfer because Geissendörfer had partly written the script, or he had some rights to the script so he couldn't be fired. But Robby Muller could be fired and he was fired. That was because... I can quite... I can sympathise with the... I do sympathise with the producer in this case, although I never saw the material, but I can imagine what it must've looked like. Because here is this enormous ballroom, very high, and at the very top there is a glass dome, 300ft up, I don't know, very high up. And all they'd done for the lighting, is they'd replaced the bulbs in the chandeliers, which hang above and which round the room they'd put 100W bulbs instead of 40W bulbs, something like that, which isn't very much in terms of colour movie shooting at 100 ASA. And they'd put two HMIs in through the dome at the top, through... there's trapdoors, but the trapdoors are vertical, so the HMIs were set... must have been set, because I looked at it all, they must've been set at an angle something like this, through a vertical trapdoor. So, God knows, more than 20ft candles couldn't have arrived at the bottom, because it's a long way up and the angle isn't favourable. So I said, 'Yes, well I think I understand'. But I still said to Geissendörfer, 'Are you sure that you want me to do this?' And he said yes, so we went ahead.
Born in Germany, cinematographer Walter Lassally (1926-2017) was best known for his Oscar-winning work on 'Zorba the Greek'. He was greatly respected in the film industry for his ability to take the best of his work in one area and apply it to another, from mainstream to international art films to documentary. He was associated with the Free Cinema movement in the 1950s, and the British New Wave in the early 1960s. In 1987 he published his autobiography called 'Itinerant Cameraman'.
Title: "The Magic Mountain": The ballroom scene
Listeners: Peter Bowen
Peter Bowen is a Canadian who came to Europe to study and never got round to heading back home. He did his undergraduate work at Carleton University (in Biology) in Ottawa, and then did graduate work at the University of Western Ontario (in Zoology). After completing his doctorate at Oxford (in the Department of Zoology), followed with a year of postdoc at the University of London, he moved to the University's newly-established Audio-Visual Centre (under the direction of Michael Clarke) where he spent four years in production (of primarily science programs) and began to teach film. In 1974 Bowden became Director of the new Audio-Visual Centre at the University of Warwick, which was then in the process of introducing film studies into the curriculum and where his interest in the academic study of film was promoted and encouraged by scholars such as Victor Perkins, Robin Wood, and Richard Dyer. In 1983, his partner and he moved to Greece, and the following year he began to teach for the University of Maryland (European Division), for which he has taught (and continues to teach) biology and film courses in Crete, Bosnia, and the Middle East.
Tags: The Magic Mountain, Vevey, Hans Geissendörfer, Robby Muller, Charles Aznavour, Rod Steiger, Marie-France Pisier
Duration: 4 minutes, 56 seconds
Date story recorded: June 2004
Date story went live: 24 January 2008