NEXT STORY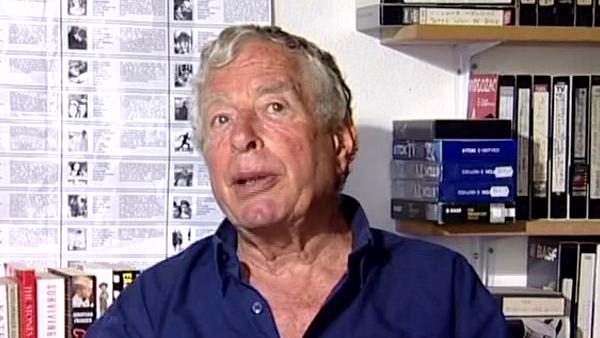 Making TV movies in America
Fragments of Isabella
Walter Lassally
Film-maker
1
...
23
24
25
26
27
As I look back over my work, I become aware of the fact, one can't help but become aware of the fact, that my contribution varies. The degree of my contribution varies. Films like Electra I think I made a great contribution. Other films it's rather less than that. One of the films where I could make a very major contribution was called Fragments of Isabella, which is a Holocaust memoir. A memoir of a Holocaust survivor, Auschwitz. It originated as a slim little memoir and then it was turned into a play, and from the play we turned it into a film. And the play was performed as a one-woman play by an Irish actress called Gabrielle Reidy, who was nothing less than magnificent. Absolutely magnificent. And she was able to adapt herself... not having done much film work at all, she was able to adapt her performance which she played on the stage all over the place, into a film performance within the space of 24 hours, which, again, she did brilliantly. And the director was a little Irish leprechaun called Ronan O'Leary, who became a very good friend. I made another film with him the subsequent year.
But that film was made with very minimalist sets. You couldn't really call them sets, they were surfaces rather than sets. There was a section that takes place in Hungary, before they're arrested and deported. There's a section in Auschwitz and there's a section in America when they've been rescued and manage to emigrate to America. And all these different locations were represented in the studio in a symbolic kind of way. So, as I say, there weren't really sets. There was a corner of the room a couple of times, different corners of different rooms, but the rest were just surfaces. There was a wooden wall, a wall of tiles, a wall of wooden boards, a wall of bricks, a wall of stone, and rigging the changes on these different wall surfaces, the atmosphere for the piece is entirely created by the lighting. So there the contribution of the cameraman is crucial.
The Auschwitz section we did in black and white. It's another one of those films which is partly in black and white, at my suggestion, who else? And that worked extremely well. And all you see of Auschwitz is a wooden wall, which is supposed to be the outside of a hut, or possibly the inside of a hut sometimes. Then it was inter-cut with a few newsreel scenes, which I didn't really... that was a little dicey. That if you had too much of that, that would clash with the stylised presentation, but it works. It's just okay. And Gabrielle is the only performer except for... right at the end she is shown nursing a baby. But other than that she is the only performer, and she sustains 50 or 55 minutes of film entirely on her own. And in my opinion, if that film had ever been shown in LA, she would've been... certainly nominated for an Oscar because it's a brilliant performance, absolutely brilliant performance.
But for me it was very interesting because the task of the cameraman there is crucial to create the atmosphere with very little, very little indeed. So that's a very, very interesting movie, to my mind. But just as an aside, it occurred to me... I wondered... at one point I wondered why Heat and Dust wasn't at least nominated for an Oscar, because The Bostonians was nominated. Then I realised that in order to be nominated for an Oscar, your film has to have normal, or really considerable, exposure in the LA area, because 90% of the people who vote for you, are in that area. And if your film hasn't been shown there and had some publicity there, then they simply don't know about... they don't know that it exists. So there's no chance any film that hasn't had any exposure in the LA area can even be nominated for an Oscar. Anyway, I wanted to talk about Fragments of Isabella because I always wished that that film... It had a very inadequate release. Ronan is partly responsible for that. Also the production company, there was some embezzle... the producer disappeared with some of the money, anyway, long story, and it wasn't properly shown. But it was shown on television, Irish television twice, and British television once, so I do have a copy of it, which is... forms very interesting material to show to students, for instance.
Born in Germany, cinematographer Walter Lassally (1926-2017) was best known for his Oscar-winning work on 'Zorba the Greek'. He was greatly respected in the film industry for his ability to take the best of his work in one area and apply it to another, from mainstream to international art films to documentary. He was associated with the Free Cinema movement in the 1950s, and the British New Wave in the early 1960s. In 1987 he published his autobiography called 'Itinerant Cameraman'.
Title: "Fragments of Isabella"
Listeners: Peter Bowen
Peter Bowen is a Canadian who came to Europe to study and never got round to heading back home. He did his undergraduate work at Carleton University (in Biology) in Ottawa, and then did graduate work at the University of Western Ontario (in Zoology). After completing his doctorate at Oxford (in the Department of Zoology), followed with a year of postdoc at the University of London, he moved to the University's newly-established Audio-Visual Centre (under the direction of Michael Clarke) where he spent four years in production (of primarily science programs) and began to teach film. In 1974 Bowden became Director of the new Audio-Visual Centre at the University of Warwick, which was then in the process of introducing film studies into the curriculum and where his interest in the academic study of film was promoted and encouraged by scholars such as Victor Perkins, Robin Wood, and Richard Dyer. In 1983, his partner and he moved to Greece, and the following year he began to teach for the University of Maryland (European Division), for which he has taught (and continues to teach) biology and film courses in Crete, Bosnia, and the Middle East.
Tags: Electra, Fragments of Isabella, Auschwitz, Heat and Dust, The Bostonians, Gabrielle Reidy, Ronan O'Leary
Duration: 4 minutes, 37 seconds
Date story recorded: June 2004
Date story went live: 24 January 2008