NEXT STORY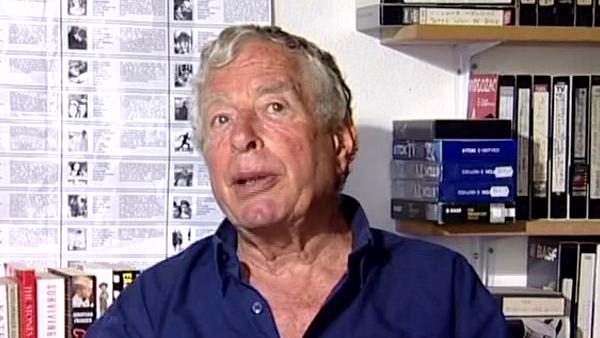 The World Youth Festival in Berlin and bringing back a documentary
Going to the World Youth Festival
Walter Lassally
Film-maker
1
2
3
4
5
...
27
In 1951 there was staged something called a World Youth Festival. It wasn't the first one, it was the second one. In 1951 there was a communist-inspired World Youth Festival in Berlin, which, at that time I must remind you, was not yet divided. It was divided, but there was no wall. So Berlin had three Western sectors: French, British, American, and a Russian sector. But it was just indicated with signs. You are now leaving the Russian sector, it said. Or you are now leaving the British sector, or whatever. And I very much wanted to visit Berlin. After all, it is the city of my birth. So I took this opportunity, because we didn't have any money anyway. So this was an opportunity, for very little money, to visit Berlin. So I used to go with my little suitcase, everyday, to a place in Queensgate, a house in Queensgate, where they tried to find ways of getting us to Berlin, because Berlin was, as it were, in occupied Germany and the Americans and the British and their soldiers, did the best to... they wanted to prevent young people going to this communist do. So they placed all kinds of obstacles in the way of people going. And in the end, when the festival was already half over, they put me on a Polish ship, which later became famous for some completely different reason. It was a Polish ship called the Jarosław Dąbrowski and it sailed from the Pool of London, right next to Tower Bridge, through Tower Bridge in fact, out across the North Sea, through the Kiel Canal and the destination was Gdynia.
So I finally got onto the ship and there were 15... 15 passengers, of which I was one. Two of the other passengers I knew because they were also going to the same festival, and they were a South African couple who were known as anti-apartheid activists. Sonya... her name was Sonya Bunting, I think it was – anyway, don't quote me on that – but there was a couple who were anti-apartheid activists. And there were 12 other men, who I didn't know who they were, but they were British. And we didn't have very much contact. Yes, we ate in the dining room, there was a dining room for us and the Captain was there and these 12 people and so on. But we didn't have much contact. We never talked to them much. And then soon after we set out, we discovered that this ship wasn't actually going straight to Gdynia. It was calling at Copenhagen and that meant that we wouldn't even get to the festival before it was finished. So we, together with the crew of the ship, we devised a strange plan that, when the ship went through the Kiel Canal, they had radioed ahead, or rather back, to another Polish ship that was following just behind, some two hours behind, because this other Polish ship was going directly to Gdynia. So they arranged we stopped at a little lock in the Kiel Canal where there wasn't any people, at all. We got off, we sat on our suitcases, totally illegal all this, and we waited and duly the second ship appeared and we got on, and we went off to Gdynia.
That wasn't the end of it because there were further adventures, but before that, I'll just tell you about the Kiel Canal. We had quite a luxurious cabin because the cabins, you may know, the cabins on cargo ships which take 12 to 15 passengers, in those days certainly, are quite luxuriously designed. This is like first class travel. Very spacious cabin with shower and toilet and all that. Anyway, we went to bed having left the Pool of London and sailed down the Thames to Southend. I'd gone to bed, because it was bedtime, and I woke up in the morning and everything was strangely quiet. The engines were stopped and there was not a sound to be heard. So I got up and I went to the porthole and I opened the curtains and there was land. Not a bit of sea visible. What you saw out of the porthole was a field, a green field, and in the middle of this green field there was a cow, going like this, you see, chewing the cud. I thought, this must be... this can't be right, you know, I'll close the curtains and start again, because this can't be right. But what had happened is we were anchored in the Kiel Canal, you see. I'd forgotten about the Kiel Canal. But, there's a coda to that story as well, that... excuse me. Some weeks after my return to England, and having taken up my work, I can't remember what I did immediately afterwards. It was one of those jobs I've described. Anyway, some weeks afterwards, I discovered that the police were investigating me. They had talked to my employer and to the neighbours and to the landlord, and so on. And so eventually I went to the police and I said, 'What's going on? Maybe you want to talk to me?' And they said, 'Well, well, yes, if you like'. They didn't seem to be particularly interested. Anyway I went to talk to them and it transpired, very gradually because they wouldn't reveal what it was all about at all, they wouldn't tell me anything, but what transpired was, that, among the 14 passengers on this boat to Poland, I was the only person on whom they didn't have a file. Because they had a file on these two anti-apartheid activists and the other 12 people were the Central Committee of the British Communist Party. And who is this Walter Lassally you know? Why don't we have a file on him?
Born in Germany, cinematographer Walter Lassally (1926-2017) was best known for his Oscar-winning work on 'Zorba the Greek'. He was greatly respected in the film industry for his ability to take the best of his work in one area and apply it to another, from mainstream to international art films to documentary. He was associated with the Free Cinema movement in the 1950s, and the British New Wave in the early 1960s. In 1987 he published his autobiography called 'Itinerant Cameraman'.
Title: Going to the World Youth Festival
Listeners: Peter Bowen
Peter Bowen is a Canadian who came to Europe to study and never got round to heading back home. He did his undergraduate work at Carleton University (in Biology) in Ottawa, and then did graduate work at the University of Western Ontario (in Zoology). After completing his doctorate at Oxford (in the Department of Zoology), followed with a year of postdoc at the University of London, he moved to the University's newly-established Audio-Visual Centre (under the direction of Michael Clarke) where he spent four years in production (of primarily science programs) and began to teach film. In 1974 Bowden became Director of the new Audio-Visual Centre at the University of Warwick, which was then in the process of introducing film studies into the curriculum and where his interest in the academic study of film was promoted and encouraged by scholars such as Victor Perkins, Robin Wood, and Richard Dyer. In 1983, his partner and he moved to Greece, and the following year he began to teach for the University of Maryland (European Division), for which he has taught (and continues to teach) biology and film courses in Crete, Bosnia, and the Middle East.
Tags: Berli, Gdynia
Duration: 6 minutes, 23 seconds
Date story recorded: June 2004
Date story went live: 24 January 2008