NEXT STORY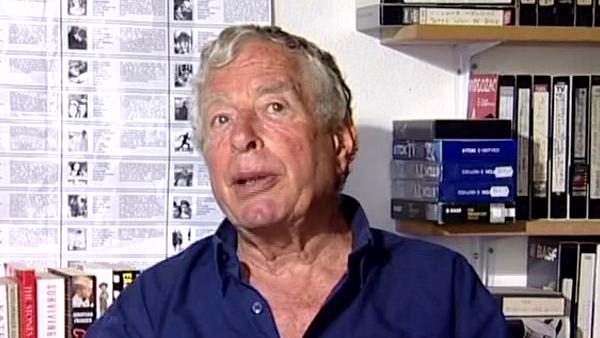 As Dark As The Night: My first big mistake
An umbrella under which the films could be shown
Walter Lassally
Film-maker
1
...
3
4
5
6
7
...
27
The third film in the programme was a very interesting and beautiful film called Together, which in itself is... has quite a history to it. Because Lorenza Mazzetti... it was Lorenza Mazzetti's film, it was her idea, but at that time she had a boyfriend called... called Dennis Horn, a British boyfriend; she's Italian. And he wrote the score and they did the whole thing together. And he became a bit of a nuisance. He made a bit of a nuisance of himself, so later he sort of separated from Lorenza and from the film, but he bent the ear of the BFI, something cruel for years afterwards, saying, he ought to have his share and all that, bigger credit and all the rest of it. But it was really Lorenza's film and Lindsay's film. Because Lindsay discovered Lorenza sitting in the basement of Number 3 or 4 Great Russell Street, where the British Film Institute had its headquarters, at that time. And in the basement there was a... an extremely primitive cutting room. It was really no more than... an old fashioned Moviola, which I think was a thing called an Editola, which is very unwieldy. And, they didn't... they didn't have... even have bins with tooth... they used to stick bits of film on the wall with Sellotape, it was that primitive. Anyway, Lindsay discovered this girl sitting in the basement of the BFI, and Lindsay had quite a few connections with the BFI at that time, through... through Sequence and subsequently, and he saw some of this material, and he thought the material was wonderful, but, it was supposed to be a story called The Glass Marble where a couple of deaf mutes, who live and work in London's East End, in Docklands... in the Docklands, are pestered and pursued by a group of boys who make faces at them and... and generally taunt them. And, she... she thought she'd shot the story, but she hadn't actually shot the story in a way that it could be edited into a coherent story. So while there was wonderful material there, there wasn't a... there wasn't a film there. So Lindsay and... and she put their heads together and gradually Dennis Horn was sort of edged out of the... of the proceedings because he wasn't much help anyway, and Lindsay turned the film into something else. He turned the film into an atmospheric study of London and the Docklands and the people of that period, in the pubs and around the streets, using all the material which... which Lorenza had shot, and then I and John Fletcher and somebody else came in and shot... shot supplementary material, not featuring the main actors, who were these two deaf mutes. Who, again, were very sensitively played by a well known painter and a well known sculptor, Michael Andrews and Eduardo Paolozzi, who became famous, very famous. Even at that time they were well known. Anyway, they... played these parts of these two deaf mutes beautifully. And... so I shot material of barges going down the river, very leisurely stuff, very slow, poetic, leisurely stuff, and this was then edited into the final result, under that title, Together, and it's a... it's a beautiful film. It's... it's really quite unique.
So the... so the first Free Cinema programme were those three films, and then... and they were very successful, the queue ran right... right round the building and up into... onto Waterloo Bridge, so it was a... it was a very successful showing. So they decided to go on and have some more shows of films which weren't specially made for that programme, but they... they came together under that umbrella. Yes, that's what it was, an umbrella under which film... films could be shown. So there was a second Free Cinema, a third Free Cinema and it went up to number six. The third Free Cinema had as its centrepiece, Everyday Except Christmas, which is, again, the film I made with Lindsay, and the fourth... the sixth one, the last one, the final Free Cinema had as... as it's centrepiece We are the Lambeth Boys, which I made with Karel Reisz.
Born in Germany, cinematographer Walter Lassally (1926-2017) was best known for his Oscar-winning work on 'Zorba the Greek'. He was greatly respected in the film industry for his ability to take the best of his work in one area and apply it to another, from mainstream to international art films to documentary. He was associated with the Free Cinema movement in the 1950s, and the British New Wave in the early 1960s. In 1987 he published his autobiography called 'Itinerant Cameraman'.
Title: An umbrella under which the films could be shown
Listeners: Peter Bowen
Peter Bowen is a Canadian who came to Europe to study and never got round to heading back home. He did his undergraduate work at Carleton University (in Biology) in Ottawa, and then did graduate work at the University of Western Ontario (in Zoology). After completing his doctorate at Oxford (in the Department of Zoology), followed with a year of postdoc at the University of London, he moved to the University's newly-established Audio-Visual Centre (under the direction of Michael Clarke) where he spent four years in production (of primarily science programs) and began to teach film. In 1974 Bowden became Director of the new Audio-Visual Centre at the University of Warwick, which was then in the process of introducing film studies into the curriculum and where his interest in the academic study of film was promoted and encouraged by scholars such as Victor Perkins, Robin Wood, and Richard Dyer. In 1983, his partner and he moved to Greece, and the following year he began to teach for the University of Maryland (European Division), for which he has taught (and continues to teach) biology and film courses in Crete, Bosnia, and the Middle East.
Tags: BFI, The Glass Marble, Free Cinema, Loreza Masetti, Lindsay Anderson, Dennis Horn
Duration: 4 minutes, 16 seconds
Date story recorded: June 2004
Date story went live: 24 January 2008