NEXT STORY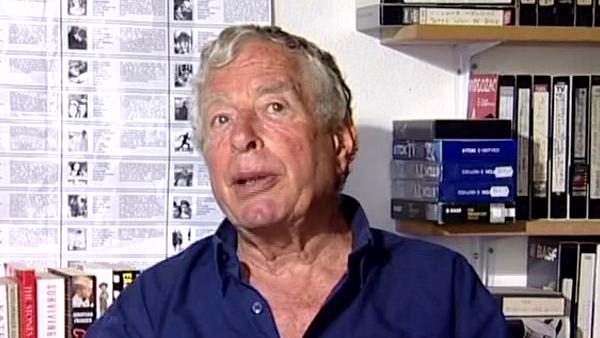 Meeting Michael Cacoyannis for the first time
Walter Lassally
Film-maker
1
...
7
8
9
10
11
...
27
While Ossie Morris was still preparing Tom Jones with Tony in that period when we were shooting Loneliness, at one point he came... they came to the set, Ossie and, as I already said, Ossie and also the art director, Ralph Brinton, who everybody called the Admiral, because he was in the Navy in the war. They had gone to Technicolor many times in order to devise a system of softening the colour, because I wasn't the only person that thought that the colour needed softening, the contrast needed lessening. So, he went to... they went to Technicolor and they tested various versions of the system of pre-fogging the film, which Houston had used on Moby Dick and, and the tests weren't satisfactory. So Ralph Brinton recounted to me the last visit to... what happened on the last visit to Technicolor, and it was already the ninth time that they'd been there and, again, it wasn't satisfactory. And they stormed out and Ralph said to Tony, 'Do you know the trouble with them is they're not artists, they're chemists!' This is a very astute remark which gets right down to the bottom of the problem, that there has to be, somewhere, there has to be an interface between the artistic bit and the industrial bit. And the chemist bit is the industrial bit. The laboratory is not full of artists. The laboratory is full of chemists, so they try to give you what you want, but they don't know really. They don't have the same idea in their head as to what the final result is, they're just trying to do what you want them to do, and it doesn't always work. So that... I think that was a very interesting instance of the buck stops here. That I was very glad to have found, finally, this little net which did the job of three or four filters. Many cameramen use filter packs, up to five filters thick in order to get the same result that I got with one filter. Just this, just this net. And many years later... well, the next year, the year after Tom Jones was made, my father died and we went through some old trunks of my mother's and lo and behold, in one of those trunks, was a piece of the same, self same hat veil material which was this size. And it was like a treasure trove. You know, it's like finding a treasure. And I was working for the Canadians in that year... in 1965 I was working for the Canadians on the National Film Board project for the Montreal Festival of '67, and I had it cut up into small pieces and mounted in circular rings, which I used for years after that.
Born in Germany, cinematographer Walter Lassally (1926-2017) was best known for his Oscar-winning work on 'Zorba the Greek'. He was greatly respected in the film industry for his ability to take the best of his work in one area and apply it to another, from mainstream to international art films to documentary. He was associated with the Free Cinema movement in the 1950s, and the British New Wave in the early 1960s. In 1987 he published his autobiography called 'Itinerant Cameraman'.
Title: Artists and chemists
Listeners: Peter Bowen
Peter Bowen is a Canadian who came to Europe to study and never got round to heading back home. He did his undergraduate work at Carleton University (in Biology) in Ottawa, and then did graduate work at the University of Western Ontario (in Zoology). After completing his doctorate at Oxford (in the Department of Zoology), followed with a year of postdoc at the University of London, he moved to the University's newly-established Audio-Visual Centre (under the direction of Michael Clarke) where he spent four years in production (of primarily science programs) and began to teach film. In 1974 Bowden became Director of the new Audio-Visual Centre at the University of Warwick, which was then in the process of introducing film studies into the curriculum and where his interest in the academic study of film was promoted and encouraged by scholars such as Victor Perkins, Robin Wood, and Richard Dyer. In 1983, his partner and he moved to Greece, and the following year he began to teach for the University of Maryland (European Division), for which he has taught (and continues to teach) biology and film courses in Crete, Bosnia, and the Middle East.
Tags: artists, chemists, laboratory, net, filter
Duration: 3 minutes, 2 seconds
Date story recorded: June 2004
Date story went live: 24 January 2008