NEXT STORY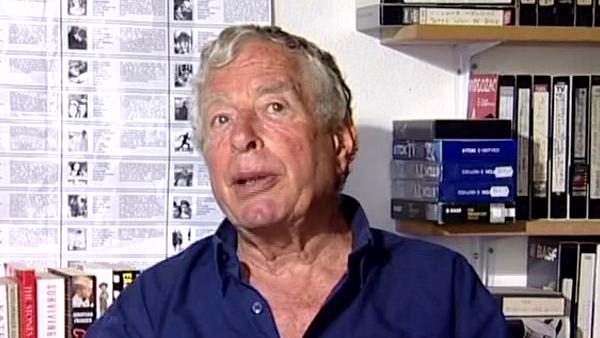 The Girl in Black: De-blimping an Arriflex
Michael Cacoyannis' directorial style
Walter Lassally
Film-maker
1
...
7
8
9
10
11
...
27
Cacoyannis had a very interesting way of working. His script was written almost like notes to himself. It was written as though it were a storyboard. It was the storyboard in words. Each shot, not each scene, but each shot was precisely described, and in a way that worked. So reading the script, which he'd translated into English for me, because Cacoyannis speaks perfect English, he's a Cypriot and studied in England and acted in England. So he translated the script for me and, when I read this script written in shots, as I said, the shots immediately turned into pictures in my head. And very good pictures they were too. So the thing about Cacoyannis was that by this fortuitous circumstance, his way of looking at movies and my way of looking at movies, what is desirable as an image in movies, were very similar. After the first days, one could almost say, there was no longer any great need for much discussion. He said, now we're going to do the close-up, now we're going to do the two-shot, and it was already in the script. This is then they turn into close-up. It was very precisely described. For instance, like you have an over shoulder and then the person at the back moves out, and the person in the front turns, and it turns into a close-up, and then they move to the edge of frame, and out of frame. Written precisely as that, in the script, which is very unusual. I've never seen another script written like that. Usually scripts are written in scenes, not in shots. So, when I talk about directorial styles, I often compare Cacoyannis' directorial style with Tony Richardson's, which were complete opposites. Tony Richardson, as I've already said, used to have the actors... bring the actors together, say... we're doing this and this scene, and he said, show me the scene. Then they'd do the scene and he makes some suggestions, and he said, 'OK, that's all right, you go away and get dressed now'. Because often they were in street clothes, and then there were these discussions between the director and the cameraman and the operator and so on. Cacoyannis, on the other hand, the, not only the dialogue and the plot was described in the script, but the exact positions of the actors. So they were almost... it was almost like puppets. The actors had pre-planned positions into which they were placed, almost as though they were puppets, which has the bad... it has a disadvantage, of course, that there isn't any room for the actors to make any suggestions because it's all pre-planned in his head anyway. And in many cases, certainly with American actors, they wouldn't agree for one minute to work like that, they want lots of room to make suggestions. My God, sometimes it takes up all day. Anyway, so that's the contrast between the two directorial styles, and later also, I discovered that the Greek directors, not only Cacoyannis, were used to working in a very efficient manner when it comes to film stock ratio. Because there wasn't the money to have hundreds of takes, so the Greek films that I made, and the Greek films that were similar, were contemporary with the films that I made, had shooting ratios of something like 3:1. Because they couldn't afford... so every scene... when I worked... I discovered this really subsequently when I worked with other Greek directors, that they all, they also had a pre-planned idea, it may not be in the script, but it was in their heads, as to how a scene would progress. So they would do, let's say, the first section of the scene in long shot, then they would stop, and they would have a tiny overlap and said, now we're going to go into two over-shoulders, but there wouldn't be more than 30... no, not 30 seconds, five seconds overlap, and there wouldn't be any alternative. So the film is also pre-cut in the camera, virtually. Because they just couldn't afford to shoot so much material, as to leave the final choice to the editing. It was all pre-cut in the camera. That was common to all the Greek films at that time. They didn't shoot a lot of negative because it's expensive. The smaller the budget and the smaller the film, the larger proportion of the budget is taken up by film stock. In a Hollywood film, film stock is perhaps 0.0, I don't know 1% of the budget, but there it would be something like 25% of the budget, would be the film stock. If you count the developing and processing as well. It would be a large item.
Born in Germany, cinematographer Walter Lassally (1926-2017) was best known for his Oscar-winning work on 'Zorba the Greek'. He was greatly respected in the film industry for his ability to take the best of his work in one area and apply it to another, from mainstream to international art films to documentary. He was associated with the Free Cinema movement in the 1950s, and the British New Wave in the early 1960s. In 1987 he published his autobiography called 'Itinerant Cameraman'.
Title: Michael Cacoyannis' directorial style
Listeners: Peter Bowen
Peter Bowen is a Canadian who came to Europe to study and never got round to heading back home. He did his undergraduate work at Carleton University (in Biology) in Ottawa, and then did graduate work at the University of Western Ontario (in Zoology). After completing his doctorate at Oxford (in the Department of Zoology), followed with a year of postdoc at the University of London, he moved to the University's newly-established Audio-Visual Centre (under the direction of Michael Clarke) where he spent four years in production (of primarily science programs) and began to teach film. In 1974 Bowden became Director of the new Audio-Visual Centre at the University of Warwick, which was then in the process of introducing film studies into the curriculum and where his interest in the academic study of film was promoted and encouraged by scholars such as Victor Perkins, Robin Wood, and Richard Dyer. In 1983, his partner and he moved to Greece, and the following year he began to teach for the University of Maryland (European Division), for which he has taught (and continues to teach) biology and film courses in Crete, Bosnia, and the Middle East.
Tags: Tony Richardson
Duration: 4 minutes, 42 seconds
Date story recorded: June 2004
Date story went live: 24 January 2008