NEXT STORY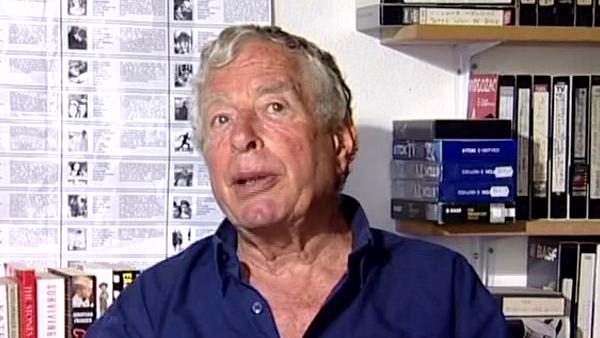 A Matter of Dignity: Working with George Antonakis
A Matter of Dignity: Dusk scene and filming day-for-night
Walter Lassally
Film-maker
1
...
8
9
10
11
12
...
27
There was also a very interesting dusk scene in that film. In a taverna overlooking the sea at Kallithea, outside Athens, and I had ordered a certain number of lamps, and they duly arrived but they didn't have any tripods with them. So we ended up with lamps stacked on top of chairs on top of tables to get the... because they have to be at some height to be effective. I realised that... in England, if you ordered a light it comes with a tripod and a barn door and so on, there I asked for so many lights and I got so many lights, but I didn't get anything else. But that was overcome reasonably well. There again, that is a dawn scene in the film. In fact, it precedes the other dawn scene, but for the sake of convenience, we filmed it at dusk, that particular scene. So it had to be filmed, sort of, in reverse, so instead of getting lighter, it gets darker. But it was very, very effective. I love those. I like dusk scenes and dawn scenes because they always have a nice atmosphere, but you have to have the necessary time, and you have to have the time in the schedule, in the programme. Nowadays, if you ask for something to be done at dusk or at dawn, the production manager says, well, I don't know, I don't know if we can fit it in. It means a lot of overtime or, how do you know you going to get the right weather, or this, that and the other. So, they tend to resist it. Can't you do it with filters, that's the normal response, can't you do it with filters. I say, no you cannot do it with filters. To get a proper dusk or dawn scene you do need to do it, or at least part of it, at dawn and at dusk, otherwise it doesn't have the same look. But in those days that wasn't a problem. If I wanted to do a scene at dawn I could do it at dawn. If I wanted to do it at dusk, I could do it at dusk, which we, which we did. Also, that film has a very extensive day-for-night scene in it, in the village called Arachova, which is just before Delphi. And... I could point out... looking at that scene I could point out how beautiful black and white day-for-night can be. It's not just a convenience, it's also an aesthetically pleasing result. Which is not the case with colour. But that has a very beautiful, quite long day-for-night scene in it, in Arachova. Then the climax of the film I didn't actually shoot. It had to be pre-shot so somebody else shot that for me before the... Cacoyannis went to the island of Tinos because the finale of the film takes place during the annual pilgrimage to the Virgin of Tinos, and he took another cameraman and they filmed the final shot where Ellie is carrying this boy who was traumatised and didn't speak, and suddenly he cries out and, you know, it's... it's left open whether it's a miracle or just coincidence. But... that bit I didn't actually shoot.
Born in Germany, cinematographer Walter Lassally (1926-2017) was best known for his Oscar-winning work on 'Zorba the Greek'. He was greatly respected in the film industry for his ability to take the best of his work in one area and apply it to another, from mainstream to international art films to documentary. He was associated with the Free Cinema movement in the 1950s, and the British New Wave in the early 1960s. In 1987 he published his autobiography called 'Itinerant Cameraman'.
Title: "A Matter of Dignity": Dusk scene and filming day-for-night
Listeners: Peter Bowen
Peter Bowen is a Canadian who came to Europe to study and never got round to heading back home. He did his undergraduate work at Carleton University (in Biology) in Ottawa, and then did graduate work at the University of Western Ontario (in Zoology). After completing his doctorate at Oxford (in the Department of Zoology), followed with a year of postdoc at the University of London, he moved to the University's newly-established Audio-Visual Centre (under the direction of Michael Clarke) where he spent four years in production (of primarily science programs) and began to teach film. In 1974 Bowden became Director of the new Audio-Visual Centre at the University of Warwick, which was then in the process of introducing film studies into the curriculum and where his interest in the academic study of film was promoted and encouraged by scholars such as Victor Perkins, Robin Wood, and Richard Dyer. In 1983, his partner and he moved to Greece, and the following year he began to teach for the University of Maryland (European Division), for which he has taught (and continues to teach) biology and film courses in Crete, Bosnia, and the Middle East.
Tags: camera, tripod, weather, pilgrimage, shooting
Duration: 3 minutes, 1 second
Date story recorded: June 2004
Date story went live: 24 January 2008