NEXT STORY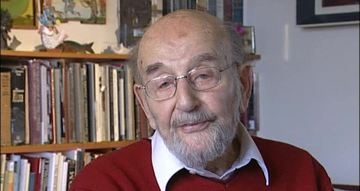 Ulysses
Get Carter with Mike Hodges and Michael Caine
Wolfgang Suschitzky
Film-maker
1
2
3
4
I worked with Harry Watt on short films in Scandinavia mainly, and the most famous film now in... in my career was Get Carter with Mike Hodges, who is a very underrated director. We shot the film in Newcastle. It was transposed, the original book was set in Scotland, I believe, and it was very pleasant work to do. Again, all location, no studio. The... Michael Caine was in the lead. He was very professional indeed. He was always there when he was wanted, and he always knew his lines, and he is a very good actor, which comes through in the stoical way he treated the part. And it has become — everybody has seen it — a real favourite film with many people.
What kind of look did you try and give the film?
The camera work on it... it was very influenced by Mike Hodges who has a very good eye for setups and he of course conferred with his operator and myself, but he influenced all of us, and much of the good look is due to him, I confess. My main task was lighting on location, very moderately, and waiting for the right daylight and setting the exposure on the lens. It was a very pleasant film to shoot because we all got on very well, and the Newcastle people were very cooperative. Anything we needed, any official permit to film in the streets for instance, also the... we always had a lot of children around watching us, and on one occasion I saw a little girl smoking and I said, 'Aren't you a little young to smoke?' And she said, 'Oh no, I'm on the dole'. That was a terrible time in Newcastle, the unemployment was very, very big, but it has changed, I understand. I haven't been since. But the filming is still remembered. They wanted to tear down a car park we had used because it never parked any cars. I don't know what was wrong with it, but it was an enormous car park, and the council of Gateshead — where it was — wanted to pull it down, but there was a Get Carter Society in Newcastle and they protested, and I believe it's still standing.
How did you light the interiors?
The... the interiors where we worked were very carefully chosen. They were ordinary houses. The first really very difficult part for me was a very long bar. He... when he arrives in Newcastle, he goes to that bar, and there was nowhere to hide lamps. It was so difficult, but somehow we managed with very small lamps, to hide them behind bottles, or behind other things — boxes — that was a very difficult interior, but other pubs were more easy to do. There's one or two others feature in the film, because one of the characters works in the pu... in the pub, and Michael goes to see him. And the rest was ordinary houses.
Born in Austria, Wolfgang Suschitzky (1912-2016) trained as a photographer and became one of the first in his field to take portraits of animals. After coming to England he worked with Paul Rotha as the cameraman on various documentaries and films such as "No Resting Place", "Ulysses" and "Get Carter".
Title: "Get Carter" with Mike Hodges and Michael Caine
Listeners: Misha Donat
Misha Donat is the son of Wolfgang Suschitzky. He has composed music for the theatre and the cinema (including films directed by Lindsay Anderson, and by Albert Finney). For more than 25 years he was a senior music producer for BBC Radio 3, where he planned and produced the prestigious lunchtime concerts at St John's, Smith Square, at which many of the world's leading artists appeared on a regular basis, and also instigated a Young Artists' Forum as a showcase for musicians of the coming generation. As a broadcaster himself, he has given many radio talks. Misha Donat has contributed a large number of programme notes to the Wigmore Hall, Carnegie Hall, South Bank, Aldeburgh Festival, Edinburgh Festival, Brighton Festival and other venues, and he has written CD booklets for such labels as Decca, DG, RCA, Philips and Hyperion. He has been a regular contributor to BBC Music Magazine since its inception more than 10 years ago, and has written articles for The London Review of Books, The Guardian, The Musical Times, The Listener, Opera, and other publications. He has taught at the University of California in Los Angeles, and has given lectures and seminars at Vassar College and Bard College in New York State, Johns Hopkins University (Baltimore), and in the UK at Durham University, the Barbican Centre, the Royal Festival Hall, and the Norwich Music festival. He is currently working as a producer for the Philharmonia Orchestra.
Tags: Get Carter, Scandinavia, Scotland, Newcastle, Get Carter Society, Mike Hodges, Michael Caine, Harry Watt
Duration: 5 minutes, 36 seconds
Date story recorded: March 2008
Date story went live: 06 August 2009