NEXT STORY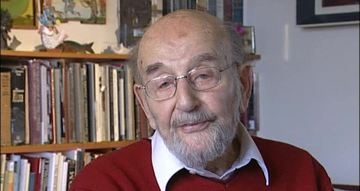 The Bespoke Overcoat
Ulysses
Wolfgang Suschitzky
Film-maker
1
2
3
4
I also — before Get Carter — did Ulysses, James Joyce's Ulysses, which was shot all on location in Dublin. I forget which year it was, but... I can tell you... 1967. It was shot in 1967 in Dublin. The director was an American called Joseph Strick, who was very nice to work with. We had a five day week, he didn't like to work on weekends, and we all took flats where we stayed, not hotels, which was very nice, on the weekends. We did our own cooking and so on, and it was a very pleasant film to work on. The extras were again some from the Abbey Theatre in Dublin. The main one was Milo O'Shea who later on also played in the film I have mentioned with Vincent Price... The Theatre of Blood. The Theatre of Blood. Mil... Milo O'Shea played also in the Theatre of Blood... Barbara Jefford. And Barbara Jefford played there too. It was an honest attempt at an impossible task, I thought, having read the book twice, once in German and once in English, but I think it was nothing to be ashamed of. The script was fair and the acting good. It was a film which ran in Oxford Street at the Academy's theatre for almost a year. We had lovely incidents. One, we had taken over a house to represent it — Bloom's House — and one day there was a knock at the door and outside was a beautiful young nun, very pretty, and she said, 'I heard that you... you are filming Bloom's House in here, could I come and watch you a bit. I am... I am a Joyce scholar'. So the book was forbidden in Ireland at the time, you couldn't buy it or read it, and she was... a nun was a James Joyce scholar. And everywhere where we went for permits, there was always one official who was a Joyce enthusiast and it was quite easy for us to get these permits. I... what else to say about it. We started in one of the Martello Towers, which were built to ward off Napoleon — the invasion of Napoleon — and never used, luckily. Mick Roëves, who is still acting, as he was the young Stephen Dedalus, and... and again, I don't think it was anything to be ashamed of having worked on that.
Born in Austria, Wolfgang Suschitzky (1912-2016) trained as a photographer and became one of the first in his field to take portraits of animals. After coming to England he worked with Paul Rotha as the cameraman on various documentaries and films such as "No Resting Place", "Ulysses" and "Get Carter".
Title: "Ulysses"
Listeners: Misha Donat
Misha Donat is the son of Wolfgang Suschitzky. He has composed music for the theatre and the cinema (including films directed by Lindsay Anderson, and by Albert Finney). For more than 25 years he was a senior music producer for BBC Radio 3, where he planned and produced the prestigious lunchtime concerts at St John's, Smith Square, at which many of the world's leading artists appeared on a regular basis, and also instigated a Young Artists' Forum as a showcase for musicians of the coming generation. As a broadcaster himself, he has given many radio talks. Misha Donat has contributed a large number of programme notes to the Wigmore Hall, Carnegie Hall, South Bank, Aldeburgh Festival, Edinburgh Festival, Brighton Festival and other venues, and he has written CD booklets for such labels as Decca, DG, RCA, Philips and Hyperion. He has been a regular contributor to BBC Music Magazine since its inception more than 10 years ago, and has written articles for The London Review of Books, The Guardian, The Musical Times, The Listener, Opera, and other publications. He has taught at the University of California in Los Angeles, and has given lectures and seminars at Vassar College and Bard College in New York State, Johns Hopkins University (Baltimore), and in the UK at Durham University, the Barbican Centre, the Royal Festival Hall, and the Norwich Music festival. He is currently working as a producer for the Philharmonia Orchestra.
Tags: Get Carter, Ulysses, Dublin, Abbey Theatre, The Theatre of Blood, Oxford Street, Martello Towers, James Joyce, Joseph Strick, Milo O'Shea, Vincent Price, Barbara Jefford, Napoleon Bonaparte, Mick Roëves, Stephen Dedalus
Duration: 4 minutes, 45 seconds
Date story recorded: March 2008
Date story went live: 06 August 2009