NEXT STORY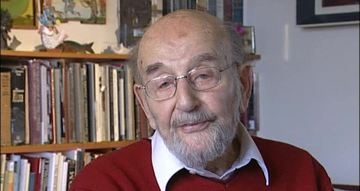 The Charing Cross Road photographs
Working for LEPRA in India
Wolfgang Suschitzky
Film-maker
1
2
3
4
I did a film in India on leprosy, and found that doctors there purposely shook hands with lepers, and the film was made for an English charity, called LEPRA, and the director was a chap called Richard Biggin who... and his wife was our assistant and she took care of getting the rushes away and through the customs and all that sort of thing. She could charm the customs. Usually it had to be done with bribery, but she got away with many things. Anyway, it was most interesting to see the devotion of the doctors. Two people who were really badly off, they were despised by their neighbours. It started with parents hiding children who show any signs of leprosy. Nobody knows how it's transmitted. I don't think they still know it, and the main damage is done that people with leprosy lose their sense of feeling, so they... they touch hot pots and pans, or coal even, and burn their fingers. The... nicest thing I remember was a... a leprosarium run by French nuns and we... they gave us a French dinner in the middle of nowhere and during the dinner, one of the nuns went into an adjoining room and came out screaming because she said, 'I felt a snake around the switch'. So the cook was called and he brought a hatchet and he killed the snake, which was there, but that's how they... they had to work under such conditions. We met one Swiss doctor who did operations on sinews in hands of people who lost their use of the hand, and he said he comes out every year for three months to work in the leprosarium because he could do surgery there which he — he was a general practitioner — he liked to do surgery but didn't have the qualification to do it in Switzerland, and he did good... very good work. So I was lucky in my life, as I said before. I had opportunities which nobody really gets in other jobs to go into factories, to go down coal mines, to go into farms, to go into hospitals, all things which one normally doesn't do. Only I had this opportunity and had the opportunity of taking pictures. One of... apropos leprosy... one of the leprosy... one of the pictures I took on that was used by the organisation who had sent us, for getting funds, and they used this picture many times in daily papers, and they collected a quarter of a million pounds with that one picture. That was very satisfying for me and for them.
Born in Austria, Wolfgang Suschitzky (1912-2016) trained as a photographer and became one of the first in his field to take portraits of animals. After coming to England he worked with Paul Rotha as the cameraman on various documentaries and films such as "No Resting Place", "Ulysses" and "Get Carter".
Title: Working for LEPRA in India
Listeners: Misha Donat
Misha Donat is the son of Wolfgang Suschitzky. He has composed music for the theatre and the cinema (including films directed by Lindsay Anderson, and by Albert Finney). For more than 25 years he was a senior music producer for BBC Radio 3, where he planned and produced the prestigious lunchtime concerts at St John's, Smith Square, at which many of the world's leading artists appeared on a regular basis, and also instigated a Young Artists' Forum as a showcase for musicians of the coming generation. As a broadcaster himself, he has given many radio talks. Misha Donat has contributed a large number of programme notes to the Wigmore Hall, Carnegie Hall, South Bank, Aldeburgh Festival, Edinburgh Festival, Brighton Festival and other venues, and he has written CD booklets for such labels as Decca, DG, RCA, Philips and Hyperion. He has been a regular contributor to BBC Music Magazine since its inception more than 10 years ago, and has written articles for The London Review of Books, The Guardian, The Musical Times, The Listener, Opera, and other publications. He has taught at the University of California in Los Angeles, and has given lectures and seminars at Vassar College and Bard College in New York State, Johns Hopkins University (Baltimore), and in the UK at Durham University, the Barbican Centre, the Royal Festival Hall, and the Norwich Music festival. He is currently working as a producer for the Philharmonia Orchestra.
Tags: India, LEPRA, Switzerland, Richard Biggin
Duration: 4 minutes, 48 seconds
Date story recorded: March 2008
Date story went live: 06 August 2009